Saikang @ 5AM ORZ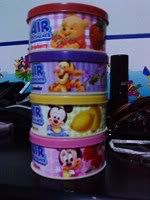 50CENTS FOR FOUR AWESOMELY CUTE AIR FRESHNERSSSSSSSS *wriggles in happiness*
bought it with chiru[sponsored by chiru.com] while lawliet was queue-ing in watson's going on a wild shopping spree. [cos i gave her my card to enter the members only event]

So i woke up around 5+AM today to saikang for lawliet, which ended saikanging for everyone there cept for Jasmione.

Lawliet's mori wig 8D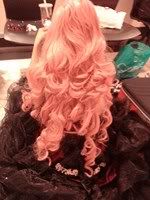 Grell [kuroneko's] companied me 8D hur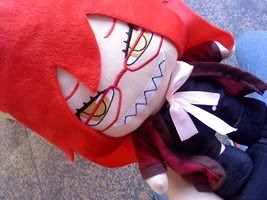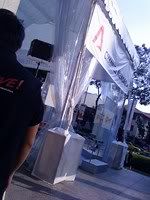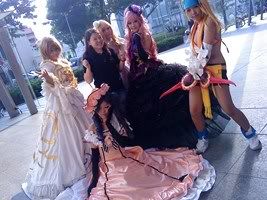 Peggy cabbed down but did not join the interview, so all of us went to saizeriya[sponsored by lawliet.net] to eat in the end @_@ @ 11AM



After that we went back home, suppose to cut wig, but both of us KO-ed.

During the first few minutes, twinneh kept wriggling like a worm [I was amused really] while trying to find a good position to sleep.

and den on one occasion, she was awoken in shock by the thunder [which i proceed to laughin a good 5 seconds before blacking out again.]

i went from facedown sleeping to sleepin on side to sleepin up right. HAHAHAHA with one leg hanging off the bed XD

@ request of chiru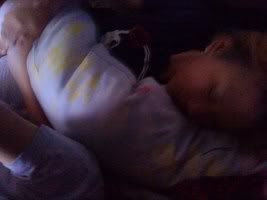 woke up approx @ around 3.45 or so by Chiru's sms. Was suppose to meet her for eyebrow threading [sponsored by chiru.com]

After that, head to JP to eat benten [sponsored by chiru.com]
and i whined during parfait tiemz. LOL.

HOW COME ONLY GOT CHOCOLATE BANANA AND NO STRAWBERRY BANANA? THE PRICE IS THE SAMEEEEEEEEEE

so... i specially asked if it can be made.... and YES. BEHOLD. STRAWBERRY BANANA!!!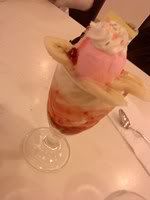 and its awesomely tasty, so live with it. HAH.

After that, lawliet took my card to go into the members' only event to shop while chiru and i loiter around the area.
and...

twinneh bought me stuff, again. That girl arrrrrr *huggles her*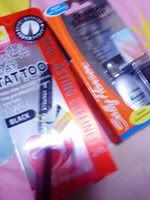 bought me k-palette eyeliner that i wanted alot, cos last cosfest, i borrowed it from Seras for my miyavi tattoo on my hand and it worked awesomely XDv
and that girl got me the hardener too, cos my nails are quite fragile really.

hahaha sankyuu, twinneh~~~~

and due to her suggestion, i will be cosing for Sunday's comifest afterall @_@ there wont be coscards from me for this event though i think... hahaha cos not enough time to do. oh well 8D