As small as it can get!
[Sponsored]
Why is it as small as it can get?
That is because HADALABO has come up with a new "Nano" Formula!!
nano-

A prefix that means:

Very small or at a microscopic level, as in nanotube. In this sense, this prefix is sometimes spelled nanno-, as in nannoplankton
Thats right!!
You have heard about HadaLabo locking an ocean in one drop, how about locking up an ocean in one drop and allowing YOU to fully absorb it?
I've previously done two Hada Labo reviews which you can check it out here
Hada Labo Retinol&Lifting Lotion
Hada Labo Hydrating Cleansing Oil
==
This time round, I am back with the review of two items from Hada Labo
Hada Labo SHA Hydrating Lotion
Hada Labo SHA Moist Eye Cream
I've met alot of people with oily skin types but did you know that beneath the layer, some are actually dry skin? Which means that you will need to moisturize what is underneath to regulate the sebum production.
Say hello to the stars~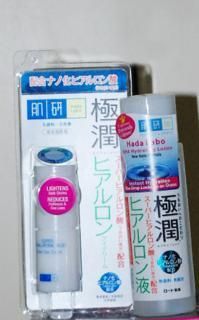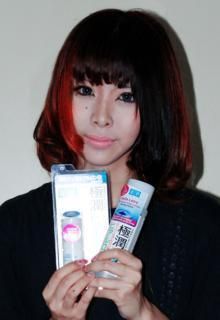 no i did not dye my hair
Here is a little chart telling your about the new "nano" technology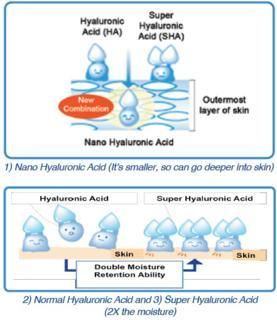 Unlike the Retinol Lotion, the Hydrating lotion is much thinner and watery. It doesnt have the same sticky consistency like the Retinol one, so it is suitable for people who like a lighter application and the skin absorbs the lotion really quickly.
On top of that, it is scentless and colourless which is good for people with sensitive skin.
That is my Retinol red bottle, i've been religiously using it but I've only finished 1/2 a bottle -.-;;; so I would say the price is a great investment. Only two to three drops is needed for the whole face, I usually use two.
I would give this product a 4/5 because I think that the Retinol one is stronger in formula but this one is for hydration only. If the two combines, I guess it would be a 5/5.
==
Second item would be the Moist Eye cream.
As you might or might not know, it is not really advisable to use facial cream or moisturizing cream for face on your eye area because it can clog up pores or cause milia seeds. So do use a seperate product for your eyes.
The eye cream comes in a pump, and it is really handy because you can control the amount needed.
Here are the active key ingredients:
3 types of Hyaluronic Acid (Normal, Super, and Nano)[like the Hydrating Lotion]- thorough and deep moisturisation;
ACTIFLOW - increases blood circulation, lightens dark circles and puffiness
Jojoba Oil - smoothens fine lines
Just like all Hada Labo products, this eye cream is SIMPLE: pH balanced with no animal derivatives, fragrance, mineral oil, alcohol, nor colorant.
This means that it is good for people with sensitive skin again! Hada Labo cares for all skin types.
I've always a problem with fine lines after i passed the age of 21 due to frequent makeup application so I've always tried lots of products to help it.
If you've been following my twitter, you would know that I've only did this review yesterday night, so i've only used this cream once. However, even though there is no obvious signs of change YET, my eyes do not look tired even though I felt tired. I guess that is a plus?
I would give a 4/5 for this product because of that. I will continue using the product since it gives me non-tired looking eyes. *laughs*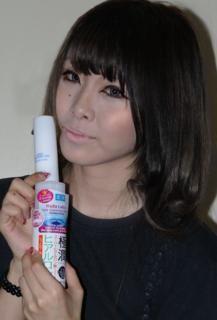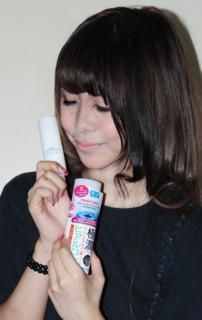 Thank you Hada Labo for the chance as always to review your products.
You can get your own sample of the SHA hydrating lotion here:
HadaLabo Facebook
==
I was really tired yesterday night but realised that this review had to be submitted by today. Pulled everything together in an hour[hair, makeup, shooting, try out, makeup removing]
So here is something interesting. Photoshopping of photos, I do that. You can slam/bash me all you like, but I am used to it for getting insults because I look different after makeup anyway *laughs*
I dotted those beauty marks because of my current obsession with tomie and i have a pimple D8