Okay.... FESS UP NOW!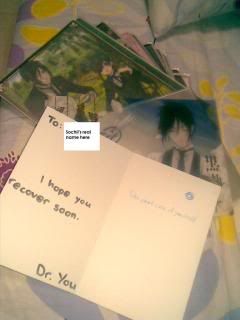 THE FUCK?!
Okay. who the fuck did this and scared the shit out of me. I am giving you one day to fess up. Either you tag my board with your real name/the original name i know you by or you email me.
YOU BETTER FESSED UP
. cos Sochii is gettin really pissed, and when i say pissed, i mean VERY VERY fuckin annoyed[even if it is a 10carat princess cut daimond ring].
Firstly, Sochii
thanks you
for your generous gift of a full set kuroshitsuji clear cards.
but I am fucking freaked out by you, SO ARE MY PARENTS
. and no offence but you have stupid alias. yes. what kind of alias is Dr You?
Secondly, Sochii makes friends with almost everyone and I dont like stalkers.
Leavin and alias and running away after pressin the doorbell labels you as a STALKER.
not many people know where I live exactly, and not many people sent me home before. and the people who sent me home will never do something this stupid.
So unless you stand out and tell me who you really are and what is your background, i m going to hate you like i hate stalkers.

Lastly,
if you still dont stand out and tell me who you are, dont let me catch you or ever appear infront of me OR behind of me where i can see you or even sense you
. If not, you wont want to know how angry Sochii can get. and yes. If you think you know me that well, you should know that I am very violent. I will not hesistate to kill in self-defence if i have to.
I am dead serious now.
and not to mention pissed. I have wounded people in some fights, and i wont hesistate to repeat the same things if i am pissed badly.
------
Anyway. went to play badminton with Lawliet, Karen[my aunt SIA] and Fiona. oh. Happy bdae fiona btw X3 she is 18 as of today. 09/05/09

some aikido ppl took our court!!!! so we only played one hour and asked for our second court's refund =w=lll and we went BOWLING hahahha. and guess who we met? we met this guy who used to work in the JE skating rink. X3 kinda sad luh actually. we teased him about switching jobs, but its obvious. JE is down and all of them dont have work...

after that, went for late MACS dinner. and dad drove me home. and den...well...above said. I am rather hissy nao =.=;;;

Final score for bowling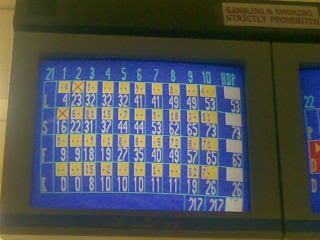 Wilson's IC HAHAHAHAH SUPER NEAT HAIR SIA!!