MH day~
i remember starting to squeal when i saw teru in this. Alice and the Pirates creations if i remember... I am always a fan of AATP clothes 83 It is the only time when i have come to love dresses/skirts during that none-girly period.
jus a big spam of links of what i like *jus went surfing*

Shoes[i m a M *HINTS HINTS*]:

http://www.babyssb.co.jp/shopping/ap/shoes/106P018.html [totally digging red and black for this one, its like so uber awesome]

http://www.babyssb.co.jp/shopping/ap/shoes/105P981.html [awesome shoes are AWESOME. the darker the colours, the sexier 8D]

Clothes:

http://www.babyssb.co.jp/shopping/ap/blouse/106P426.html [this blouse is so uber cute imo??]

http://www.babyssb.co.jp/shopping/ap/jacket/106P337.html [only diggin the red and black patterned one. other colours are jus so sad, and the non-pattern ones sort of defeated the purpose.]

http://www.babyssb.co.jp/shopping/ap/jacket/106P328.html [been loving this long vest ever since it was introduced even though it is kind of...erm...not useful? hahaha only wearable for events imo cos damn mafan.]
http://www.babyssb.co.jp/shopping/ap/jacket/106P333.html [this is much better den the prev though 83 but i wished it wasnt a rounded collar...dont really like round collars.]

http://www.babyssb.co.jp/shopping/ap/pants/106P621.html [these are effin cute!!! but i dont like the lenght...8D hahha *sho picky*]
http://www.babyssb.co.jp/collabo/versailles/106P617.html [VERSAILLESSSSS collab~~~ sho cute]

http://www.babyssb.co.jp/shopping/ap/pants/106P628.html [these are the most useable out of the whole stack i have choose imo. i could prolly roll around in it 8D]

http://www.babyssb.co.jp/shopping/ap/jumper/106P222.html [loving the red and pink one 8D]

on the side comment, I just think that Teru looks like a freaking portrait/drawing everytime i look at him or his pictures =A= he jus looks so unreal. LOL.

==

About family, I thank everyone for their concern towards my brother.
His school term has started, he might not be the most cheerful guy though.
I mean... seriously. Who can be when they are met with so many things?

1. He's ditched jus before the year ends.
2. He has to go back to school with NO FRIENDS. [cos his friends are so childish that they couldnt sort out difference and my bro has quite a temper, so i m blamin none honestly.]
3. He doesnt have an outside life anymore because he has no friends/girlfriends.

Well, if he was a little more like me...having friends not only from school, I guess he would have been way better, but my brother's way of living is straighter than you think.

==

So on to the title of the day 8D

I was feeling rather lazy about makeup these few days, plus my skin wasnt lookin too good, so I jus slack. BB cream and zhao *in the end i touched up with concealer,foundation, mascara[the red one sy gave me *loves*] and brown liner*+ mac lippy[that davin gave me*another love*], but i never take picture*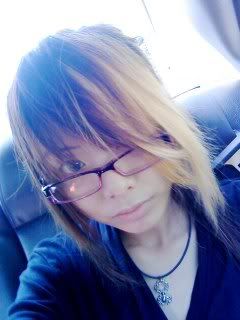 I even slacked in clothing. remember the cardigan i bought with Janey? I turned it into a low-neck dress, because I just couldnt be bothered to look for somethingelse to wear. I cant really be bothered if i have boobs to pull off low neck anymore, cos If i have to worry about that shit, I might as well jus wear t-shirt and jeans. I used to worry alot though... hahahaha... I was even joking to kent that I can even flash my bra cos my lingerie was oh-sho-chio with diamante in the middle *frips hair*

cant see it clearly, but i folded a collar so the dress doesnt look flat



jus a little protection on the way home because of the ulu area i live in~ and cos it was really THAT cold. I cant stand heat nor cold.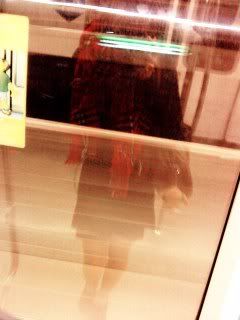 SO~~~

yesteray, met up with Davin first and waited for Hamster and Kent.
It was super funny for me to introduce them, and i enjoyed it.

me: erm. Davin, Davis, Davis, Davin

it was nice seeing them both break into a smile, and davis was like I KNEW YOU WANNA DO THAT.

Well, the only way they know each other was because they read my blog, but yea. The one letter difference makes it all the more funny.
So we bought stuff from watsons and went to line up for astons.
I was totally near ballistic when the menu came, cos liek hiiiii i haven been able to eat beef at astons cos of their frequent-oh-so-coincidental OUT-OF-STOCK wheneven i dine there. I got my beef in the end, but it was a long wait.

Kent came in late, so Davis ordered for him. So they were trying to rush me while we were waiting for in queue, i think the image would have been funny. Four ppl standing there hacking at theirs psp[s], while the rest of the queue were really waiting and jus talking.

Passed them their gifts and i THINK they really liked it. Well, i hope. HAHAHA.
When i gave them their gifts, davin was giving that where-is-my-one look.
me: YOURS IS CUSTOMED OKAY. JUS WAIT
davin: orh. 8D

felt guilty cos his gift was takin so long though ORZ.

After dinner [which I was the last one to finish btw, i even made kent finish my rootbeer], we lounged at Starbucks and played. It was jus fun playing with them luh~until my battery went flat. Which btw, was a good thing...if not I would have reached home after midnight and get into trouble. LOL!!! Should have left around 9 plus or 10, but it was just too much fun to leave.

I self-declare them my best MH crew, and the only MH crew i will ever need. *huggles all of them* I am hoping that game session cheered up both Davin and Kent ba. Davis is a happy-go-lucky hamster so I wouldnt worry about him *ruffles his fur*

==

Today was driving day. It was quite okay luh, instructor aka Raymond, seemed to be in a good mood and was joking with me most of the time.

got my testdate already. Not much confidence in passing, but if i dont pass...I am going to waste another $50 i guess =.= renewal and booking fees. I just cant concentrate for long luh...

for the coming weeks before Feb, would be intensive driving...around 3 days a week =A= I really dont like driving. HAHAHA. so much rules... lol.

went home, and after dinner, had a super headache and sore eyes which i think is from the rain =A=;;;
so now, i m actually sporting a slight headache whilst blogging, but already had medicine, so should be fine tmr morning...I guess. HAHAHA

So yeap /0/ off to wobble over some other things before sleep sinks in again~~

==


I woke up in the dark alone, and find myself missing you more than anything.