For the Love of Yours~~~
[sponsored]
OF YOUR SKIN!!!
Bear with me 8D this is the last sponsored post I have for this week to hand in before the deadline *laughs* I've been gaming too much on my phone with Kairosoft Games [c]
Its too freaking addictive and I am yawning as we speak... hardly wake up in the morning just to blog but it is needed now anyway since I am busy up to the neck later.

==

This time round I was invited to try out three new products from Eucerin.

I am actually rather skeptical towards this brand.. but I accidently accepted the invite without much thought.. so I might as well do a good review *flex* hahahaha
I am actually sensitive to the cleanser from this brand so it might be one of the ingredients because I got different reaction from the products.

A slight info about the creator of this brand

Beiersdorf AG Research Center is the largest and most modern research centre in the whole of Germany. Over 650 international scientists[wow.] are deployed to Eucerin's product development and innovation.

So introducing their new range of product~ The DermoPURIFYER Range [skincare]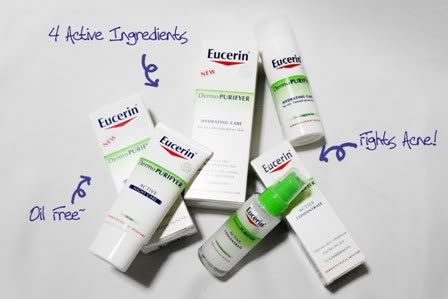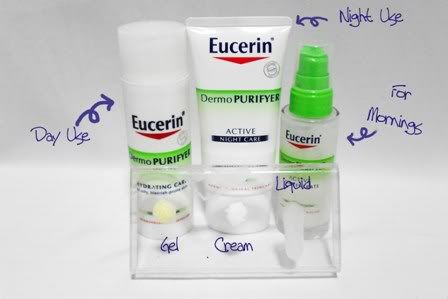 DermoPurifyer range is developed to combat acne prone skin as acne vulgaris,or what we common people know as PIMPLES and BLACKHEADS, is exceedingly common in all people, not only adolescents/ah bengs[i swear, guys at the age of 15, HOO~ their skin is so damn screwed thanks to their lack of basic skincare, i've seen enough to know.. and YES PARTICULARLY BENGS, probably their smoking contributed to all the skin cloggin. No offense bengs, I think you guys are cooler than lians and we are all chinese *inserts troll face*].

There are 4 main active ingredients in this line, namely Lactic Acid, Carnitine, Decandiol and Licochalcone A

Latic Acid : Mainly for water binding[moisture retain] and skin pH regulating

Carnitine : Sebum regulating and Carnitine accelerates the metabolism of fatty acids and reduces their availability for sebum formation , this will take up to three weeks for full effects

Decandiol : Anti-bacterial to work against bacteria from entering skin that has been opened and prone to acne

Licochalcone A : Anti-inflammatory and soothes redness of skin.




First up is the DermaPurifyer Active Concentrate



It serves to clarify the skin and improve skin condition and oil+preservatives FREE
It is useable as a makeup base for everyday use.

Here is the ingredient list
Aqua, Cyclomenthicone, Glycerin, Tapioca Starch, Methylpropanediol, Lactic Acid, Decylene Glycol, Dimenthiconol, Sodium Chloride, Xanthan Gum, Sodium Stearoyl Glutemate, Parfum


my review~




Due to the PARFUM at the end of the list, there is a heavy scent. Honestly, it is not the kind of scent I would detest but not the one I would like either. Just smells like a heavily perfumed atas lady... dont know what kind of parfum they use *rolls eyes* if it was something like gucci, ysl or dkny or issey or blvgari, you get my drift *hint hint hint*, I would probably like it.

This is the most liquified solution out of the three products but the application is rather lightwieght and your skin absorbs it in a matter of a min or two.

my verdict?
3 / 5
I couldnt give this a high score as I dont know what reactions I have to this serum yet because I honestly did not use it until yesterday and it takes three days for my skin to show reaction. Other than that, I love how easily it could be absorbed into the skin because I really hate to feel something on my skin other than cleaniness.


The second product is DermoPurifyer Active Night Care



It serves to improve skin condition, reduces blemish in 3 weeks and is oil FREE [Who would want to put oil on their face right?]
This is your essential in the DermoPurifyer line for night care while you are sleeping~~

Here is the ingredient list
Aqua, Cyclomenthicone, Polyglycerl-3 Methylglucose Distearate, Glycerine, Cetearyl Alcohol, Sorbitan Stearate, Lactic Acid, Panthenol, PEG-150 Distearate, Bisabolol, Serine, Glycine, Lecithin, Alanine, Xanthan Gum, Trisodium EDTA, Phenoxyethanol, Methylparaben, Parfum, Cl 77891[Titanium Dioxide]

me review~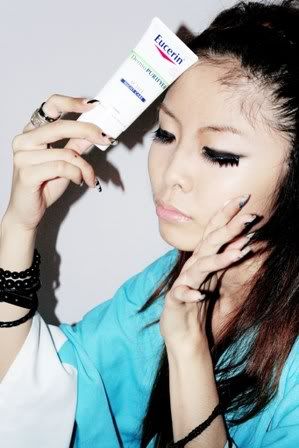 Unlike Active Concentrate, this cream has a nicer PARFUM or maybe its me or maybe it is the reaction of the ingredients.
This product is my top favourite out of the three. I dont have a skin reaction problem to this product and it is actually doing something to my blemishes!!

The cream-like texture makes is harder to absorb quickly compared to Active Concentrate but after massaging it into your face for a while, the skin is left dry and not oily/wet like when you put on moisturizer. I've actually grown to love this because night application products are also easier for me, because I tend to forget about applying morning products OFTENLY, up to the point where they are useless to have in the house.

my verdict?

4.5/ 5
now if only the replace it with YSL PARFUM *inserts hmmmm face*


Last but...actually it is the least probably.

DermoPurifyer Hydrating care for Oily,Blemish prone skin.



It serves to mattify and refines the appearance of your skin, also preventing the formation of new blemishes. Oil and fragrance free [ORLY?!]

Here is the ingredient list
Aqua, Glycerine, Cetearyl Alcohol, Tapioca Starc, Alcohol Denat., Ceteary Alcohol, Carnitine, Octydodecanol, Dimenthincone, Butylene Gycol, Glycyzzhiza Inflata Root Extract, Decylene Glycol, Sodium Chloride, Sodium Stearoyl Glutamate, Acrylates/C10-30 Alkyl Acrylate Crosspolymer,Phenoxyethanol

mai review~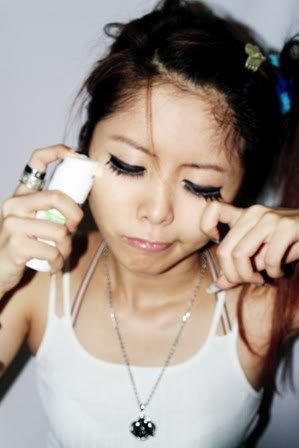 True to their claim, it is fragrant free because it is NOT FRAGANT. There is this medicinal smell that I actually dislike but its mild... I am just anal about it.

This is probably the product that I will give no points to... It caused me to break out. I've actually chucked the cleanser away since I couldnt use it so I could not do a ingredient comparison to save myself, but whatever ingredients in here matches the cleanser from this line AND the cleansers from clean and clear will probably be the best bet to the ingredient I am sensitive in. I have zero problems with Japan cleansers [Biore, mandom, rosette etc].

The gel is even worse for me, because it cakes up when it is dry so you can actually rub it off. Purpose defeated and my face actually feels oily after two-three hours... is this why it is designed for oily faces? So they cant feel the difference?

All in all, this product was the worst of the three for me..FOR ME. Others might have better luck *shrugs*
If anyone wants to give a go at this product, you can email me and I'll pass on mine.

my verdict?
1/5

1 for the effort of producing and researching... it just doesnt work for me.

followup review: I gave this to one of my readers to try out. It did not work for her either though she had an oily skin condition. Ditch it out i guess?



The DermoPurifyer Range is now available in most leading pharmacies like Guardian, Watsons, Unity and also in National Skin Centre.

Here are the prices for all three products.



Eucerin DermoPURIFYER Hydrating Care (50ml $25.90)




Eucerin DermoPURIFYER Active Concentrate (30ml $29.90)




Eucerin DermoPURIFYER Active Night Care (50ml $25.90)



For people who are interested in other products of the line, here are the prices and short descriptions of the products available.



Eucerin DermoPURIFYER Cover Stick (2.5g $26)


Ideal for covering annoying blemishes and blackheads locally: salicylic acid and bisabolol are proven to reduce acne pimples and soothe skin irritation. The oil-free cover stick has a neutral skin tone, adapts to your skin complexion and is compatible with all make-up.



Eucerin DermoPURIFYER Cleansing Gel (200ml $21.20)

[this is the one i m sensitive to]
The soap-free cleanser, adapted to the physiological pH level 5.5 of the skin removes excess sebaceous-gland lipids and reduces growth of bacteria. The skin feels purified, clear and supple.



Eucerin DermoPURIFYER Scrub (100ml $18.60)


Pore-refining micro-particles gently open the pores; blemishes and blackheads are reduced. The skin is noticeably more supple and clearer, with a refined appearance.



Eucerin DermoPURIFYER Facial Tonic (200ml $21.20)


The refreshing tonic clarifies the skin intensively and removes remaining impurities from the skin. It opens clogged pores without drying out the skin and prepares the skin for the subsequent care regime.




For reading through this lengthy post~~ YOU GET VOUCHERS!! and samples hahahah!!

For more info and samples [oil control kit + voucher] please visit

[just click on the picture below, it is linked to the Eucerin Page]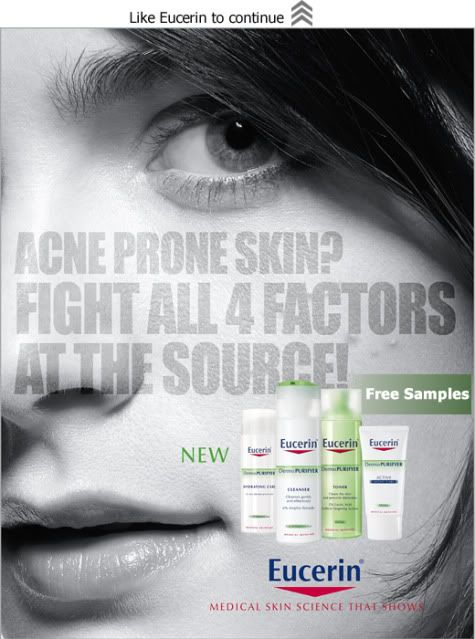 ==

and now for more of my pictures BWAHAHHAHAHAHA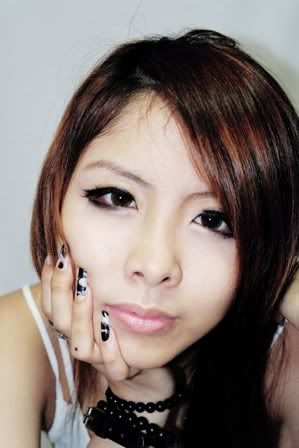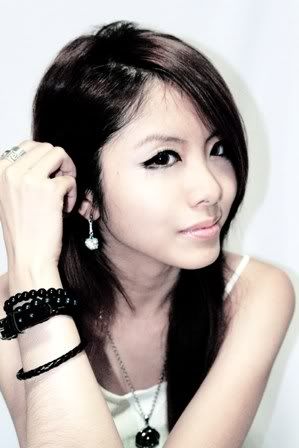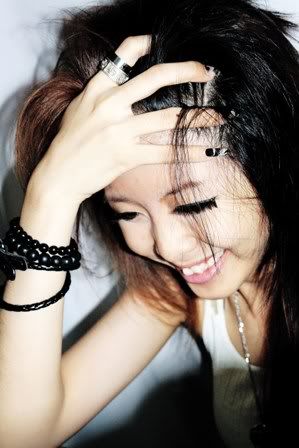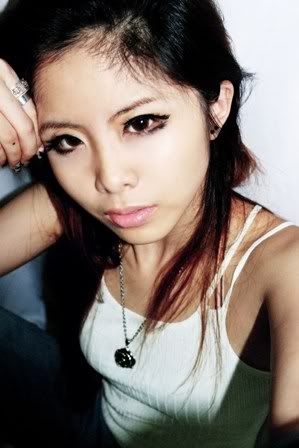 Special thanks to the sample store for this review.

TOODLES *laughs*