Start of 2012!!
Because a new year deserves... THREE HOT GUYS *bwahahahahaha!!!!
okay, first of all, I am probably going to get murdered for not touching on the NAPBAS at all but new year has been a big frenzy for me [sales, jobs and all 83] so I have to apologise and promise I will get it online asap... as usual *coughs*excuses*coughs*

ANYWAY, how have all your new years been so far? Mine has been awesome... I realise I forgot to blog about new year resolutions... I've never set any resolutions because they always get broken in the end anyway... so I would set 2012GOALS!!!
Please dont assume i copied them cos I've decided this right at the end of 2011 alone and in a corner #foreveralone

2012 Goals for Sochii [aka Guidelines *keyword: GUIDE*]

1. Be thankful, tolerant and patient. IMPOSSIBLE RIGHT? wrong.
- be thankful for all the good things you meet.
- be tolerant of things i do not like, especially attitudes.
- be patient while dealing with people.. or just walk away if it gets too much to handle.

2. Find a proper stable earning job.

3. Churn up more useless haywire posts for readers of my blog.

4. Rearrange the thoughts quietly before flipping a table at someone... especially someone close.http://www.blogger.com/img/blank.gif

5. Think before speaking. Justify/Apologise if really in the wrong.

All in all.. I am trying to train myself to be a better person while adjusting my unstable mindset and learn to count my blessings instead of the bad things.

==

Secondly, after asking for so many times and i finally gave up asking... this guy... went to create a blog. Y U NO CREATE WHEN I ASK? *inserts meme face*

Riku @ Puffy Pouts


Judging from the looks of his posts, its probably going to be a blog full of positivity...hope that he keeps on track and congrats~~

==

Third!!!!

Which is something amazing happened to me at one full shot today...Karma worked its magic on me like a wittle charm~~

So I was suppose to meet Pearly @ Pearly N Kelly at 10AM but I was late ANYWAY, AS USUAL.. for like 10mins I think... but she reached at around .05 so its probably a mini wait *laughs*
Just a few days back, I saw Kelly's post on looking for someone to work for Dollywink so being a super "kiasu" person, I immediately replied Kelly...like lightning fast and landed this assignment. YES I M DESPERATE FOR A JOB CAN? EVEN IF PARTTIME OKAY?

Back to the story, so we met up. Its the second time I saw Pearly in person, and there was only two of us... so we talked abit more and became closer YAY~ new friend!!

Went up to Mandom Corp.
Both of us were so clueless cos we have not been to the place before... but we reached the area anyway!!!

While waiting patiently for the person-in-charge to arrive~~
LOOK AT ALL THE MANDOM PRODUCTS HEEE~~~ GATSBY~~~LUCIDOL.L ETC CTE TCE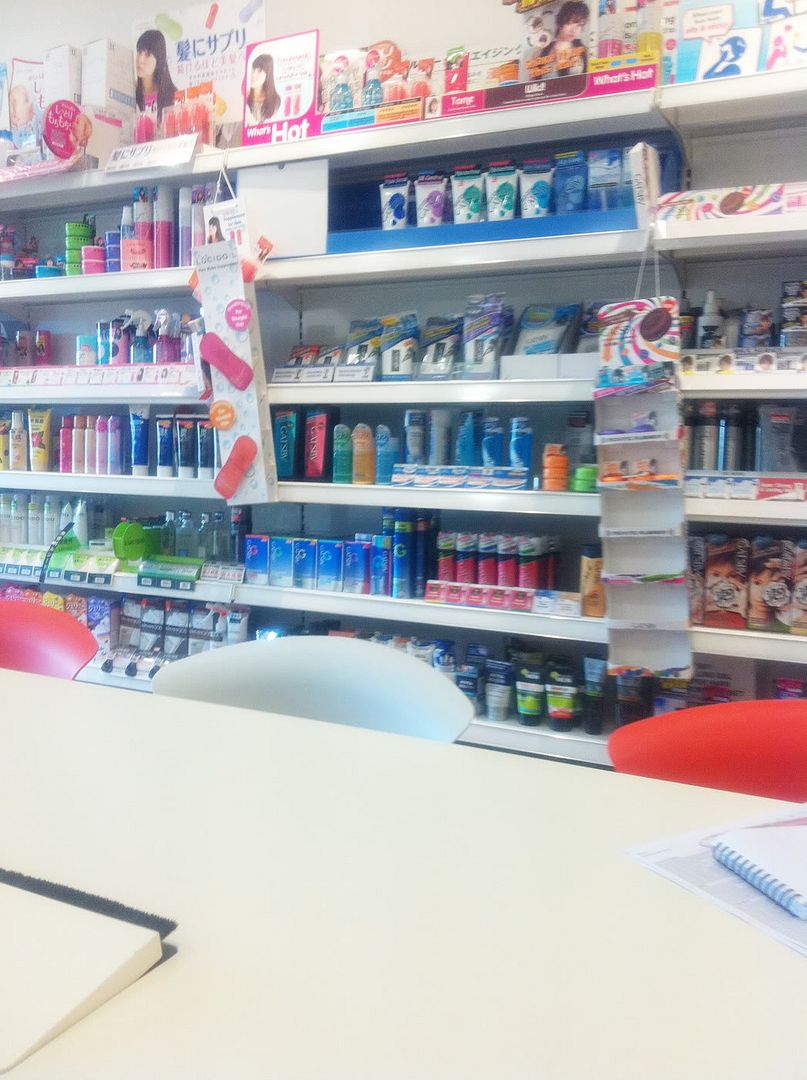 I was excited... so I was probably blabbing alot =A=;;; *facepalm* but we had lotsa fun~~
Tried out the fringe extension sold in Watsons. Mandom was the one that brought those in~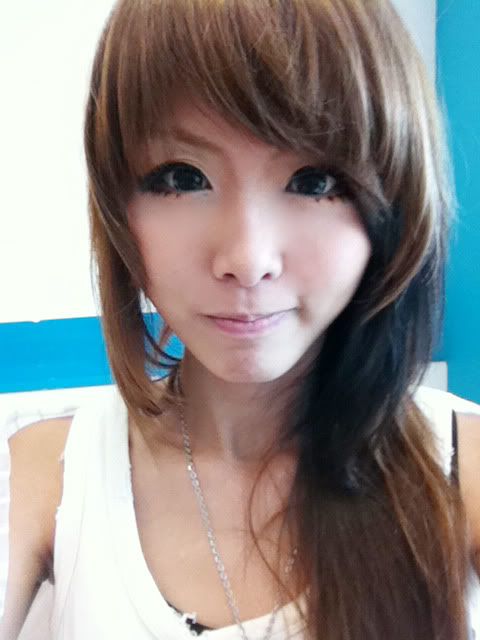 I look so derp compared to my own fringe..
Pearly tried out the Odango~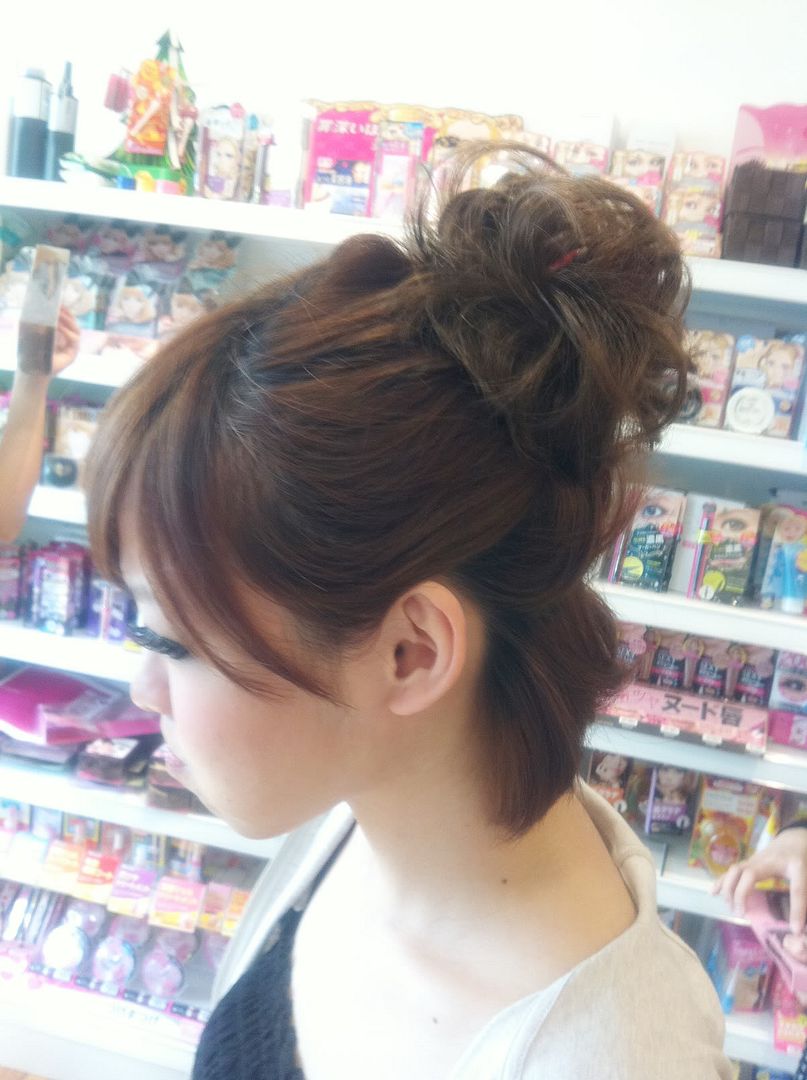 Minni tried out the Wave extensions but I failed to get a picture of that...

Due to the fact that we are promoting for them.. we were given alot of make items to use 8D
Three bags of goodiesss



All of us got different goodies to cater to our style but I suppose I got the most since I am working 7 days? Pearly will be working from Friday to Sunday. So do come down and say hi!! Minni wont be working but she is on "standby", she will be coming down on either saturday or sunday to say hi though 8D

WOOHOO~~~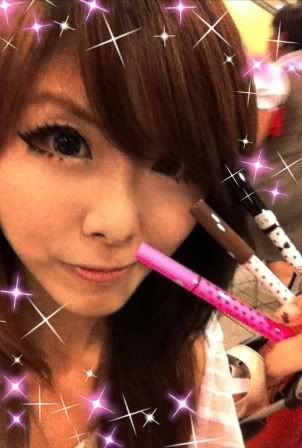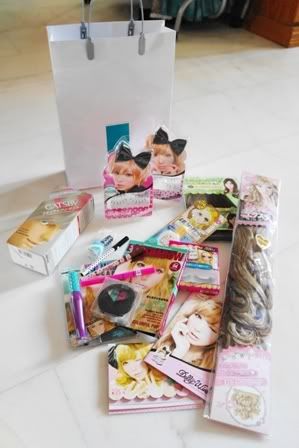 From top left to right
Gatsby hairdye [i bought this from them since i m lazy to shop~]
Dollywink lashes in no. 01 02 06 07
Minni had 05 and pearly had 01 02 06 and 08 i think though, but I am happy with 06 and 07 cos they were the ones I like from DW.
Fringe wig
Curly extensions~
Dolly wink phamplets
Dollywink volume mascara
Dollywink 04 colourful pop [the palette i've been dying to have since release but too ex for me!! #sadpoor ]
Dollywink liquid black liner
Dollywink pencil liner in brown and black [this is some good stuff 8D]
Dollywink blue nail polish
Heroine make lashes [discontinued HEE]
Heroine make sunscreen~

So... basically I am banned from my own lashes+gel liner from one week 8D

There is an offer btw~~~ on Dollywink NailPolish. Buy one and get one gold glitter polish of the same size FREE hur~~~

==

After that, got to eat the TWISTER FRIES!!! I am finally NOT coughing anymore... I stopped coughing on monday night 0.0;; all of a sudden. Thank buip!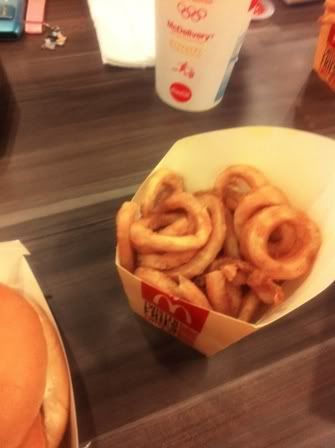 So had to paint my nails in their colour~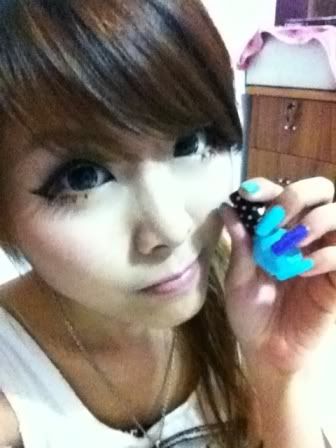 ==

After leaving Minni and Pearly after lunch, i wobbled down to somerset because I had to collect my prize but i offered to picked up twinneh's shoes from her workplace and her wig from selicia's workplace~

My prize from ZA, Shiseido~~



I swear karma is instant sometimes... the moment I offered to pick up twinneh's stuff... a few hours later at Shiseido, they offered to invite me to their events. How cool is that? I left the building really happy, and touched.At the same time... I started thinking about a stupid thing to do which I know will never be reciprocated... It is kind of sad and stupid in the most retarded way ever but yet ever so logical. Thats for me to know and you to guess to your grave of course, you will never know how stupid my mind is sometimes... neither do i. *laughs*

Eye make of the day~~

yes. i put such ridiculously awkwardly positioned and little amount of eyeshadow on purpose. Bite me. LOL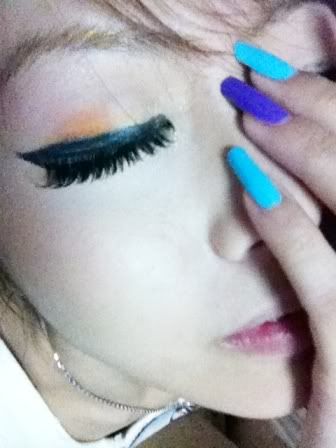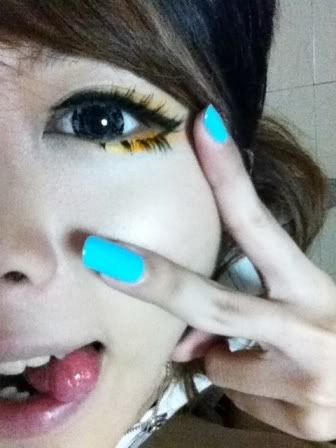 My fringe overshot again and I am thinking if i should cut... or leave it out ~.~;;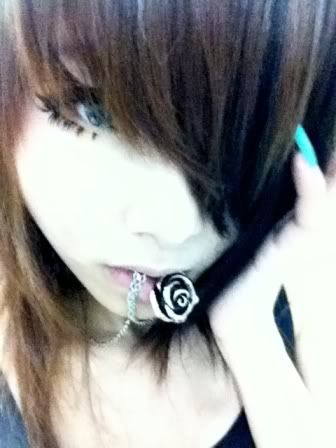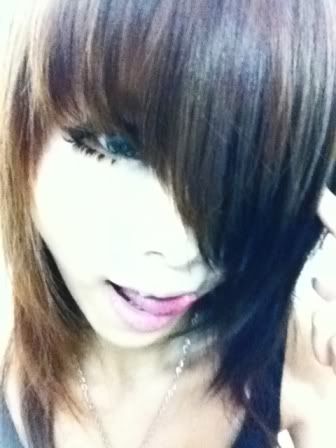 Just a picture to show... my face isnt really super slim not super V shaped. I am quite proud of my slightly squared chin... works so well when i cross dress *laughs*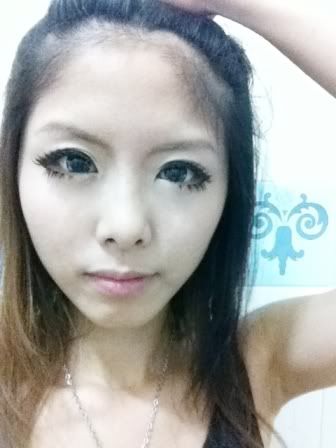 Today has been an awesome day.
Tomorrow and future will also be splendid. I look forward to waking up and knowing all the ones I love are within my reach.

Awesome song btw. An hot guy *hearts*