Shooting day @ SPH
DERP~
okay just a minor update on my napbas stuff.. its more den a month and the photos i editted are prolly 1/3 LOL will the post ever come out? I know i never really blogged about my 21st celebration either. *laughs*
So anyway, today will be on my trip to shoot @ SPH [Singapore Press Holdings] under the name of
The New Paper
.
This is a VERY late news because I am quite worried about the outcome of the report.
However lets go on about the day before I express my worries.
==
So on thurs, i arrive on time and it was rainy and all while I am still very sick[still sick now HAHAHAHA], and I met Shaun[the writer for the column] at the gates. He was quite a cheery guy and really easy to talk to~
Met the editor and the photographer too. The editor is an Englishman, forgot his name but he was a pretty agreeable guy and listens to ideas. The photographer, on the other hand, even though a nice guy, I was pretty much ticked off by him.
The studio. Just a simple setup, nothing fanciful.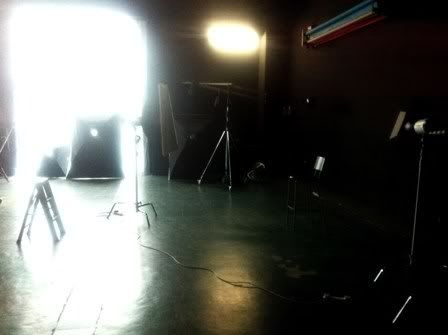 The dressing room for me to do my makeup and change.
If you have been following my twitter, you would pretty much know what has happened on that day. I wont repeat myself, just that I was rather uncomfortable with the way the shoot was conducted.
Had to change into a T-shirt because the photographer thinks that my hoodie was in the way *rolls eyes* [/annoyed point 1]
In the end, I ended up lookin like a floating head in the picture because my shirt blends into the background too. Did a huge odango hairstyle cos I wanted a clean and neat style, but apparently i had to pull back ALL MY ALREADY NEATLY STYLED AND IRONED HAIR [/annoyed point 2]
Girls who have short fringe prolly knows the pain of pullin back your fringe for 1hour plus and after that fringe will stick out all over the place if you attempt to release it.
So i had to do half of the makeup on my face to show the difference of before and after makeup~ Which I did not take a picture of. I mean whats the point right? It is going to be slapped on the papers anyway *shrugs*
Before I changed back to my hoodie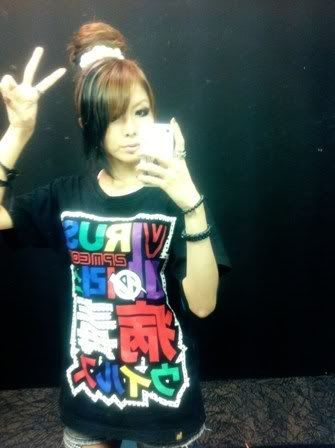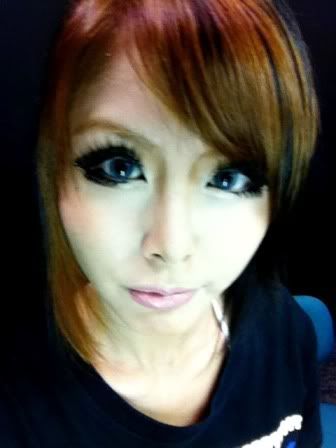 CHANGED!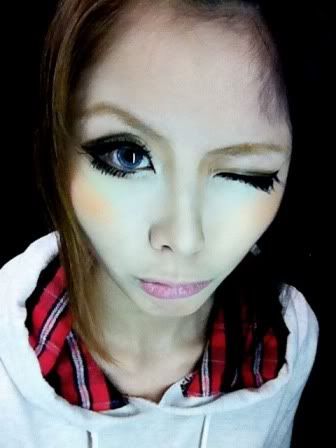 As you guys can see, I have alot of baby hair. So under the logic of common sense, it is INEVITABLE. My hair is already styled for the shoot, so WHO IN THE RIGHT MIND WILL BRING HAIRSTYLING PRODUCTS TO THE STUDIO? Apparently, the photographer expected me to be prepared for everything. No.
After that being said, he wanted to ask around to see who has gel or whatsoever to gel down my loose hair... NO. HELLO,MISTER? I HAVE ALREADY STYLED MY HAIR PROPERLY WHY COULDNT YOU TAKE IT AS IT IS? [/annoyed point 3]
He couldnt take pictures with my pretty metal clip used to hold my fringe, which in my sense is quite stylish for a DURING MAKEUP PICTURE. [/annoyed point 4 *redundant point but i love my clip /defensive*]
To be honest, all the so call loose strands/baby hair can be PHOTOSHOPPED, but the photographer obviously has either 1.no idea 2.lazy 3.too proud to use photoshop on his pictures. [/annoyed point 5]
So after changing, we had to take full body pictures. I am all like HEY~ I CAN DO THIS SHIT. Afterall, I've done photoshoots. BOY WAS I WRONG. He made me feel so noob that I did not have to heart to pose for him. Why? In all my glorious opinion, I think my hair was fine. *points at picture* but he kept on asking me to move my hair away[FROM WHERE TO FUCKING WHERE? i was pretty pissed off at this point already] and have like a gazillion unhappiness on my side hair. [/annoyed point 6]
you know what? F-beep- OFF. I have never felt so really after a shoot. There is only so much patience I have for a person that I just meet and he really pushes it. Out of so many photographers I have worked with for leisure or for work, I've never met someone like that before.
Okay, maybe I should let him off the hook because he is taking for the papers and there is some SOP he must adhere to probably. However I just felt that it was a fun column, everything should be taken in a much lighter heart. Even the makeup shots I see from CURE style council isnt that stiff. I am so NOT looking forward to seeing the pictures. I have a feeling I would look pretty much awkward and out of place.
On the lighter side of the story, I really had fun chatting with Shaun and laughed alot at the weird story reports that both the photographer and Shaun read out while I was doing my makeup. One compliment for the photographer is he really has skills. The picture looked pretty good on the camera even if I dont have makeup on, off camera is another story though.
Got to enjoy a little of what SPH's toilet has to offer. *loves classy toilets*
Pretty impressive for a workplace toilet, i'd say... Looks on par with a hotel's toilet to be honest.
My code of the day~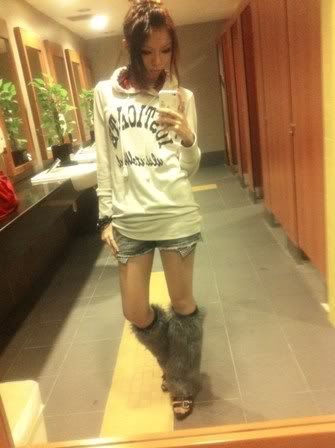 Hoodie given to me by one of my ex-customers from Cawaii Koohii as a Christmas present
Tattered shorts from taobao *duh*
Grey fur warmers [wore them out cos it was cold]
Strappy heels from Linosug
My worries for the report surfaced since my conversation with Shaun yesterday as he was insistent on writing some of the things which i would prefer him to cut out but I guess it is all in the humor and general public light. I am hoping that it wont be too bad but I guess I have to brace myself for the upcoming flames/praises even if some of the quotes are misrepresented *shrugs*
That being said~ more photos!!
Eyemake, used new bottom lashes but I am not sure if they suit me though...
STITCH~~~ so in love with my bedsheets, it has became the best backdrop for product photography HAHAHAHA cos stitch is NEVER wrong.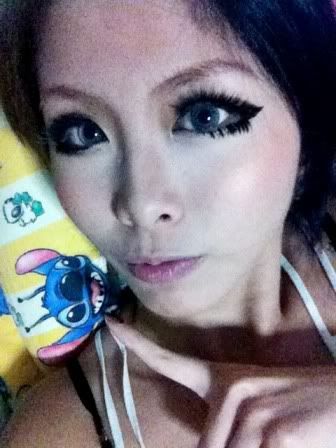 Herp.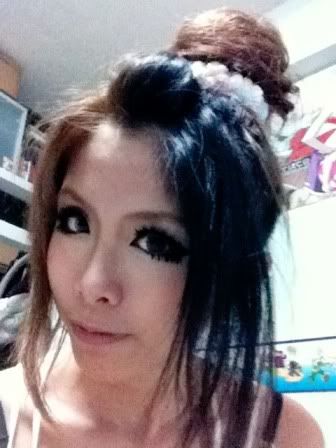 ==
Alot have been asking me what I am going to do for Valentines Day with it just around the corner. Honestly, I have no idea. My plans for this year is to probably stay at home and game the day away really.
Honestly, seeing mommy make valentines bouquet has made me abit moody about my single status. I guess the right one will come some day soon, but I am not too hung up about that since I am enjoying the freedom I have even though sometimes the lonely feeling really gets to you.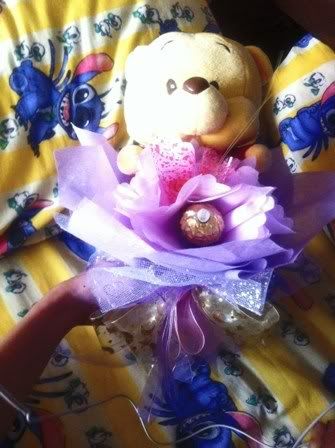 The bouquets will be on sale at my uncle's mini mart in WOODLANDS. I will post details in Facebook soon, so if anyone is interested you can head there to get it cause I can assure you that it is way cheaper than what you get in floral shops.
One of the LV Bears I koped from mommy to become my new little companion~~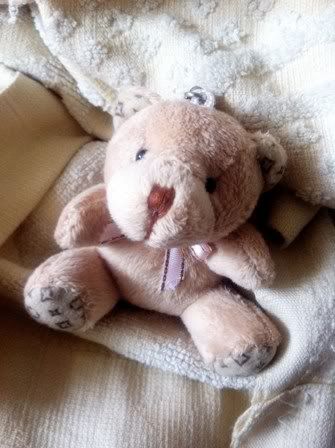 ==
As you can see I've changed my shitty banner for a less shitty banner which will be changed AGAIN after I've done my shoot for the banner. *waiting for Jimmy laoda*
I've changed my theme back to black again as I felt that cheery light colours are still not my style~ *laughs* I am dark and you know it *cues IamSexyandYouknowit song*
I am really looking forward to meet Gero at Spring Takai tomorrow *squeals* Hope that it will all turn out alright!!