Kurobara
Token of appreciation from Uncle punk for writing the friday 13th story for kurobara.
where to start. actually, i was lazy to go on that day. I recalled that I was going to help Hikaru with his makeup so yeah...went out. Himu-mommy was sick, so ya, i wore a wiggeh instead. rofl. and i did hon-spired makeup. hahhaha it was jus a word i made up, it actually like copying Azhrien's makeup style ROFL.

So yea. met up with Hikaru, went to find his friend who did rima cos before...i call her maine. if i even got it right. whutever luh LOL!
me and maine



after that i met up with my cousin. WTF hahaha she went there alone for cheap thril =w=lll i am waiting for my photos though =w=lll but here are the ones from my phone with her.
hahaha paiseh, camwhore skill very lousy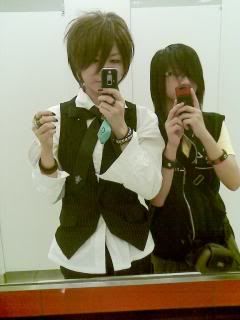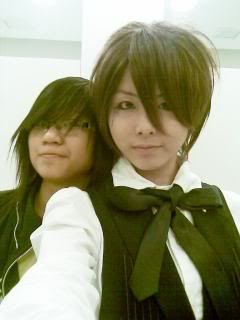 one by myself



met quite a load of people AND new people. hahahaha...those who i never name here, SORRY! hahahah cos apparently you dont make an impression XD
so basically i met Deo-winded [hahha NEW NAME XD deo who was long winded like me], cute Sai, feryln+spikey, kunio, yukiponta+joyce, kaii, stickyfigarsssss~~~ lol, EXchouji MUAHAHAHA, MIKA~!hohoho~, laoda yumi reiyu bryan all those usual ones, rina, maine, chika, uponstage etc etc hahaha XD i was like saying hello everywhere and hugs everywhere LAWLS. i m still waiting for my photos with the others like deo, reiyu etc etc. I only have photos of me with uponstage and mika =3333=

after that also met kent at mediya's marketplace. hahaha si loner. *fastforward* had alot of fun.

i was tricked to going for earth hour with ah gong =.= WTF. he dragged me all the way to esplanade to watch the lights close. lol =.= while waiting for the lights to off, we were like......half nuts. i started using japanese and he started speakin in korean, so people were staring at us while we try to make sense of each other's speech ROFL!!!! after that was pizza hut and he cabbed me home. haha.
den i spent my midnight to 1 or 2am talking to Azhrien and mike 8D

tired still =.=

OHOH~ and the brushies that bryan gave me 8D

ohyea. i forgot but here is a quiz i kapoked from reiyu.
lawls. i have a pair of ghey parents and a dumb stalker =.=