Cloth shoppin~~~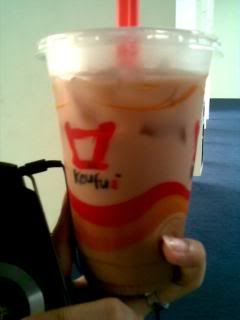 fucking niao can? WHERE GOT PPL FILL ONLY UP TILL LIKE THAT ONE. =.=;;;

hahahahahaha

ytd....money flew out of the window jus like that *snap*

sian

ANYHOW~ ytd went cloth shoppin with lawli twinneh, shinn and haruki[haru].
bad day to cloth shop...the chinese shops are like closed =A=...

so like...lawliet reached the earliest cos i forgot to tell her it was 1.30 cos i was gaming. den i cabbed down. when we were about to go kino, lawliet went: oh. that person's hair very bright.
and i saw full plantinum blond. ah. haru. HAHAHAHA so yea. epic much. den we walked around till shinn reached at TWO PM. TWO PM LEH. we from 1[he decide one] push to 1.30[cos haru overslept abit] to 2[the time he reached =A=]. so next time call him out. tell him ONE-TWO hours earlier den meetin time. den me and haru were talkin about how we should bully him like reita they all bully kai. hahaha but LAWLIETTTTT YOU SPOILLLLLLLLLLLLLLLL+COLD WATERRRRRRRRR. so in the end only me and haru kick him. hahahaha. lol. damn epic.

so we went to shop for the accessories first. after that was to iluma, cos i buay song. want play game. den haru had to leave for work first. so the three of us went to benten to eat. HOMG LUH. the benten there...so much better den JP =.=;;;; and my junior was working there. LOL!!!!

After that was taiko. and can you believe it?! i upped rank. like. FINALLY. hahahah. and den down to china town because I wasnt able to buy any cloth at arab @_@;;; wants to complain can. AOI'S COSTUME'S DE CLOTH MUST BE THE MOST FUCKING EX CLOTH I'VE EVER BOUGHTTTTTTT WALAO WALAO ;A;

but anyhow. here are my steals for the day.

as u can see. the top row is Aoi's cloths and the bottom row is for Riiya's.
Aoi's - pants brocade prinitng [$26 2 1/2M], black cloth for coat and half of the top[$12 for 2M], wine red silk for top halfd of top [$10 1M] total: $48

Riiya's - green for top [$3.50 1 1/2M], orange for pants [$4 2M] total: $7.50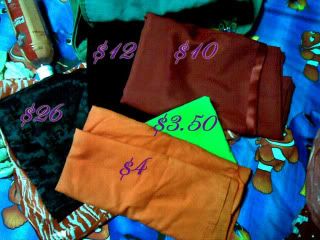 see the fucking diff in the price ;A;
and i din really like the dude sellin the brocade piece....but it was the same shit as Aoi is wearing. he keep on sayin its from Japan hahaha den when we saw it was the same prints, we were like =A= NO WONDER. lol

bigger view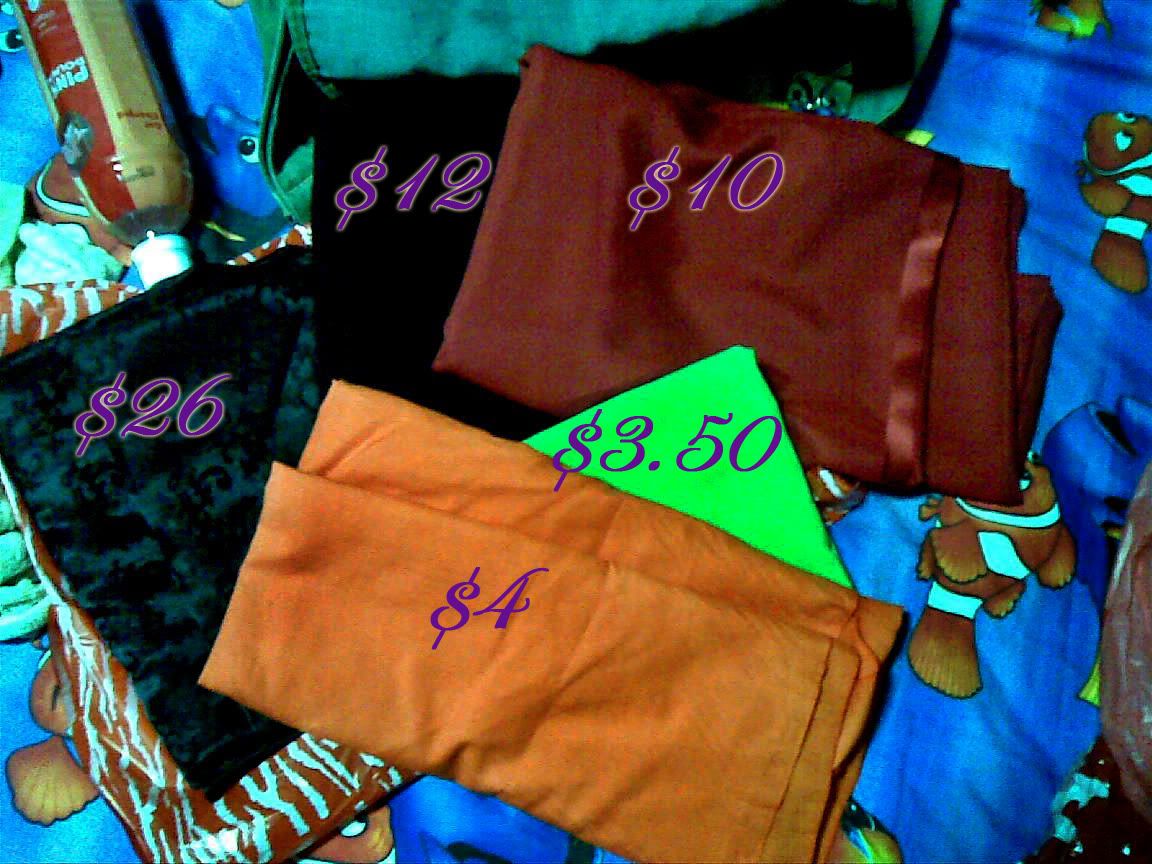 the black cloth was lucky. it was on sale. lol.
the red cloth was actually found by shinn. like. i was giving up and going to get ANOTHER red which is close, and den he found the cloth. lucky sia *sweat*

and we bought buttons from the shop lawliet buys strings :3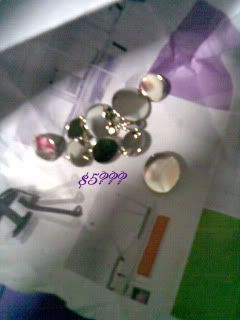 i also bought the shinny thingum Aoi used on his tie at the accessories store haruki brought us to.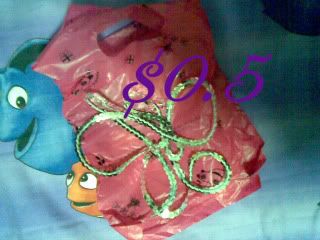 After that we went to look for something to drink. and den after drinking, when we wanted to get the blings. THE STORES ARE CLOSED. wtf man. hahahaha. bad luck sia.

and den we went to buy my mom's donuts. lol.

I performed a fantastic feat 8D brought back 24 donuts while slammin into stuff on the bus, but they arrived home all save and in one piece and not squashed. ZAI MAR? hahahaha~~~

anyway. random pictures which i haven post from my phone that i should now. lol

goku and reborn. LOL!!!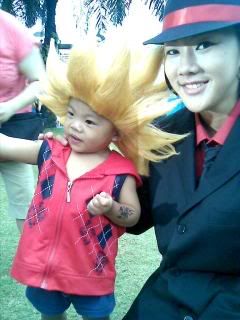 actually it is more of Lawliet fangirling luh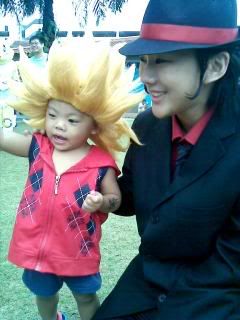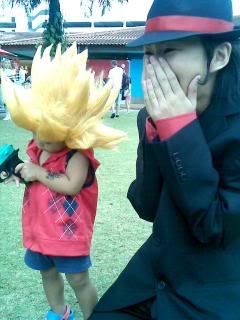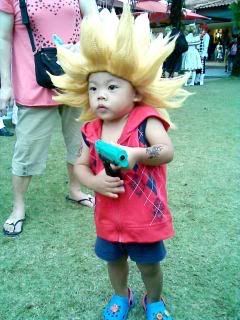 hahaha and a few camwhore photos.

with beckie as Chrome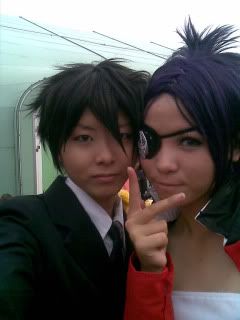 with peggy on day one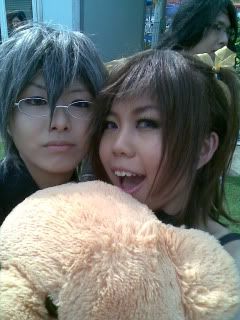 unlike yuchi. I DONT NEED A MIRROR FOR GOOD AIM 8D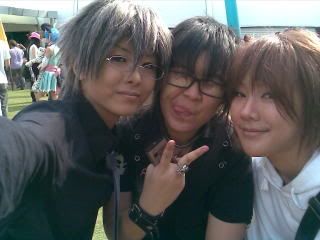 with reborn hahaha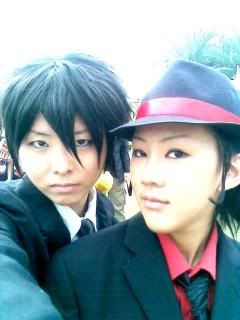 with misaki LOL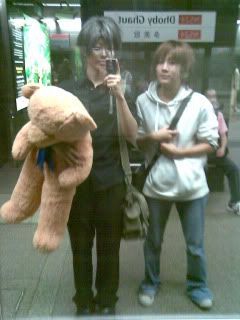 azhrien's minion in SPONGE version 8D



and this is how my workplace will usually look like after the creation of more den 3 wigs.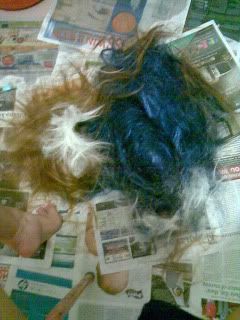 hahaha i found a car that presh might like. as in colour. lol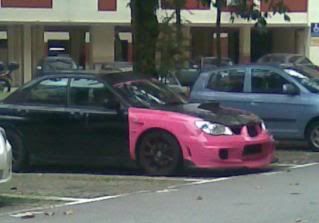 and a poseur reita to end this pic spam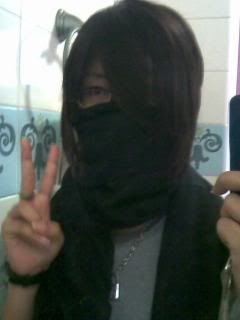 lol. REITA DID HAVE A SCARF VERSION FOR THOSE WHO DONT KNOW 8D in your face 8D lol!!!

and anyhow~~~ zilong meimei ar~ dont scare k 8D hahahah if she bully you. i'll make her life miserable >3 jiayou~~<3>