.: Selfish Love :.
nope. hahahah i m not crazy of 雅-Miyavi- sama. I just like his crazy antics >w<>
I've jus turned in my FYP report in mere hours ago. probably around about 4 hours? hahahaha.its either pass or fail. fuck it i guess 8D I've been going through so many videos HHAHAHA now i know why precious likes to stay at home sometimes and jus go through youtube.
LOL! Anyhow, for the sake of jus telling. I do like quite a few ppl that ppl dont expect me to. For example, Gackt-sama. I've been following him ever since SECONDARY SCHOOL. hahahah its moonchild that attracts me most, but i was already his fan before way back....i think during sec 2? when i accidently chance upon a Disc of his. hahahaha <3>
I've liked mana-sama for his dressing and makeup. i think it was when i first got in touch with EGA? hahaha i was like. shit. this girl is really attractive. den someone told me it was a guy. ah. well. hahahaha <3>
Gazette was the peak and still is the peak. hahahha ESP AOI-sama. hahahahaha i think gazette was introduced to me by either presh or luci twinneh. I forgot which one. i think it was luci. when i first know her. hahahhaa. ever since den. its always Aoi-sama, the one and only for me.
I know miyavi quite way back to....mayb around the time i know Aoi-sama? hahahahaha but i never was a fan, I only thought that he was jus hot and crazy. Cos i was thinkin, why people are so crazy over him. recently as i was linking everywhere for english-subbed gazette videos, I chanced upon miyavi-sama's. DARN FUNNY. i was like. hey. this guy, veh funny can? den i sorta link to his music, selfish love. A very nice title. so i just click and listen luh. TYPICAL RIGHT. hahaha loved it. but i sorta relate it to Aoi-sama singin this song. hahaha i'll be fainting. LOL!!!
So yep. currently, i m just browsing around these few guys. and ヤッパリ。gackt is still the funniest LOL XD Aoi-sama is jus random. hahahaha <3
Anyhow. i got kinda nutty ytd, so i went to do makeup, hair and camwhore. I was kinda lazy on the hair and makeup was jus experimential. doesnt even look like me anymore. EVEN I CANT RECOGNISE MYSELF. wtf. hahahahaha. guess its jus one of those days. hahahaha I m jus gonna dump everything here in 320size and the huge nice ones goes on FB. makeup, hair, set up, dressup, camwhoring, removal of makeup, packing of thrown around stuff.....everything took me bout 2hrs. from the start of enterin the toilet to put makeup till i finish packing.
HAHAHAHAHHA 2 hrs wasted. jus like that. *snaps fingers* XD hohoho. oh. the BG is toilet and my Aoi cosplay pants' cloth anyway. rofl. XD Some of the pictures are gazette/miyavi inspired kinda thing. cos i tend to do it alot.
like for example, i will think of a certain person and den i'll imitate the feeling. hhahahaha sometimes i turn out to look like them a little, other times are jus trashy. hahahah...ok.
most of the times they are trashy so dont take this serious 8D
....
....
....
PB uploading is sure slow...
HAHAHAH. *fidgets with facebook first* hahaha
CONFIRM some ugleh images ahead 8D LOL *rolls on*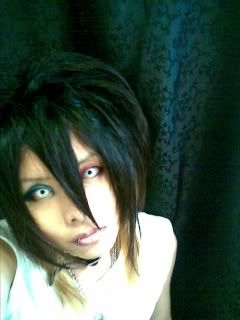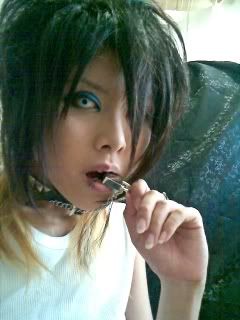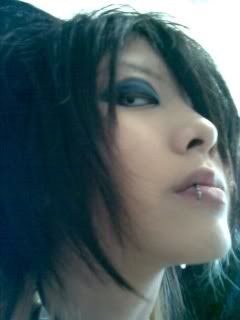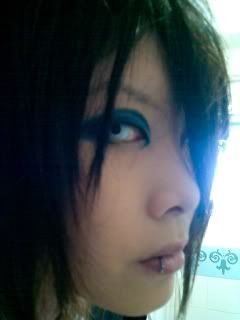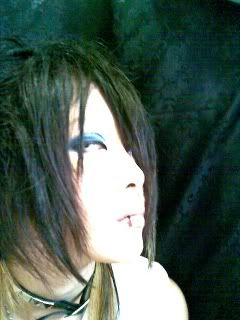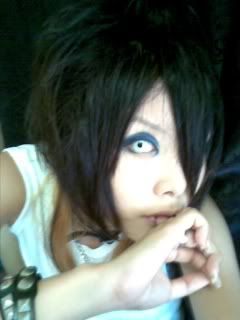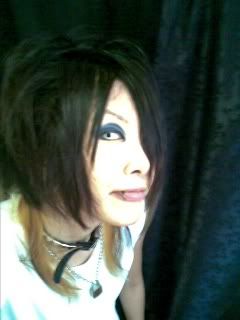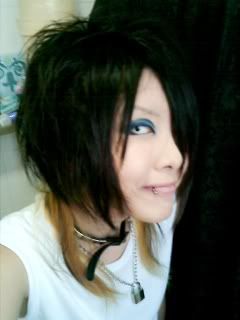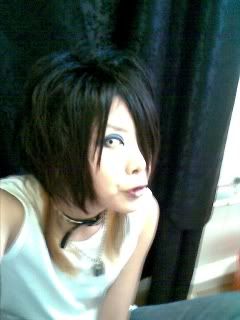 the only surving photo of solo fire makeup. lol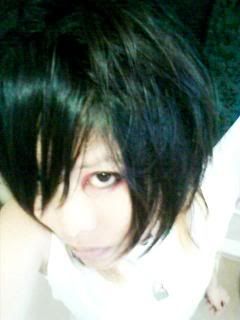 and den for some inspired photos 8D HAHAHHAHA

Miyavi smile inspired HAHAHAHA so damn funny. got kinda infected by his randomness XD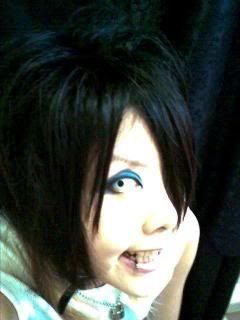 and the rest are probably a bad cross between Uruha and Kai. i seriously cant pull of Aoi look even if i try. lol.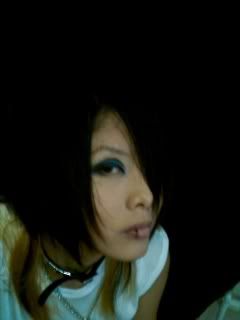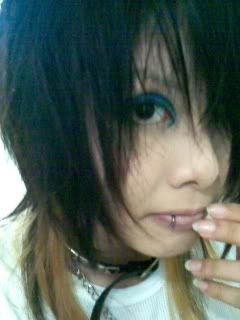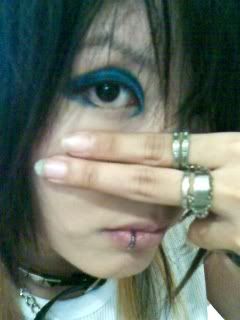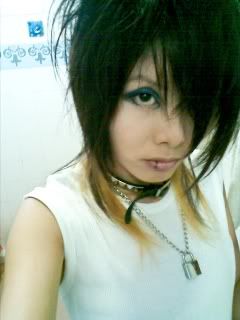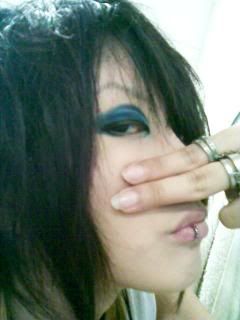 totally trashy kai kinda smile hahahah i look constipated =.=;;;; probably LOL!!! kai's face is long HAHAHAHA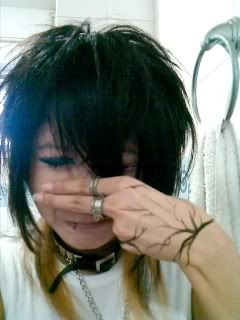 60 photos being reduced to a mere 19 left. hahhaha
i was probably really too bored. ne?
HAHAHAHA. ma. じゃあまた~my jap really sucks. HAHHAHAHA
======
MATTE!!!!!!!! i realise i forgot something important 8D HAHHAAHA GUYS! although this is old. but. here it is
Selfish Love
Hey all of you, I love you
I embrace you with a melody so sweet you will meltA
nd a beat so hard you'll go numb
I'll do anything to make you go mad
how bout it
hey all of you, i'll take you along
to worlds never seen by anyone before
along with out dreams, we are still awake
but the night's still still still not spoiled yet
the world's not awake
i dont care what happens anymore
so let's jus love each other tonight
selfish love
love me, cause I love you
This is my way of love
to this egoisitic night
to this egoisitic night
Cheers to this egoisitic night
I dont really need forever
So just be by my side tonight
Selfish love
love me, cause I love you
This is my way of love
I will for me, You will for me
And i'll be me, and you'll be you
and you'll be you
and you'll be you
and you'll be you
Cheers to egoistic us
credits:
http://www.youtube.com/watch?v=Ri8QoBmF4Lk
By the way. i got addicted to this song to replace gee. reason? Cause I do think that the lyrics are so true. <3