supper/dinner with Sher
hahaha my hubby when he was younger <3 anyway.
ytd was a full day i guess @_@;;; was like. damn tired. but i still managed to wake up. so like. lounged around at home, went out to post letters and den head down to shinn's.
I swear that shinn is the cause of my sickness. LOL. cos like. everytime he comes close, i start coughin for no reason, den when he goes out, i stop. LOL but anyhow~~~~~ thanks for yesterday~~~~<3>
rofl. shinn's mom also funny. I also never say I want to stay and eat, but she was like sorry ah~ auntie never cook today, you go out with shinn[of course she din say shinn 8D;;] to eat ar~ cute luh.
hahahaha so right. i thought we were already late cos i lounged around and wanted to load lena park's video ;A; budden it din really load up =.= sibei sian. so ya. but apparently, this pair came even later. LOL! so we went to ICE3, some place recommended by shermaine. had ALOT of food. lol. total bill was 60plus. hahahah XD *goddamit, i wish my father would stop singing in a deaf tone.* wait wait. lemme do some rearrangements.
ANYWAY. we had this outing cause shermaine wanted to go out with me before she go for a trip in taiwan, so thar. okay. anyway. pictures first. mah waffle~~~~~ ok. theorically. HALF. cos the other half went down shinn's throat. as to why, i'll tell you in the nex picture.
hahaha poor guy. he couldnt stomach all the cheese. but hey~ he was the one who cant decide so i decided for him 8D hahahhaa i ended up switching with him halfway through. I VEH NICE RIGHT?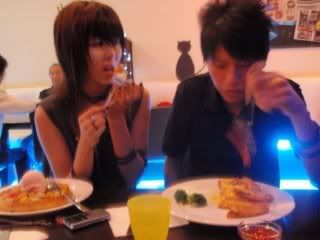 and since i din get my complete share of waffles. i decided that icecream should be strawberry too. lucky he can stomach sweet stuff better /0/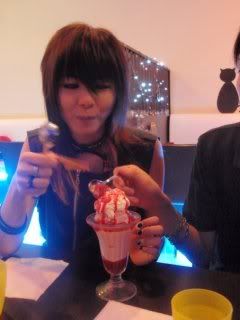 hahaha shermaine wanted to take pictures and i was like. can i eat nao? nao? how bout nao? and nao? are you done yet? can i eat nao?
hahahahah after we finished dinner, we had photos taking tiemz /0/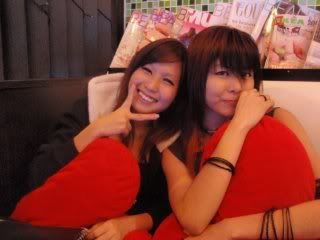 hahahah Sochii doesnt like your opinion 8D boo your opinion XD
oh i changes hairstyles btw. well..more of the fringe that is.and also the hair colour. no more blond /0/ its like ash brown ends, and den chocolate top with black underneath 8D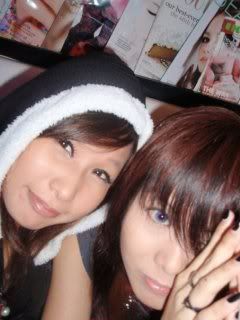 love the way how bright my contacts are really. two years and still on going love with the brand <3>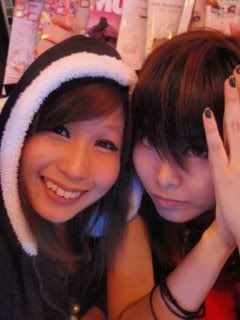 WTF LA VECTORS~
see that bugger? hahaha XD
hahaha rockers /0/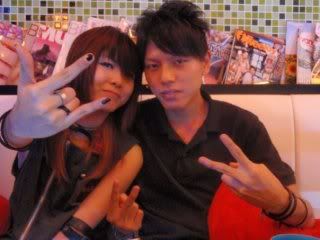 @ shinn WHY SO SRS?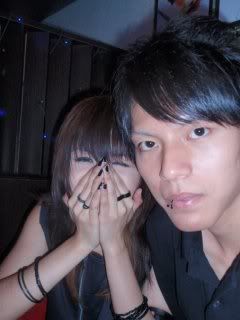 hahahahaha mini luh <3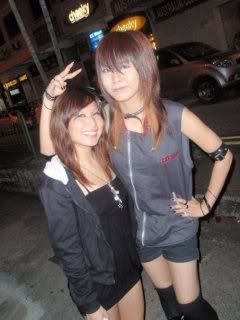 she make me look 180+ /0/ imagine if she is our average girl height = 160 or so hahahaha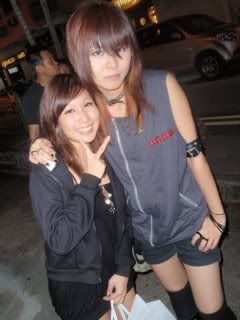 ~~~
and den~ on my way home i met haru~ haahahah paiseh ar~ never remove sunglasses like some dua pai perzans~~

anyhow. reasons for my sunglasses to everyone. WHY I WEAR THEM.

1. cos i like it
2. cos i be attenshun seekin
3. at night - cos my eyeliner smudge [now i know kunio's feelings]
4. to keep cold air from my eyes cos my stupid contacts dry too fast
5. cos i really hate the sun

i need to buy a new pair =.= i have no exact idea how i kneeled over my current pair and there is a crack. so thar. new sunglasses buyin tiemz =3=;;;

/0/