Wardrobe Artz
I was going to blog about life at office, but i found something more interesting to blog about.
THE PLASTIC BAG SUPER CUTE RIGHT????
hahaha lol. no. its not about the plastic bag~ rofl. its bout the shop who uses these plastic bags 8D
Wardrobe Artz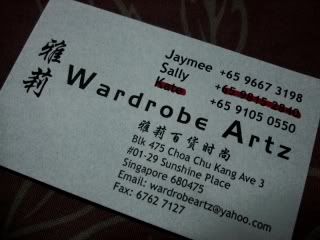 I dont have pictures from the shop, so let me show you a piece i bought from there.
Laced vest~~~~~ since laces are so in fashion now.
OH. IGNORE MY LOUSY CO-ORDs AND MY FAT THIGHS. i was dying to try this piece out so i jus grabbed anything from my wardrobe.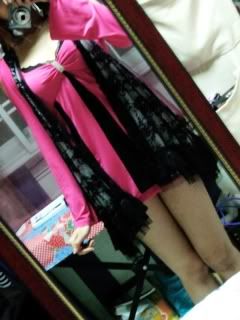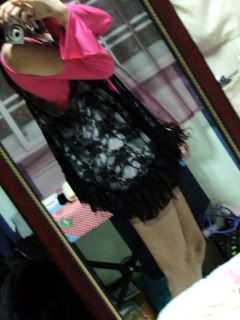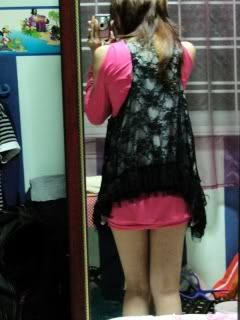 lol wtf. it made my home clothes/sleeping clothes look un-homely. HAHAHAH
You know blogshops/fashion stores nowadays are all manned by those young women and stuff. but guess what.

This shop is manned by women around aged 40-50. IMBA ANOT?
Usually when you hear this age, you would imagine a more serious fashion/out-fashion.
Thats where you are wrong. These women know their stuff.

When you walk in the store, it is rather normal, and cluttered with various fashions. There is no definite style in the shop, or rather the style of the shop is unique as hell. They have clothes from everywhere, and are usually in limited pieces, or from what I see.

Denim, sweaters, silk, cotton etc etc etc~ it is like searching for treasure when you go in there. Just to find you favourite clothes. This vest piece attracted me when i was OUTSIDE of the shop.

Not only that, this shop doesnt ALWAYS open. To call it a shop...I think it is more of fashionista mamas for fashionistas~ If you need to head down, it will be best to give the shop owners a call 8D
If they can, they would even SPECIALLY open the store for you to go shopping. ISNT IT LIKE VIP TREATMENT? I THINK ITS DAMN COOL. and of course, ladies, if you do make them open it, be nice and buy at least one piece. It will be worth the add in your collection~

And just for your information, my vest was at a nice price of $40. ISNT THAT AWESOME? Usually pieces like that go for $60 up to $80 fat bucks, but i got mine at $40 only. The quality is AWESOME STUFF, the lace doesnt look cheap. What more can you ask for? GO GET SOME CHIO CLOTHES THERE NOW.

I am not in anyway affiliated or gaining from this. I just feel that these lovely shop owners just made my day and they deserve this~.

Well. shall go read manga now =w=b