Exploring NEX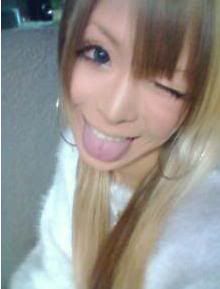 I m more and more into kanako-chan nowadays 8D its okay~~~ cos i still love rina.
She's sporting a long hairdo now though 83 still lookin pretty XD
and went to hospital recently too =.=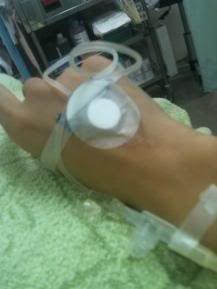 is it me, or are all of them gettin sick easily in japan?

rina, ruki, d'esp vocal and now her. 8D ah well.

==

ANYHOW. went to collect mika's red lens for her yesterday cos she din have the time to and she was heading to japan buuuu =w=/ nevermind, got her to buy me stuffu from there ( ´ ▽ ` )ノ her lens packaging looks damn cheena though, even davin said so too.

After that went to meet davin for lunch since I was at KOVAN already. yes you heard right. KOVAN, to collect the freakin lens. I am shoooo hardworkin for mika-chan 8D hurhur. muz grind her more often.

So yep. Cos he was talking about the new shoppin centre the other day, so decided to meet up and have lunch there.
but sadly. ALOT of shops haven open yet...so we settled for long john. I wanted pizzaaaaa *wails*

Nex [shoppin centre's name] was INSANELY cold (*´д`*) we were sitting at long john and he worried about the aircon leaking water, while i joke about buyin a hot drink and lettin it condense the panels which elicited wtf looks from him (*´∇`) sho amusing.

After that, I demanded to check out the toilets. LOL. WHAT. DONT JUDGE ME.
Toilets are number one places to check in a new area. If that area's toilets sucked, den why the hell you are going to visit that shoppin centre again? Going shoppin means at least visitin the toilets there ONCE everytime, I jus want it to be naise ;A; and apparently, there arent toilet cleaners yet??? Cos the toilets are kind of messy despite the not sho bad interior.

It was cramped feeling, cos the aisle between the toilets and basins was super small, and the toilet isnt really big either...jus. normal.
However, I dead love the basin area. the lighting was WHITE. WHITE YOU HEAR? thank god for white lighting. Any toilets with yellow lightin is jus retarded. makes all the photos look so ugly.

so here are pictureeeessss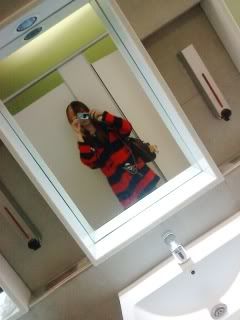 see. NICE CHIO WHITE LIGHTING.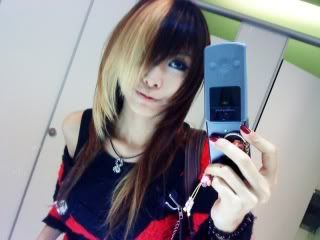 this is jus a lousy show of how my hair changed from my scissors-urge night
I WAS tempted to cut my hair...SHORT. like. kanako short short. but meh. decided not to in the end cos of some reasons.

Red belongs to prev style, blue belongs to current
Changed my fringe abit along with sides.Not that its noticeable, but it is to me anyway.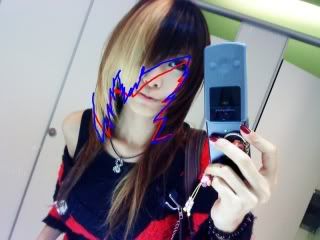 After that went around the whole entire shoppin centre, look here and there. Nothing much interesting actually, but we realised one thing. It is a shoppin centre full of stiff competition.
M1 built beside starhubs with singtel directly opposite.
Hair saloons are built directly across each other
Jewellery shops are all clustered within one small area.
Cafes are built lookin at each other.
even children clothes store are built in a row.

woohoo /0/ and davin passed a random comment, you know why they dare to do this? cos police station jus beside.

HAHAHA. wth luh~

After that we bunked @ starbucks[davin call it starfucks for idk what reason] for coffee and waited for SY to come over cos she wasnt heading out with bunny and rosy anymawr.

had white choco mocha because it was the only coffee i would drink @ starbucks. I jus dont fanci the bitter taste of coffee (*´д`*)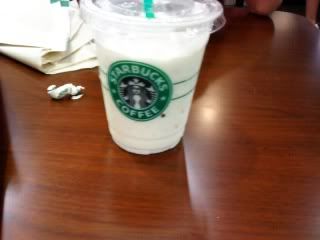 davin ordered somethingelse*cant remember* that tasted like dark chocolate+heavy coffee taste.
DONT LIEK. ( *`д´) ゞ my white choco mocha was oozin with sweetness~~~ heh.
Den we talked and bs-ed about a few things here and there. He said that I was vaccum cleaner when i was finishin my drink. SORRY I ENJOYED MY WITTLE NOT-REALLY-COFFEE-COFFEE more den you ( *`д´) ゞ

Shortly after finishing, SY reached. Think she ordered the same as davin and he complained about being too cold so he ordered hot mocha*i think* but after that he complained about being bloated anyway. hahahah~~
After finishing the drinks, visited teh toilets again and den went to shop around.

Ended up SY and Davin shopped @ Watsons. *watsons follower here*
Damn epic. The moment SY stepped in there, she was looking @ lashes already. Davin disturbed her by tellin her not to buy lashes and stuff, of course I was on her side. MUAHAHHA. DIFF LASHES FOR DIFF LOOK. DERPDERP, IT IS ESSENTIAL.
After that, we totally loomed over the Kate counter there.

What really happened...

Davin talked about buying the Kate powder, and den SY was like, I AM GOING TO BUY FIRST~!! So both of them squabbled abit, and decided to test out the product.
But..it wasnt opened. HAHAHA.
and that asshole....

Davin: AIYAH. OPEN LUH. learn from sochii one. *opens the tester*

HOI! its a tester mah...of course I will open mah (*´∇`) if not put tester for what. HAHAHAHAH so yeap. they were the first ones to open the testers for the powder @ kate counter @ watsons @ NEX. now you know.

So after SY decided to get it, we were circling around the kate counter trying out almost every type of tester for the fun of it. The gel shadow was really bad imo...i was thinkin of buyin the pink or purple one, but the intensity was sho bad that i left it alone. I still love my eyebrow mascara though, and I've converted mika too~ hahaha XD

After that, shopped around abit more den pay and left.
Went to visit a few other stores, and found some imba funny ice-cubes trays in one of them. Diamond mould, vamp teeth mould, gun mould, shot glass mould[for this, you can jus pour the drink in the shotglass imo HAHAHA]

approx 9 odd, decided to head home. MUZ BE LOVING PREASE =.= when i saw them parted, i was like wtf? and asked davin to go wait for the bus with SY. After that, davin walked me to the station and i headed home.

Had a little chat with jon on the phone on my way home, big guy was havin his 3-mth a time period *rolls eyes*
The rain at my area was CRAZY huge. I was contemplating on walking home, but my mom wouldnt allowed in. In the end wasted 20mins waiting for my dad to pick me up (*´д`*) and miss an opportunity to look chio in the rain. HAHAHA~~~

LENS ARRIVED /0/
woohoo~~~ immd. msned Davin about it cos we were kp-ing about the lens when we were havin lunch.
moral of story: when ordering stuff, MUST order AND kp with davin. Cos the moment we kp, the things will come. HAHAHA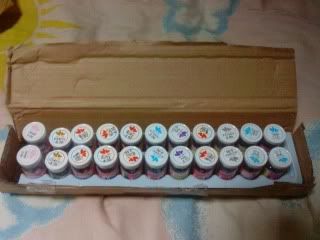 Loving my new polish+ knitted wear that bryan love gave me+ my awesome chio ring from Bodyline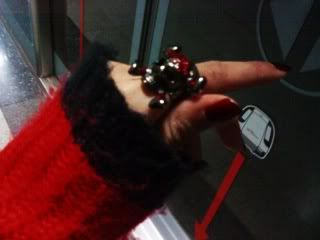 I look good in short hair too okay ;A;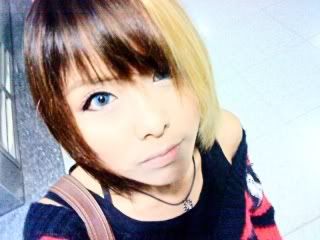 ==

Wont say I am totally fine yet though...but the nicest thing someone said to me this week was you have cried enough this week. I swore I would have cried again on the spot again if I wasnt laughing. It might prolly be nothing much or mean nothing much to that someone, but to me, it was nice.

I wont say who though, least that all of you go running to that person for nice words BLEAHHHHHHHHH ( *`3´)ゞ and thanks to the n-number of people who were concerned about me~

I am honest. I m not fine yet, but I will be fine ( ´ ▽ ` )v
==
i m tempted to shoot visual in yukata again =w=b shall work on the plans nau.