E.L.F Haullllllll /0/
And so~~~~ a few weeks ago, both my mom and I participate in an E.L.F spree as E.L.F is currently having a $1-$5 sale.
Went to pick them up today with my parents~~ it was so funny navigating my dad around cause the navigator is way slower than my dad's driving HAHAHAHAHA
One of the items did not arrive and the other lipstick was replaced by a shitty brush -.-
I wished that Smoochiezz.com DO check their items before passing it to the customers.
There is no way i m going down all the way to return a shitty brush but they had better refund me and make arrangements for the brush.
so on to the items~~~
Firstly, my mom's items~~
Lipstick swatch [without flash]
Top- Classy
Bottom- Flirtatious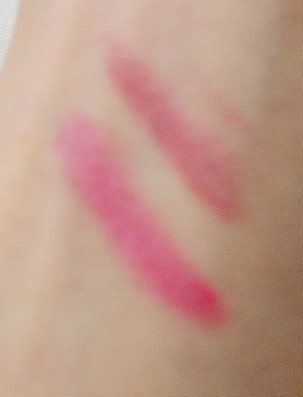 Top- Flirtatious
Bottom- Classy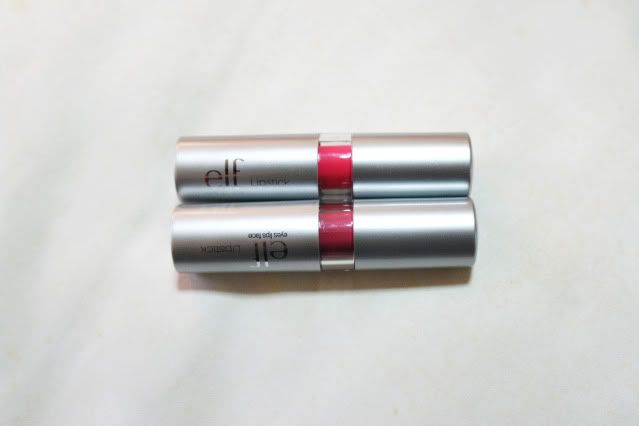 The lipsticks are not really pigmented, you will have to apply a few layers[3?] before the colour actually gets on properly. Definitely not a fan, but it isnt my items anyway.
Cream Eyeshadow in Sugar cookie~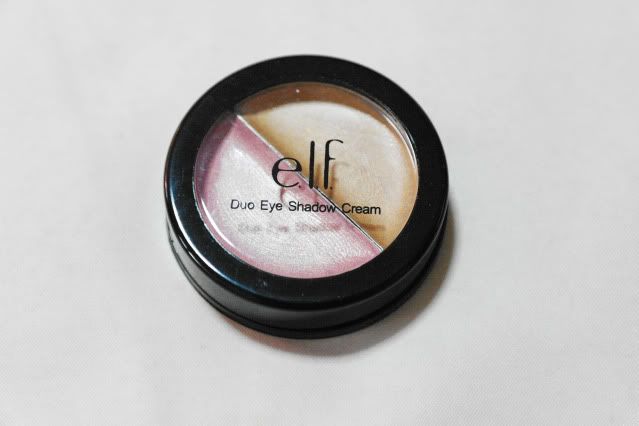 without flash [furthest bottom is ash grey eyeliner(nt phootgraphed)]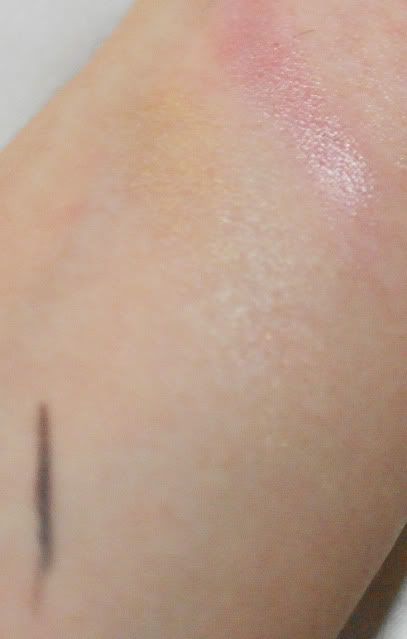 with flash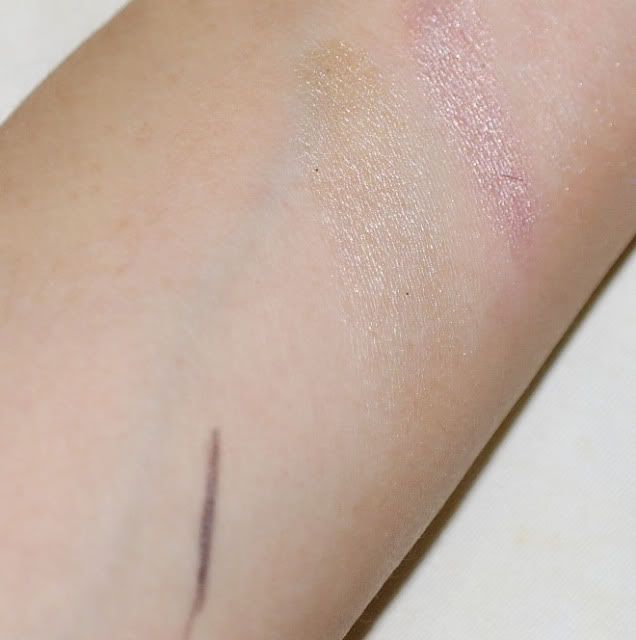 The cream eyeshadow gets alot of points for shimmer but if it was me, it would prolly only score as a highlighter cos the colour is jus too light.
The ash grey liner glides on, and the texture is very smooth. It comes with a sharpener which my mom was quite happy about~
Thats all for mom's stuff~~ next up is my haul~~
==
First up~ BRUSHES~~~
White - ELF eyeshadow brush
Black - ELF studio angled brush
ELF normal ranged brush is CRAPTASTIC. SHIT STUFF. the brush bristles were dropping out when i used it to pick up some shadow. I was thinking... maybe it is jus the start, but it got even worse. cheap goods. lol, i can get even better ones in china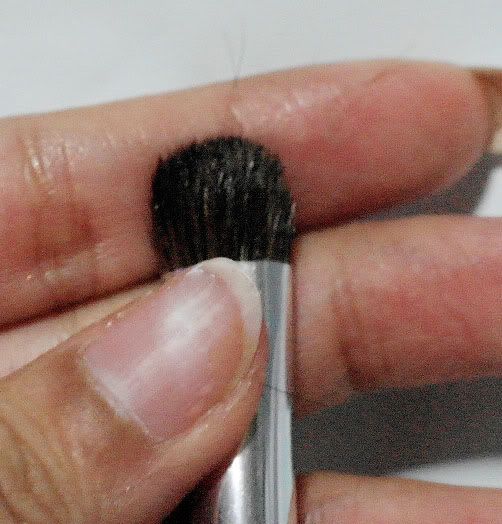 The studio series on the other hand was different. The bristles were soft and nice. [not photographed]
==
Studio Blush~~~in Giddy Gold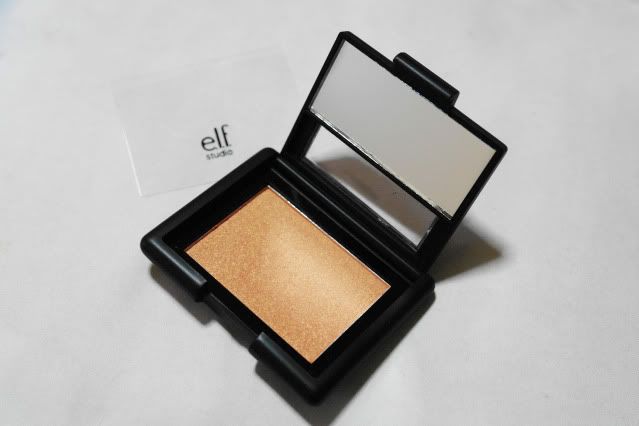 I was deciding between the normal series orange blush and giddy gold, but the colour+packaging won me over.
This blush actually requires misting before application if you want a vibrant strong colour, if not, it is actually jus a dust of shimmer.
Honestly? I wont use this as a blush... too shimmery LOL
Without misting
without flash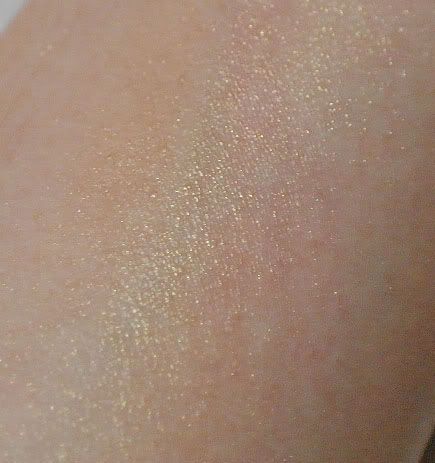 with flash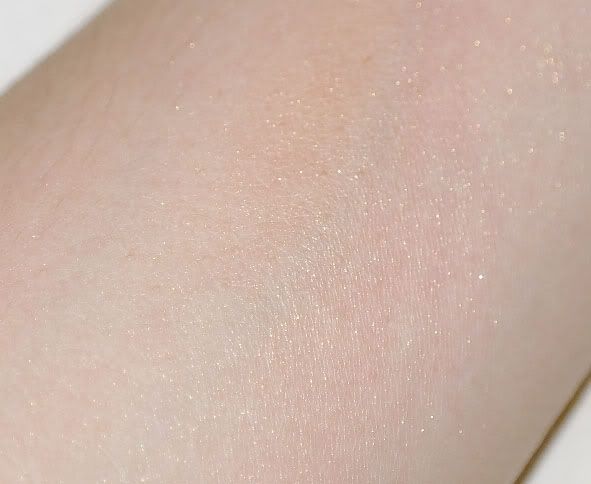 with misting
without flash
with flash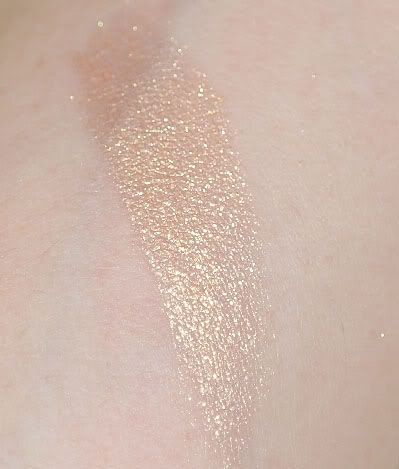 on removal wipe. you can actually see a pinkish base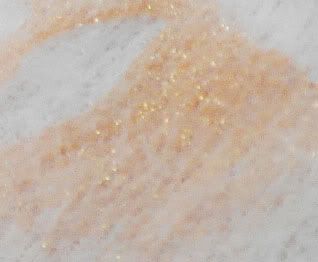 ==
Next is my fav section~~ THE LIPGLOSSES~!!!
They are so much loveeeeeee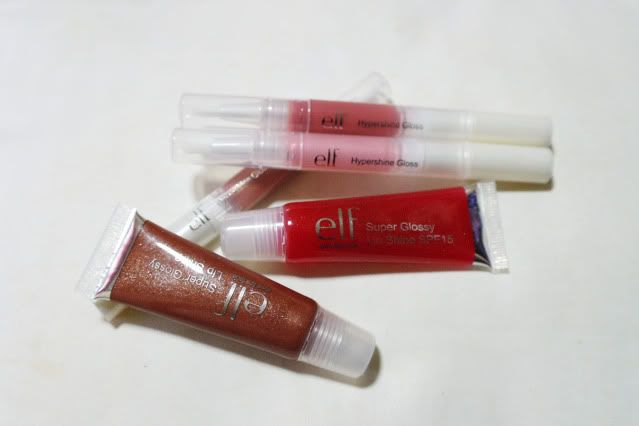 Super Glossy lipgloss
Red - Strawberry
Brown - Iced Latte
Hypershine Lipgloss
Lightpink - Fairy
Darkpink - Berry Cherry
Brown - Honey
These are honestly one of the better lipglosses that I have come across. They do not feel very sticky and the application is light. Definitely see myself using more of them besides my favourite Heavyrotation series.
Without flash
[Berrycherry, fairy, honey, iced latte, strawberry]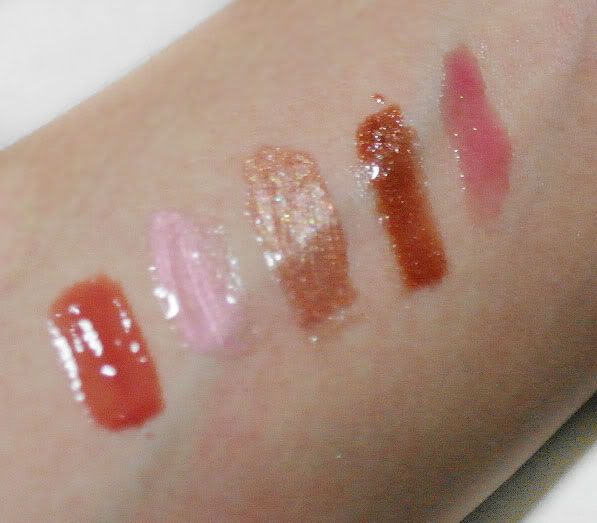 with flash
==
Next is the coversticks~
They are all quite pigmented with one swipe. The coverage is really average honestly, and the stick is pretty small.
Without blending
Without flash [apricot Beidge, Honey, Toffee]
with F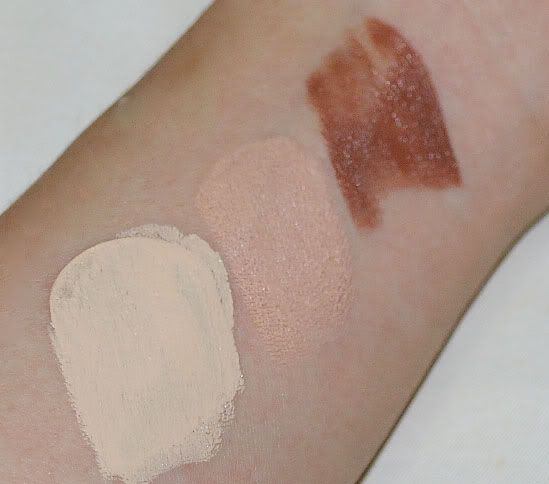 with blending
without F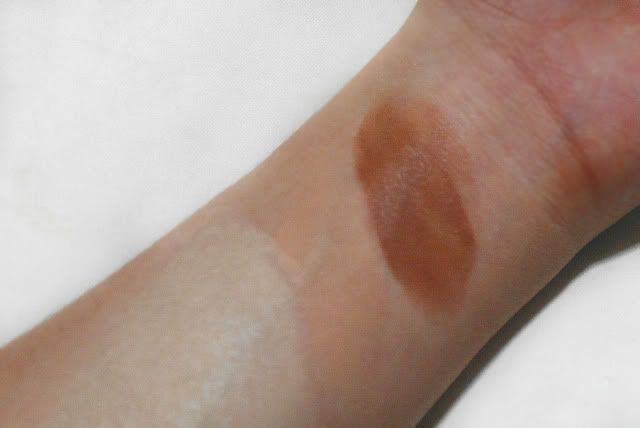 with F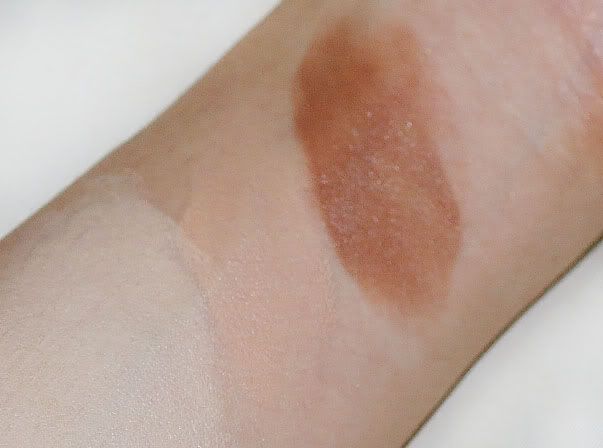 ==
Corrective palette [nude, green, lilac, beige]
without flash [nude, beige, green, lilac]
with
The coverage on my vein is quite good imo, cant wait to try it out on the face.
Overall, each item costs around SGD$3 per item only.
How could i resist such a deal???
*shuffles off to get more lipgloss*