Michelle Nail Colour review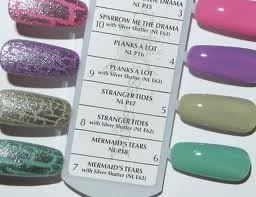 Some should prolly know by now that I m abit crazy over OPI's PiratesOfTheCarribean: At Stranger Tides collection by now. Today, i've found the very dupe for one of the colours while i was looking for black nail polish.
The brand is call Michelle Nail Colour, which is a product by beadstreet. They have a booth jus outside of cineleisure and their nailpolishes are wayyyyyyy affordable. It costs SGD2.80 per bottle and SGD4 for two, HUGE SAVE THERE.
So i got two bottles~~~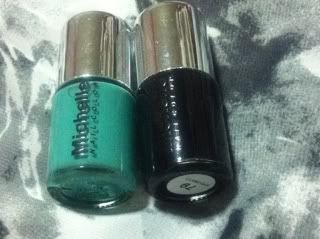 One was a dupe for OPI's mermaid tears and the other one is just plain black.
The application was easy and smooth. The brush is evidently not of super quality but it works pretty well for me. Took me about 3 coats to get a solid opaque colour so it was generally fine for me and it has slightly quick dry properties which is a plus for me. Some of you might feel that mermaid's tears is in a lighter shade, well there WAS a lighter shade. I am going to get it the next time round and swatch it with this colour. This colour jus seemed much more right for me than the other shade since this one gave me a more mermaid-ish feel i guess..
This was the normal black shade. It took me only two coats to get a solid opaque colour. As expected of a dark colour polish, i guess?
Nothing too special about this.
So overall, i think i will head back and see if there is a StrangerTides dupe(because i couldnt remember the colour offhand jus now) and get the lighter dupe of Mermaid'sTears. I foresee myself havin great fun with these.
Cheap and worthy nail polish ftw \(//∇//)\