Randoms and Project Mori☆彡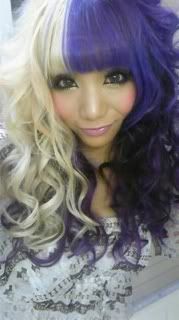 These few days has been pretty bland at work cause there is nothing much to do since our incharge and her sister has quitted the company, its a family business btw.
The only irritating thing is that the hags are coming out of where they usually are and it is super annoyig to actually see them lolol. They pissed off almost everybody in the company hahahah
Sooooo twinneh came back frm phuket on tues night n she got a couple of stuff for me..
Super awesome tshirt n i m going to wear it to work hahaha silent protest ftw.
Next was a necklace with some sankrit/thai inscription. Twinneh say its for good luck soooo okie dokie. I also has a ring with such inscription from locke when he came back frm thai.
That girl also bought a super long hi-chew bac wtf lol. 12 pieces inside of one pack.
Finally it was some indian lookin scarf thingy that i have no idea what to do w cept to look indian. No offence to indians really, i like the material and all but it looks super lol on me.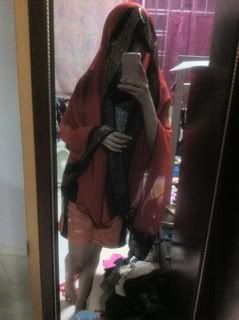 I laugh at my idiocy hahahahha ,'\(//∇//)\
==
Yesterday watsons had a private member sales once again and i went down to the nearest one with twinneh n alex after work. We got quite abit of stuff and but only spent 92 in total. Twinneh spent 48, i covered the rest.
Here was the haulll~~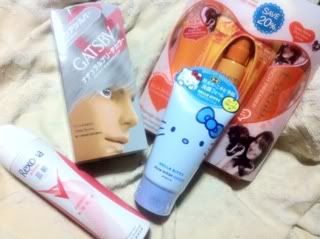 Got my rexona spray cos my one had officially ran out, thank god for sales... I cant really stand other rexona scent other den passion, which was the one i bought.
Got hairdye again. This time i m sticking to gatsby though i was greatly tempted by the palty foam series. Hope it turns out well this time, well, actually it always does. As long as it is gatsby.....(♯`∧´)
Twinneh came across hellokitty facial wash which greatly attracted our attention n was the last two bottles on the shelf. This wash is actually medicated and made to heal acne problems PLUS it removes makeup residues... So we shall see how it goes.
Finally~~~ my fav brand for hair repair currently, Essential. This brand prolly saved my excessively dyed hair... Considerin how i do it every two months and all the styling and heating every week. I m surprised that my hair doesnt break off easily. So~~~ my hair serum had actually ran out, and i was planning to purchase it at the sales for 9plus but i came across this set.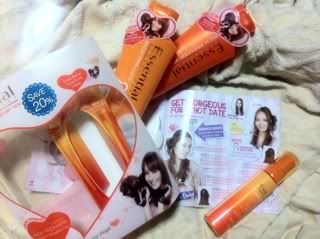 It includes a fullsize serum bottle and a small retail size of both shampoo and conditioner. Super great fan of the repair series compared to the silky series. The package also includes an extra booklet which contains ambassadors' information and simple hairstyles tips that you can follow.
Usually i wouldnt be willing to spend so much on hair care but the serum is seriously awesome. I wake up with frizzy hair every day, usually at the ends. In the morning, i jus have to apply abit of the serum on the last 15cm and my hair would seriously look like i have spent time to straighten it. It is just so neat and smooth \(//∇//)\ so yeap. Products for lazy working people like meeeeeeee~~~
==
Lastly, i want to announce the start of Project Mori.

To keep everything short and simple. I m lookin for another 2 Gal bloggers to endorse in this project other than Chaudelyn from Chaudie.net whom i have contacted wayyyy before.
Please click on the tab of Project Mori in this blog.
Alternatively, you can visit Chaudie's version of the search
http://www.chaudie.net/2011/08/project-mori-star-gal-search/
Thanks all~~~