Agony of an OCD-proned....
[Sponsored]
Okay, ignore the title.. I really couldn't think of anything else.
Well... washing yours hands up to 40 times a day might be a mild OCD case anyway *nods*
ANYWAY~~~

Have you ever been in a condition where your makeup takes too much to remove?
Your answer doesn't really matter to me, but I DO!!!
OH GOOD LORD, while in my quest of obtaining SUPER MAKE PRODUCTS[waterproof!long lasting!BLAHBLAHBLAH!], I've pretty much did a major self-ownage when it comes to removal.

Top two products that kills me during removal is my Lancome mascara and my K-Palette liner.

I have like TONS of makeup removal products that I use excessively, reason being I always want my face thoroughly cleansed before I sleep. I will be super unease if i feel even a speck of dirt on my face before I sleep [I am over exaggerating but you get my point]. Here is where my disorder sets in... I'll remove my makeup with normal removal solution/oil, use a removal wipe, use a removal cleanser AND double check with a wipe again... you have no idea how much moisture is lost in that process but having my face clean matters more to me than anything else.

So~ I was invited to try out the new

New HadaLabo Hydrating Cleansing Oil

~~

My "meh" picture of the product



A short info about HadaLabo first~!

Hada Labo reached Singapore in June 2010 with the introduction of FaceLotion, Hada Labo SHA Hydrating Lotion, which was no.1 in Japan. It became the best selling facelotion and the best newcomer brand during 2010 in Watsons Singapore.

Their skincare philosophy:
"Perfect X Simple" inspired by traditional Japanese beauty wisdom. Only beneficial essential ingredients are retained in products, while unnecessary additives such as colourant and fragrance are omitted, as it will burden the skin.



This is their one-step makeup removal oil, boasting to remove tough,waterproof mascara and eyeliner.



They have the lock that I like in all pump products *snickers* cos i bring them out sometimes...and I would really NOT LIKE to accidentally squirt liquid all over my bags.

The two key ingredients is their High Purity Olive Oil[for high performance cleansing] and Super Hyaluronic Acid[to retain moisture giving you refreshing smoothness after cleansing, so they say.]
The product claim to be water-soluble, and doesn't leave any residue after cleansing.

Is it true?



Pardon moi. I was in teh washroom preparing for cleansing *laughs*

So here is a picture of my make... As most would know, my eyemake is heavily concentrated.



Here is the list for that day:
Kate eyebrow mascara
Nyx eyebrow pencil
Pop contouring powder
Maybelline gel liner
Lancome mascara
MAC pearl powder
Makeup Shop orange line

you get the drift. I m just slightly regretful that I couldnt find my K-Palette Liner. That thing is prolly the hardest makeup product that I have to remove...even Lawliet twinneh agrees. Both of us has gone WTFFFFFFFFFF at it before. It stains skins *insert true story bro picture*

In contrast with the yellowish solution in the bottle, it is actually almost colorless when being pumped out~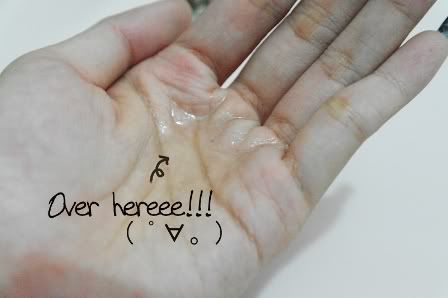 ZERO SCENT. ok, not totally zero but compared to my other cleanser, this is almost a NIL. *check*

The correct way of using this cleanser is to apply an appropriate amount and massage/rub it all over your face to remove the makeup, but I wanted to show how much of a ONE-TIME cleanser it was so I used a cotton wipe and did hold and swipe.

With 3seconds of hold, this much was removed...ALMOST CLEARED.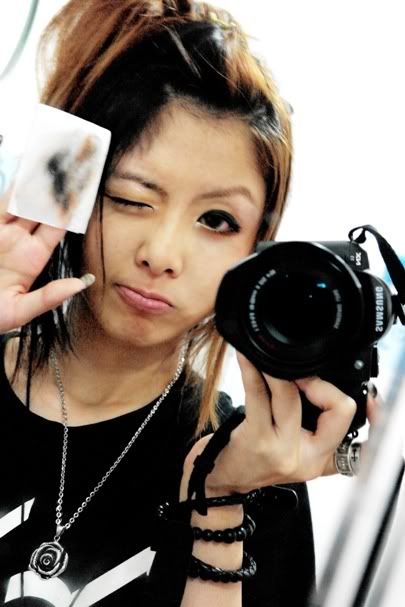 The only thing that stayed on was the mascara, which was also removed promptly after gentle rubbing a wet cloth over it. *strong removal checked*





The only part which did little to convince me was the water-solubility of the product. After cleansing, I rinsed my face with just plain water and dried it. However my skin still felt the slight oil, or maybe my OCD set in but in picture, there are actually droplets. Those are formed by oil when mixed with water. It is way smaller and lesser compared to my Biore Oil cleanser, but I guess I am anal like that. *solubility not checked*

I am still loving this cleanser though, I really feel super skin-refreshed after usage despite that small hiccup~Just use a wipe to clean it off and it is fine.

I find it a bit hassle in the long run because of the solubility and have reduced to using it for cleaning random stuff. *laughs*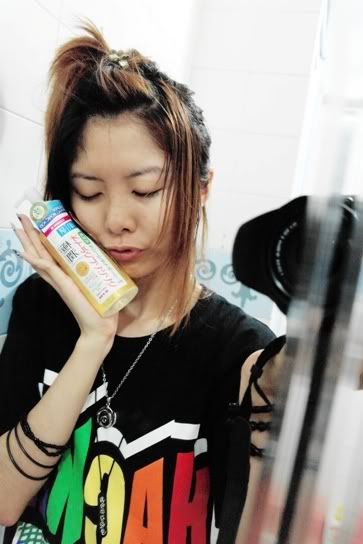 Giving it a 3.5/5 !! *applauses*



Hada Labo also has another product for light make removal [for those who dont put on a hell lot like me.] and it is a water-based product, YAY FOR SKIN MOISTURE. It contains two types of Hyaluronic Acid [both normal and super], intense moisture locking for the win!




For those who are interested/as obsessed as me for keeping your skin clean after long hours of having makeup piled on your skin.

HadaLabo Hydrating Cleansing Oil is priced at $20.90 and will be available EXCLUSIVELY at Watsons nationwide from 1 Nov 2011 onwards. The HadaLabo SHA Hydrating Makeup Removal[water-based] will also be available at $17.90 and sold at Watsons,Guardian, Fairprice and other major departmental stores.

To know more about Hada Labo and its products do visit: HadaLabo @ Facebook

==

more camwhore pics rofl~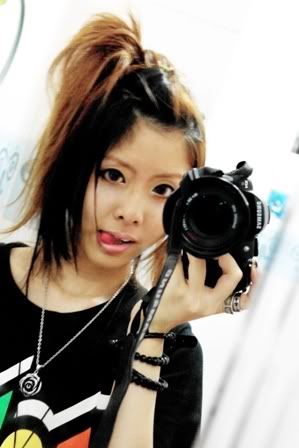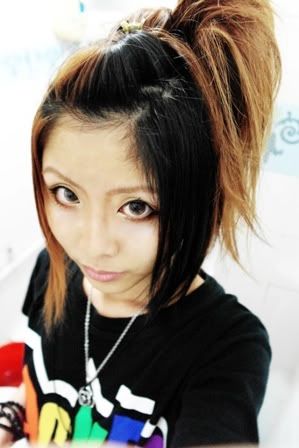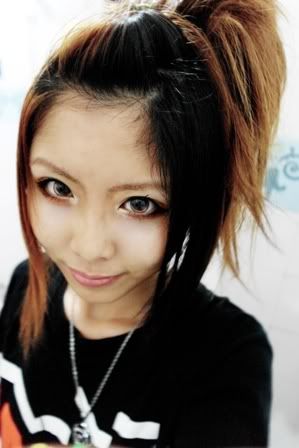 Special thanks to the Sample Store for this review sponsor.