*Muacks muacks*
[sponsored]
PURTY LIPSSSSSSSSSS.
One of the things that I will never have often due to my lack of efforts to exfoliate my lips regularly. Its just too much of a hassle and I dont like lipgloss/lipstick stains in my food or on my glass...*OCD proned here kthx*

So my only saviour in ridiculously cold countries, cold offices and shopping centres is..teh LIP BALM *jang jang jang!*
I know I am not known for using lipbalms just BECAUSE i dont talk about them. Well...people are usually more interested in the makeup products that i use rather than my skincare okay?

So presenting you Mentholatum Mojitate Kajitsu!!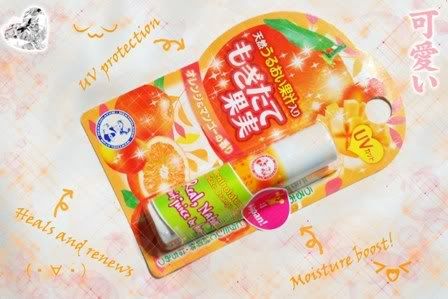 First let me introduce Mentholatum.
All of you probably know the line by LIPICE better. It has been #1 selling lipbalm in Japan and widely used during MY SECONDARY YEARS. I am serious, every other girl i know owns AT LEAST one Mentholatum lipbalm.. ok i lied, even guys do. That is not the point! It was the hottest brand back than before nivea came out with their line followed by other spastic brands.

They have FINALLY launched their Mojitate Kajitsu line in Singapore a few months back. It was introduced in Japan back in 2003 [FOL okay? Why take so long to reach here dammit.] and it has then been well-received by teens and young adults for its flavour and packaging. Japan always has the best packaging for products which lures you to buy them...Singapore products? Our designers probably got shot in the hand by some nutcase.

Looking at the product, it just reminds me of EGG




Colourful and all.

Anyway, this yummy stick is filled with Mango+Orange with Honey goodness~~~ Mojitate Kajitsu says it all, it means Fresh Fruits in Japanese.
It comes in different flavours of Strawberry, Grape&Berry, Orange&Mango, White Peach and Lemon&Lime.

To be honest, I was slightly sad when it came to my doorsteps. I was hoping for either a Grape&Berry or White Peach... but neither happened *inserts hope-deflated face* I do have to say the Orange&Mango was omnomnomlicious too! I couldnt stop smelling it. It was really yummy smelling and if it werent for sanity, i would start tasting it and hoping there is flavour on it too ~.~lll It was almost like the situation with my heavyrotation chupachup lipgloss.

Here are the pictures of other flavours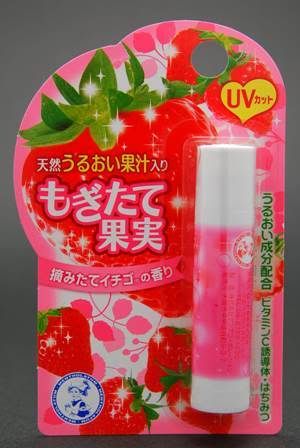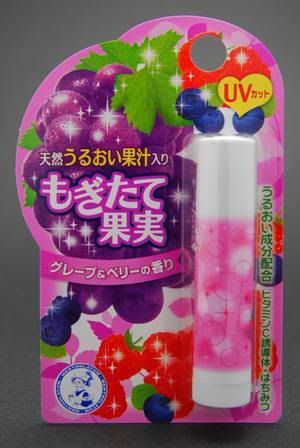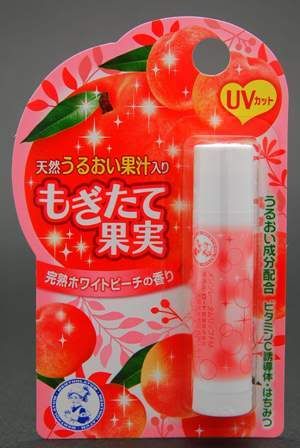 The back of the packaging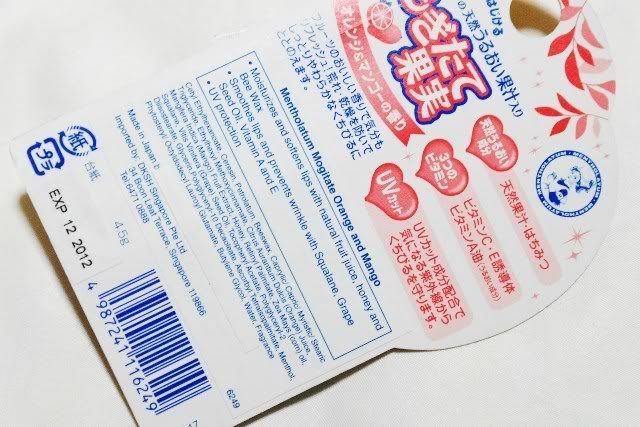 Mojitate Kajitsu is made with Fresh Fruit Juice[how the hell do they do that man?] which contains essential vitamins and minerals.
The point of this lipbalm is that it contains HONEY, which helps in the healing and renewal of lips.
It also contains other important moisturizing boosters like Squalane[wrinkle reduction], Grape Seed Oil[skin repair], Vitamin A and E[anti-oxidants to retard lip aging and give lips a healthy shine]

LETS GO~




The first thing i did when i opened the lipbalm was to SMELL IT. HAHAHHAHA, i m forever smelling all the products first before I use them. If it stinks or contains a scent which i irk, it will prolly go into the no-use category no matter how good they are. #foreverscenterialistic [dont bother, its a word i made up.]

Like i say... it was omnomnom-licious, the scent was so freaking yummy that i could eat the lipbalm...if it were edible LOL.

Trying to do some poster-girl look but obviously i fail horribly and my trollface.jpg appears. #forevertrolling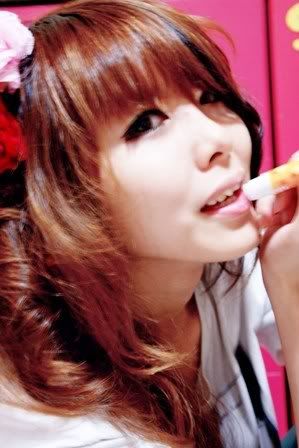 Here was the before and after.
Left being after. It was obviously well-moisturized and the left side looks more yummeh and kissable anyway, i assure you it SMELT edible.


http://www.blogger.com/img/blank.gif
Giving it a 3.5/5~~

Honestly speaking there was nothing WOW about this product except for that super hunger-inducing scent. Its...just a lipbalm. Now if only they have this line in sheer colour... I would totally snap it up and give it a 5/5 8D

The Mentholatum Mojitate Kajitsu retails at a price of $5.90 each EXCLUSIVELY @ all Watsons in Singapore now.
Mentholatum Singapore is also giving away FREE SAMPLES of their lipbalm so you will know their awesome goodness.

Redeem your FREE Lip balm sample here

I've already got mine a month ago and it was so damn adorable!!!
You can probably use it up to a month or two with the amount they provide and it fits in your purse without any problem, how cool is that?!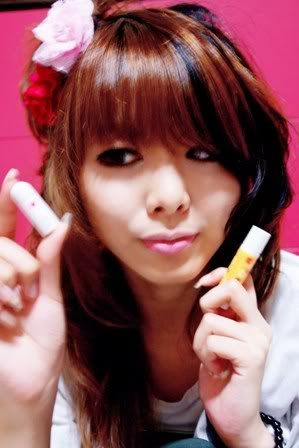 Special thanks to The Sample Store for this sponsor.


==

random camwhorage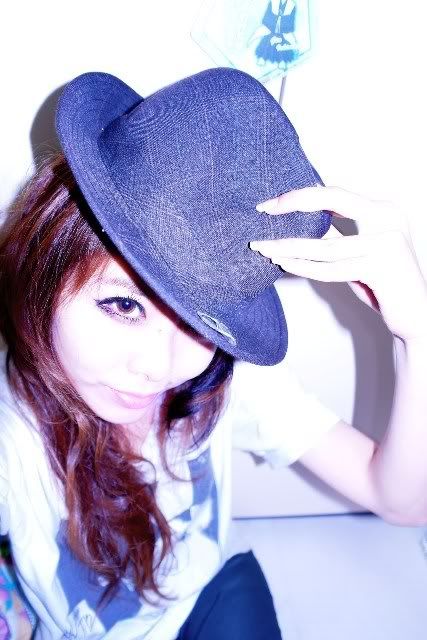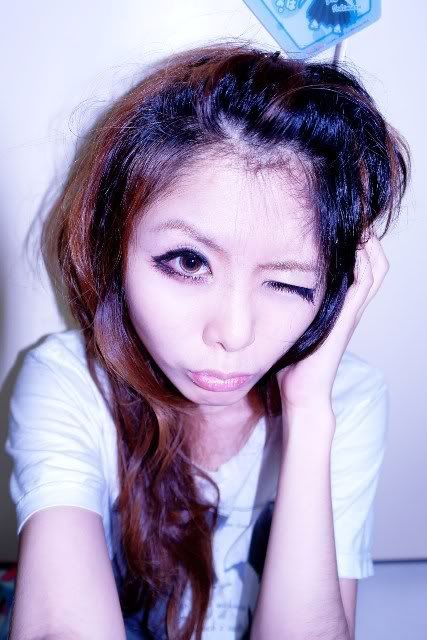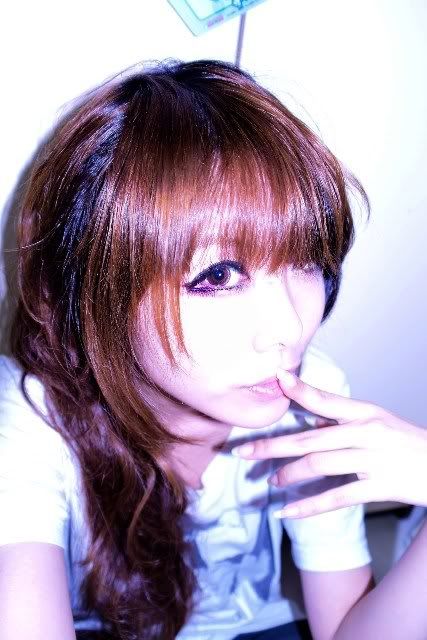 EYE OF THE TIGERRRRRR not. Eyemake of the day~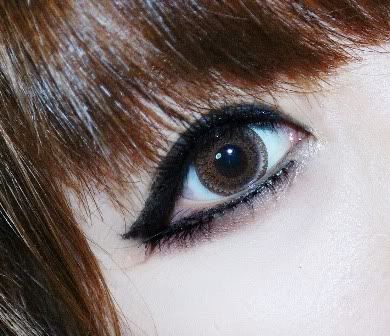 on a random note...
QIUQIU VISTED MAH BLOG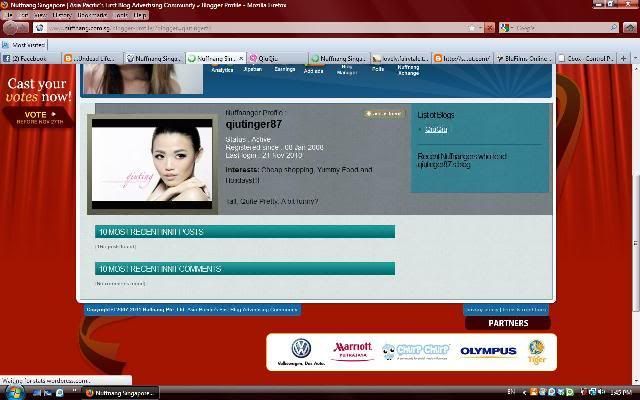 but i bet she did to see how i fucked up on the XX and Cheesie impression #foreverloser *sobs*
=
and yes. i m defensive about my camera. It is my FAMILY CAMERA, and its like a friend.