Dominos invitation~ [event by omy.sg]

On thursday, I was invited by omy.sg to kovan domino's as one of the guests to try out Domino's new pizza, the ultimate Hawaiian! *points up points up*
Even though I have been a fan of domino's, I've never knew its history. Here are some quick facts.
Domino's Pizza, is a renowned and popular choice amongst people for relishing their favorite fast food, the Pizza. Today, this huge franchise has a profound global impact and has more than 8,900 corporate and franchise stores in more than 65 countries. All of these started back in 1960.
I have been a fan of Domino's ever since the age of 14? or so. My first Domino's, was of course, not in Singapore but in our neighbour country, Malaysia.
My favourite item in the menu happened to be the breadstix, something that I always introduced to other friends/acquaintances whenever there is Domino's in sight or in topic. My love for it was intense.
Before the yummy food, we were greeted and introduced to Domino's by a cheerful presenter.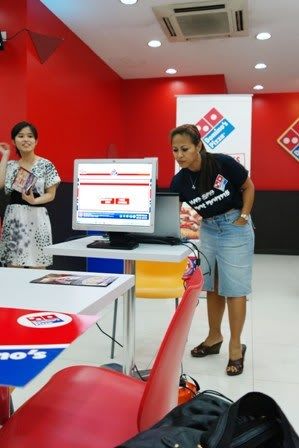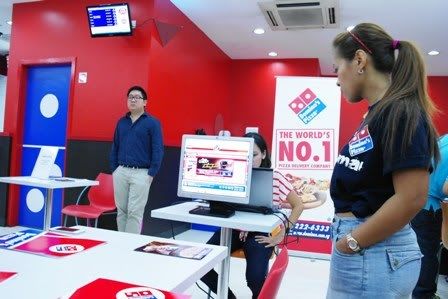 We were shown that ordering online gives alot of perks like half-priced chocolate lava cake and grants of 30mins delivery or so.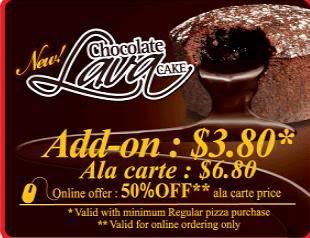 You can check out their website here
Domino's Pizza Delivery
Domino's Pizza Delivery
Domino's Pizza Delivery
Domino's have something useful that other deliveries do not have, which is a GPS tracker. The presenter explained that, in the kitchen, the crew are required to report every step they take and measure all their ingredients carefully. Not to mention, all their work in the kitchen is also recorded by cctv and viewed by all the managers so efficiency is guaranteed in the kitchen.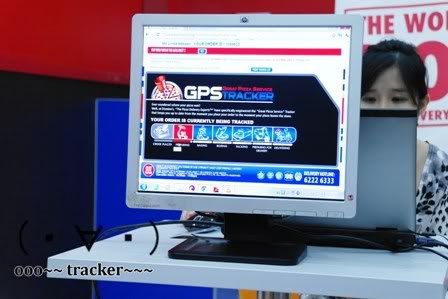 Pizza is delivered!!!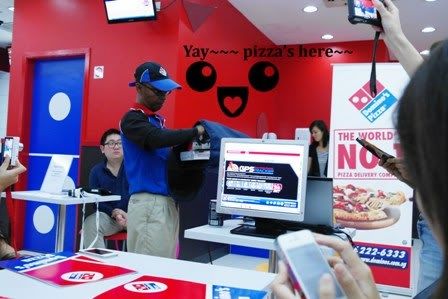 Holding the ever-awesome-tasting breadstix of my life. If anyone have seen me at that time, they would see my eyes glittering.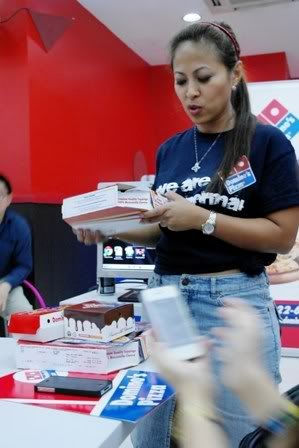 I couldnt be bothered with the pizza cause I was pretty distracted..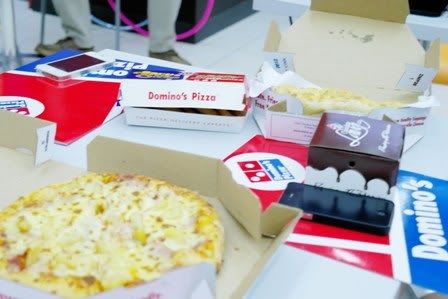 A table of food galour!! We are all extremely excited. Everyone snapping pictures...while I took my first bite straight after this picture... I started eating first 8D
This isnt chocolate lava cake... i swear it is just chocolate. There is so much of the "lava" that the cake seems to be just a shell... Which in my opinion is good for other people... but i do prefer it if there is more cake ._.;;;
We had some hula games to win the vouchers but I didnt wanna stand up so SKIP~!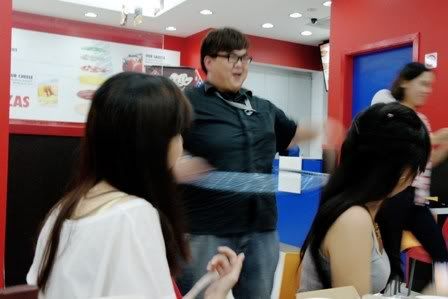 GUESS WHO WAS SO UNGLAM THAT SHE HAD TO BLOCK MY CAM?!
Kiyo-neechan!! and Quinie~~
Was so surprised to see someone I know~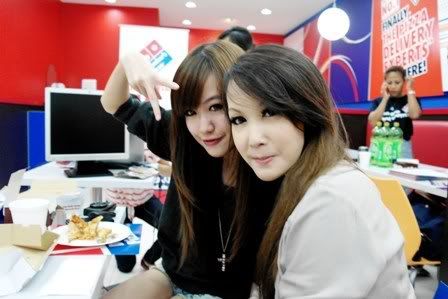 uhmmm valerie and regin? I couldnt really remember names well ._.;;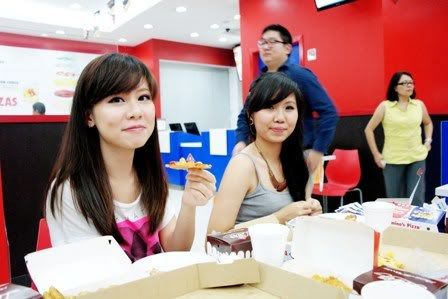 [really forgot her name] and zolene? I forgot how to spell her name but we walked back to the station together so I know how to say her name *laughs* She was really good company.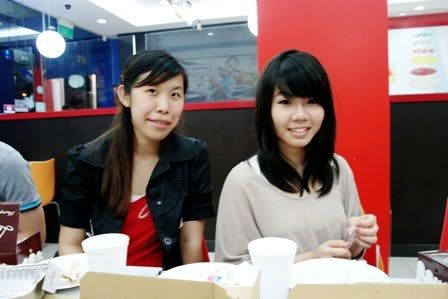 me and kiyo-nee!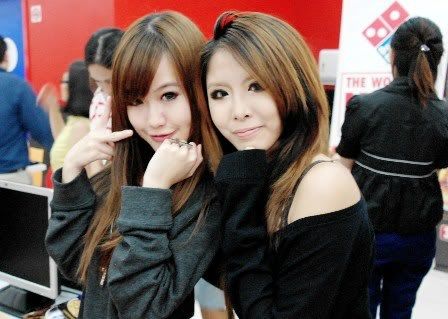 Group pictures!!!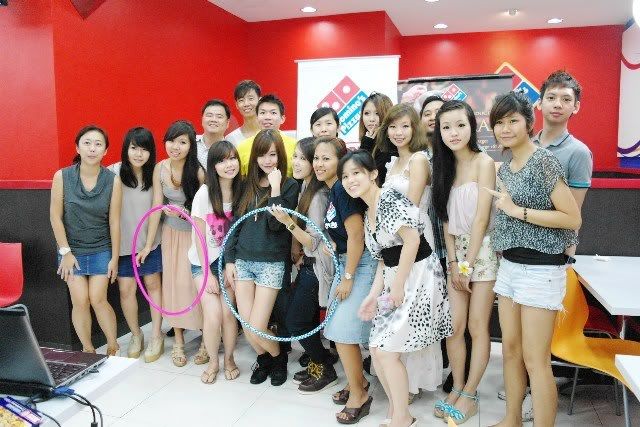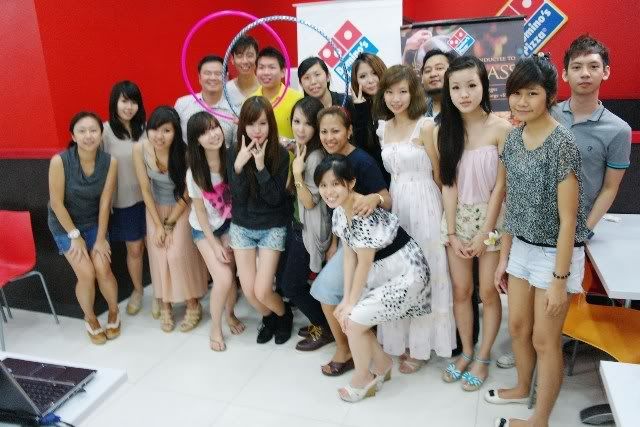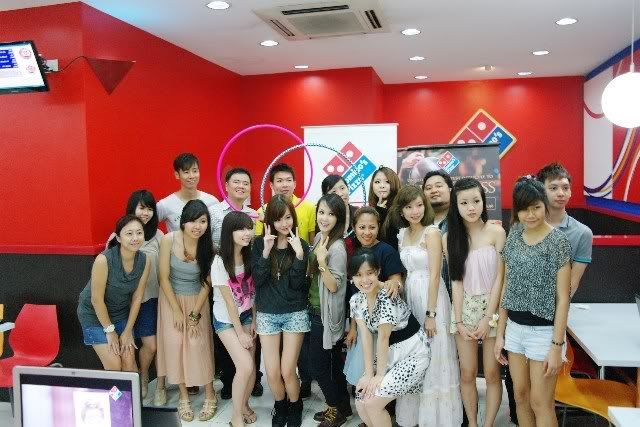 I had fun~
after that... I had bad luck...
Blacked out on my way down pioneer mrt's staircase and tada~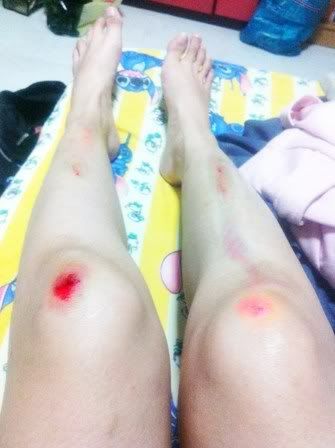 I am still limping around. My socks was pretty awesome though... I was scratched badly but it did not tear..
Loving the pullover/sweater i bought with kent-nii @ uniqlo~~ So worth it. I am contemplating on going back to get another one cos it is so comfy.
upset in the taxi cos i took the wrong bus and had to take a taxi D8 my $20!!!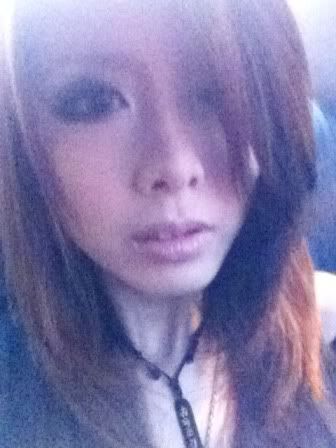 on my way home in a TRAIN. YES. save money please!Screw taxis... so expensive ;A;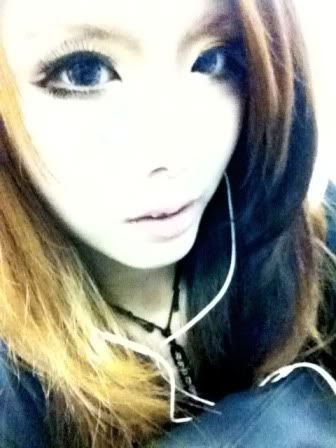 Enjoyed myself pretty much despite the bad luck I had that day~
Go check out Domino's NOW. Awesome breadstix..*wiggles fingers*
You can check out their website here
Domino's Pizza Delivery
Domino's Pizza Delivery
Domino's Pizza Delivery