One Step Dewy
[sponsored]
Nowadays I am really into the whole natural skin thing.... okay i lied. I am just too damn lazy for base makeup because if i have to split my makeup time into a ratio... It would probably be 5:4:1 / face:eyes:cheek+lips
Without base makeup, I could probably finish my full gyaru eyes in less than under 10minutes... with base, it would take me twice the time really. So usually nowadays I would just slap on moisturizer, sunblock + eyemake and get the hell out.
THAT IS NOT THE MAIN TOPIC!
See the picture up there? Yes, dewy healthy glowy looking skin. I have seen a tutorial that gives you that type of glow skin in SEVERAL makeup steps that I have absolutely no time for, so I am here to review something that I've found that can give you that kind of skin.
Okay, I did not find it... It was fed to my face. *Laughs*
Introducing
Apex Beaute VIP GOLD BB PLUS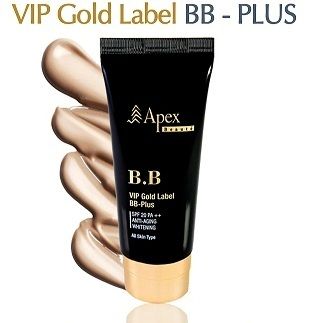 Here is my first video review. Sorry if it is not well-made... If you decide you would rather NOT hear my verbal vomit, please read on instead 8D
==
So to sum up the video, there are pros and cons of this product that I FEEL after I've tried it on.
What I like about this product
- Gives the skin a dewy finish [one step korean glow skin look]
- SUPER lightweight even after putting on 3 layers
- Decent but not flawless coverage unless you have good skin [You will still need concealer if your dark circles are bad]
- Waterproof to a certain extend

Cons
- Only SPF20 PA++ [I prefer at least SPF30? PA+++]
- Requires touch up every 2-3 hours [You can skip it like me if you are not too bothered, if you are, you should touch up with loose powder or set with loose powder before you head out.]
Good or bad?
- One tone BB Cream. [in regards to this, they say that it is a one-tone fits all BB cream but I am not sure how true is that because I have not tried on other people, so I leave it to you guys to judge. It fits perfectly to my skin though. ]
Here is the
KEY INGREDIENTS
list
Allantoin - Cell replication
Arbutin - Whitening
Adenosine - Wrinkle smoothing
Vitamin E - fight free radicals[free radicals can cause cell damage, excessive free radicals can also cause various major disorders and diseases]
Aloe Vera - Skin moisturizing
Green Tea extrac - anti-oxidant
Their claims
-

It is an all in one product helps cut down on time and gives the skin just about everything it needs


-

Whitening


-

Anti-aging


-

Coverage


-

Moisturiser


-

Primer


-

SPF 20 Sun Protection


-

Controls oil


-

Won't clog pores
1. Checked. This product is really a one step for me if i m just looking for a sunblock with clean-to-go skin.
2 and 3, not checked because it works in a long run but its worth a shot because of the sunblock function.
4. If you have better skin than mine... yes.
5. Checked for moisturizing~ my skin doesnt feel dry even after 1 hour odd. Still supple and feels pretty "makeupless"
6. Checked. It is a good base to work on.
7. Checked, it is written that way *laughs*
8. Not checked, my skin is still oily after 2hours. Needs to blot or powder.
9. I wont know for this because I always clean my face thoroughly no matter for which makeup product.[OCD-proned]
I would give this product a
4/5
.
It works as a really good thin base for me compared to other brands of BB cream however I am not too sure about the protection it gives me because I am paranoid that way.
==
The other two products that they've sponsored me with but I am not obliged to review them is the
Real Moisture Lipstick in #04 Peach
and
Soft Feel eyeshadow in #05 Deep Grey
.

Lipstick in #04Peach
Like any other lipsticks, none can EVER stay on my lips.
However I love this lipstick because it smells
SUPER FRUITY
, so it will be one of my top to-use colour this winter~~
It applies on sheer, so I can choose to use it for a lip tinting colour or a full coloured lip. It is super moisturizing too, so it really encourages me to use the lipstick instead of gloss only or lip gel.
I would give it a
5/5
. One of the best lipstick I've used so far besides my MAC, and one of my favourite products in their line. This is a
must
get, and I am already considering if I should get another colour.

Eyeshadow in #05 Deep Grey
This eyeshadow, by far, has the
softest
feel [think fruffffyyyyyy] to any other eyeshadow pots I have come in contact before.
I like how it is super pigmented but at the same time I am not a fan of all the pearl bits in there. It needs about 2 layers for a pretty smoky eye look.
I would give it about
3.5/5
? Maybe I am not a fan of dark greys... *laughs*
==
Here are the swatches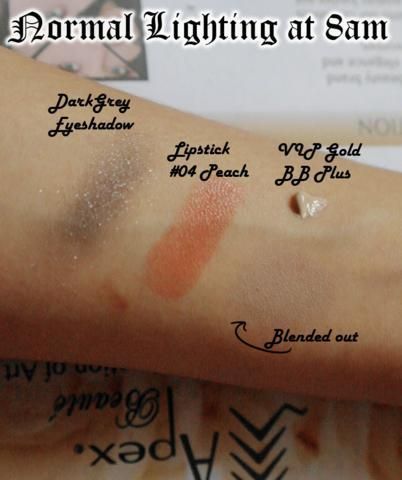 ==
Finally here is my second product in the line which I did not get to review but I got to try it out when I was collecting the rest of the product~~
Baby Cheek Blusher - Apricot
I tried out the one in Pink and it really made an impression.
The pigments were really good with light reflecting powder, and it doesnt go on heavy so you can have better control in layering your blush and AT THE SAME TIME, it is not so light that you have to dump on like 6-7 layers to get what you want.
I would give it a
4/5
on first impression but reviewing it properly would be another story.
==
I am hardly a fan of korea-based makeup but this is one line that I would keep my eyes on besides faceshop [i like their lip liners, colours n HD bbcream].
If you feel that you are already attracted by my experience, just head on to their website and make your orders!!
Apexbeaute.com
ApexBeaute on Facebook
They will be having some promotions in the month of September so do look out at their website or my blog!
==
Some pictures from the review~
and my recent obsession of posting eye makeup. HAHAHA.