Haraju-cute Chapter 1: COSME #1
[sponsored]
Hey all~~ as some of you might have known from my twitter/facebook, I've been given a chance to join the list of Haraju-cute bloggers!!
So I am here to review items every fortnight and bring to you the best info on Japan Makeup Products that are brought into Haraju-cute corner in Guardian!
This is my first box from Haraju-cute~~~ and our theme for this box is
@COSME #1
.
Many of you might have heard of
@COSME
, which is one of the top most influential japan beauty community. They release rankings of the top products choices every half a year, and I am going to review items from two brands which got into the top for their respective beauty category last yr(2011).
Rose of Versailles
- Lady Oscar Liquid Eyeliner in Black ( COSME#1 in eyeliner category 2011,2010 )
- Oscar & Rosalie Face Mask
- Princess Antoinette Face Mask ( items nt in the box but i would like to review it together anyway)
- Lady Oscar Creamy Pencil Liner ( items nt in the box but i would like to review it together anyway)
Body Fantasies
- Freesia Fantasy (COSME#1 in parfume category 2011)
I tried to go for the princessy look but kinda failed. *dies laughing* I was way too tired.
==
Abt Rose of Versailles
Rose of Versailles (ベルサイユのばら) is a well-known title of shoujo manga, and the line of makeup was created and produced by CreerBeaute under Bandai.
I've used to think that the animation I saw on youtube was by Heroine Make, turns out I am largely mistaken because of the art form. If you search ベルサイユのばら, you will probably find the videos. For info of those who made the same mistake as me,
Heroine Make is by Isehan Group
and
Rose of Versailles is by CreerBeaute
. Do not mistake because of their similiar art style and packaging!
=
Lady Oscar Liquid Eyeliner in Black
Moisturizing agents:
Lipidure - super moisturizing ingredient found in eye drops
Wild Rose Essence
Rose water
Pros
-
Smudge proof
A huge number of girls/aunties tend to make a mistake when trying out eyeliners at counters. They always say the eyeliners do not live up to their claims... sorry to say this but it is a beauty
PRODUCT
not a beauty
MAGIC
. To test whether it is smudge-proof, you have to apply and leave it to dry (10-15sec)before rubbing it. You do not violently rub it in 1 secs after application, any good products will smudge like crazy.
-
Water proof
I wouldn't say it is SUPER WATERPROOF like claimed because it does lighten a bit, but I am sure you can wear this to the pool without worrying that it will bleed.
-
Fast Dry+ Moisturizing formula
I am sure none of us like waiting, especially when in Singapore, time is money. This liner dries in 3-5 seconds after application.
Moisturizing is also an important point when it comes to makeup. If you have a product that dries out your skin, esp eyes(delicate area), I suggest you ditch it before you get more wrinkles.
-
Slim tip and specially designed cap
Like any other new Japan liners now, it has a super fine tip for precise application, especially when it comes to winged tips. The liner tube is also designed with a tight cap closure. Unlike other liners, there is a second inner cap that is pushed back with spring to ensure tightness so that the liner does not dry out easily.
-
Sleek black tube design
Portable and classy with gold printings. Not something for super girly girls but it is a SUPER YES for someone cool like me and guys.
Cons
-
Colour is not super dark upon application
Some people prefer it light, some people like it dark. If it is a black eyeliner, I prefer it JET BLACK. However this liner does not give you jet black upon first application, it would require another swipe or two but I am sure that isn't a big problem. I am just looking for something negative here, but this is the best I can come up with.
Verdict: 5/5
流石 COSME 2011・2010 第一位 アイライナー!! Holding its position of top eyeliner for two years, it would be weird if it isn't this good! I would totally buy it again.
=
Lady Oscar Creamy Pencil Liner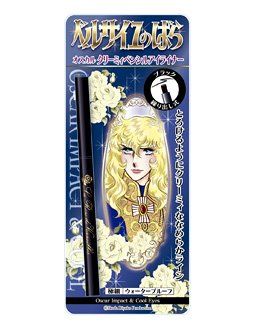 picture credits to haraju-cute cos i forgot to take it.
Since we are on the topic of eyeliners from Rose of Versailles, I might as well review the Creamy Pencil Liner that was in the goodie bag from
Haraju-cute Blogger Party
~~!
Moisturizing agents
- Hyaluronic acid (YAY)
- Rose Water
Pros
-
Waterproof
Not SUPER waterproof again, but it's staying power is no joke.
-
Smudge proof
Like it's friend the Liquid Liner, this creamy liner is smudge-proof as well *thumbs up*
-
Thin lead
This is for a much more precise application compared to most of the automatic liners out there. It is not prone to breaking because you are not suppose to dispense too much of the product in the first place
-
Application ease
The liner is REALLY creamy, it goes on real smooth too.
-
Sleek packaging.
Portable and classy with gold printings. I am just so in love with this combination. Now if only they would come up with gold and black printings.
Cons
-
Colour + precision
Being a cream liner, you cannot expect it to have the same intensity + precision as a Liquid Liner, so this would be something good for beginners or usage for water lines. I wouldn't use this as my daily liner.
-
Inability to retract
Without a retractable function, I have to extra careful about how much product I dispense as I am unable to keep it/ retract it to avoid breakage. So do watch out if you are someone like me who likes retractable products due to clumsiness.
Verdict: 4/5
It is a rather impressive product for its waterproof and smudgeproof abilities, so if I have to pick out of all the cream liners that I have tried so far, this would be one of them. As expected from Rose of Versailles~ I would still like to have the retractable function though ._.
Top > liquid liner
Bottom > creamy liner
=
Princess Antoinette Face Mask /Oscar & Rosalie Face Mask
I was sent the Oscar & Rosalie Face Mask, but I might as well do the
Princess Antoinette Face Mask that was given to me in the
Haraju-cute goodie bag
too!
Key ingredients:
Princess Antoinette mask [Moisturizing]
- Collodial Plantinum
- Royal jelly extract
- Hyaluronic Acid
Oscar&Rosalie mask [Brightening]
- Pomegranate flower extract
- Camellia flower extract
- Lipidure (moisturizing)
- Dipotassium Glycyrrhizate (moisturizing)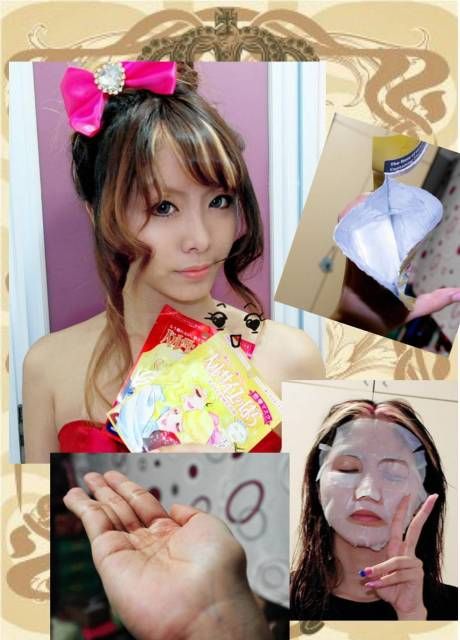 I am using the Oscar & Rosalie Face Mask.
- Paraben-free
Primarily for their bactericidal and fungicidal properties, some people might be allergic to it.
- Fruity scent
Some people might not like it but nothing like a peach scented body care to calm my nerves~~
- Even though the mask isnt SUPER thin, it molds around the face pretty well and there is an abundance of the facial essence
Verdict: 3/5
The effects of the mask was so-so. Something that I would use for a relaxing night but not for my intensive week care routine.
==
Abt Body Fantasies
Body Fantasies is a line of body-related products produced by FITS Corporations. They specialize in producing sprays, lotions and scented wash.
This brand is widely raved in gyaru magazines but it is a drugstore brand that isn't really well-known unless you are into the whole gyaru thing. I haven't really tried a drugstore body spray/parfum in a very long time because they always have this strong smell that I dislike compared to branded sprays/parfums.
==
Freesia Fantasy
Scent
- Freesia
- Heliotrope
- Rose
- Muguet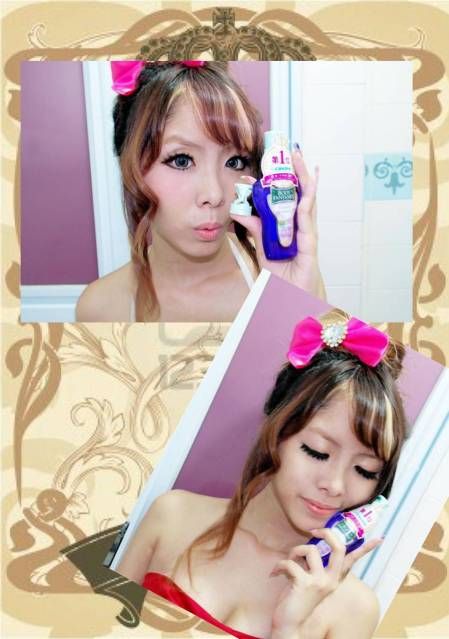 - Fantasy packaging
I love the cap design a lot but I feel that they can come up with a better bottle design
- Fragrance
It is rather strong at first but it will fade away slowly in less den a few minutes. The scent lingers on for a few hours though.
Verdict: 2.5/5
It is rather average in my opinion. Like any other drug store brand mist, but much stronger. I guess it is like a eau toilette instead of a bodymist?
==
This ends the review of the first Haraju-cute box! *PHEW* That was a lot to digest!
You can go grab them now at any Guardians with the Haraju-cute corner!
Check out the nearest Haraju-cute corner available to you here:
Haraju-cute Facebook
and watch out for my next Haraju-cute box review soon!
Special thanks to Haraju-cute + crew!!
credits to:
@COSME
[japanese] and
Ratzillacosme
[english]
Extra pictures of my princess dress. *laughs* I was wearing jeans hahahahaa