The most INTIMATE care
[sponsored]
As all of you know, I've always been big on skincare, hair care, makeup + hair. I hardly bother about any body products but this is one product I need to talk about.
So as much as this is awkward for me, i must talk about it. FOR GIRLS ONLY. well... to be honest, if guys want to use it, I guess it is fine too 0.0;;
==
I am here to talk about Singapore intimate cleanser brand
LACTACYD
The first time I was exposed to this brand was a good 1 plus yr back when I recieve a goodie bag from participating in cozycot's event. I did not really thought much about the feminine cleanser until one day.... When I had my period and the smell was horrendous AND it was itchy(DUH.)... Okay, maybe I am over-exaggerating maybe I am not, but I am one of those who really feels like puking if i step into public toilets, even in Singapore[unless if its a hotel toilet].
So I decided to give it a try, lo and behold, it took away most of the smell, naturally and keeps me fresh despite me having my period, AND stop the itching (THANK GOD... i mean THANKS LACTACYD). That is my first experience with lactacyd and ever since them, I am loyal. I've tried another brand which I will not mention, but nothing as good as lactacyd.
In case some of you are still lost, this wash/cleanser is for women's nether regions.
==
Naturally, since i'm sold by such a good product for my "le no sexy smell" days, you can only imagine my face when they offered to sponsor me a couple products for review.
my face might be smiley, but inside... the actual face is on the left *dies laughing*
When we talk about nether regions, it is as good as talking about our skin on the face. They are equally sensitive, and needs a lot of care.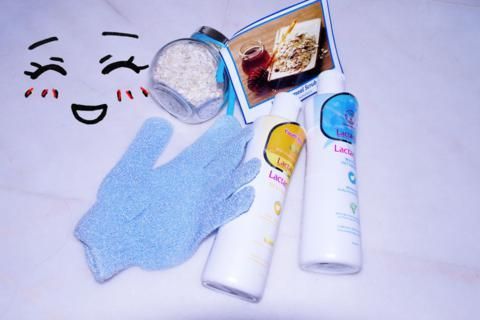 The blue bottle which is the White Intimate, is totally worth the dollar and I was planning to buy it even before they decided to sponsor me one for review. Lucky~~
The yellow bottle is the Revital Intimate, which I strongly recommend for those who find no use for whitening your bikini area. I will share with you later as to why you should.
I've also received extra gifts of oatmeal scrub and a exfoliating glove? It was really cute.
Exfoliation is really important, no matter for which part of your body. Preferably once a week at least.
==

Lactacyd White Intimate
[SGD13.90 250ML]
Key ingredients:
- Algowhite : marine-based whitening agent (reduce melanin synthesis and exfoliates)
- Actipone-B: marine-based whitening agent (inhibits productions of melanin)
- Lactoserum: moisturize and revitalize
- Lactic Acid: sooths itching
If you are one of those who wax anywhere on your body (legs, arms, armpits, bikini, whatever), you would realise that waxing darkens skin due to friction. Now, you wear underwear everyday right? So there will be at least a little friction against your skin, no matter how smooth your underwear material is.
Now imagine, you did not know Lactacyd since young... so that will be at least 15yrs of bikini area friction (=A=;;;). Now imagine, on top of that, you wax your bikini area/ do brazilian and there were no whitening intimate wash and you thought being clean was enough.... WHAT HAPPENS WHEN YOU GO FOR LE SEXY TIME AND YOUR BIKINI AREA IS AS DARK AS IT IS BEFORE IT WAS WAXED? *dies laughing*
Media release:
Lactacyd introduces Singapore first intimate wash with skin lightening benefits and made from naturawl ingrdients. 90% of Asian women has tested and witness visible lightening after 12 weeks and 67% in just 4 weeks.
The point is, being clean is not enough. You need to get rid of dead skin cells and LOOK clean too. Well, I don't speak for all women because of skin tone, but for fair-skinned ladies, I believe it is something to be bothered about.
Intimate areas needs extra care too, and with this intimate pH 5.2 wash made of natural ingredients... I really do not see a reason that you should not get one to leave it on standby. Especially for itchy days. The recommended usage is using thumb-sized amount twice daily, but I would go for the use when needed or use 2-3 times a week.
All the lactacyd products dispense as a milky liquid, smells flowery and I've not gotten any irritation from it even using it immediately after waxing sometimes. In fact, it soothes the irritation.
The whitening effect is not immediate but I do see slow improvements. Damages aren't undone overnight right?
Verdict for this product: 4.9/5
It is the best intimate wash I've used so far and now there is a whitening formula. COMBINE IT WITH THE REVITALIZE FORMULA PLEASE! I would kill for an all-in-one product like that.
==
Lactacyd Revitalize Set
[SGD13.90 250ML]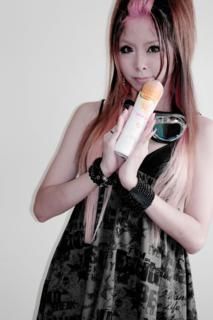 Key ingredients:
- Vitamin E: Antioxidant qualities and destroy free radicals
- Collagen: Hydrates and fights ageing
- Trehalose: Deodorant moisturizer
- Lactoserum: moisturize and revitalize
- Lactic Acid: sooths itching
This is the other product that wasn't as widely advertise as Lactacyd White so I wasn't aware of it.
THIS IS LIKE SKINCARE FOR BIKINI AREA! I mean, look at the ingredients. I've not used it regularly, unlike Lactacyd White but I can assure you, it is anti-aging skincare for your bikini area. I've only used it twice but it is good, and I am passing it on to my mom ~~
Media release:
98% of Asian women has tested and witness moisturizing effect after 4 weeks and 50% witnessed firming effect in just 4 weeks.
How awesome is that? It has an even higher percentage of working product than Lactacyd White.
Verdict for this product: 4.5/5
Collagen for your bikini area indeed! Combine it with Lactacyd white pretty please!!
==
If you are not for all these fancy effects and just want to keep it from odor and irritation, you can purchase Lactacyd pH 3.5 or Nourish at SGD11.90 for 250ml. One bottle goes a long way and it is totally worth the investment to give you itch-free and fresh days.
You can try Lactacyd here:
Redeem Sample
do me a favour for sharing and enter this blogpost link in the secret password when you redeem?
Enjoy and have fun!
==
My pictures are getting better placements now because I just got my new stand! YAY
Another photo from the set~~~ there are more but I'll post them the next time.
have you caught my latest video yet?