Glamourous Doll X Sasa
sponsored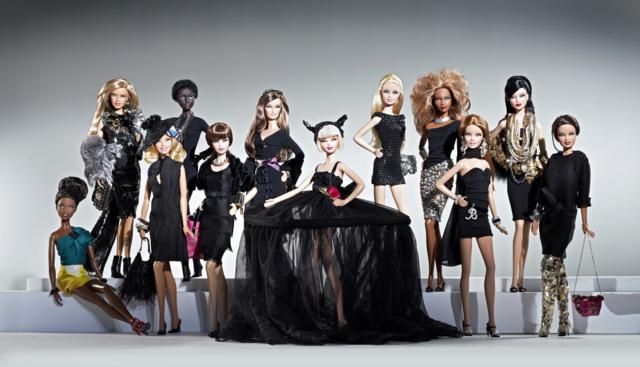 Picture credits from whaironthebrain.com
Hey all~! It is week TWO of the blogger challenge ~~/0/
Anyway this week's theme is Glamorous Doll with sponsor, Sasa.
What is YOUR first thought when you see
Glam Doll
? I was all like, ah...*smacks fist into hand*
Barbie
. *laughs* Barbie was my childhood favorite doll and one of the most glamorous dolls I've ever seen since young.. Although it is not one of the most expensive dolls I own, but they sure are glamorous.
Manufactured by the American toy-company Mattel, Inc. and launched in March 1959, Barbie have been the iconic production of Mattel Inc. With over 50 years of history, Barbie is a fashion doll that set standards for the ideal woman. Light blond volume hair, large blue eyes, luscious lashes, pouty lips and a perfect body with matching long legs.
My look is strongly influenced by
Barbie as Marilyn Monroe
. The glam fashion doll meets glam American sex symbol, what can be more glamourous than this combo?
Sasa brings in the strongest makeup items, which helped me in creating a strong look which suits the theme to a "G" for GLAMOUR.
Strong eyes and lips are the focus point of this makeup, and sadly I could not secure a blond wig or dye my hair blonde to get that bombshell look like Barbie or Marilyn Monroe.
Items used for this tutorial:
A. Red Earth Miracle Wear Matte Genius Foundation in Miracle 30 30ML - S$36.00
B. theBalm Bahama Mama bronzer - S$29.90
C. K-palette Lasting 2way Eyebrow in 01 Chocolate Brown - S$23.90
D. Maybelline Hyper Diamonds in GY-1 - S$19.90 [sale: S$15.92]
E. Maybelline Eyestudio Lasting Drama Swirl Gel Liner in S01 Black & Silver - S$21.90 [sale: S$13.14]
F. Star Lash in Duchess (Special Edition) - S$12.90
G. theBalm Hot Mama! Blush - S$29.90
H. L'oreal Paris Intense Colour Riche in 297 Red Passion - S$20.90
I. LA Girl Endless Semi Permanent Auto Lip Liner in GP331 True Red - S$10.00 [sale: S$8.00]
J. Sasatinnie Eyeshadow Brush - S$8.05
K. Shih Chuan Vinegar Beverage - 2 for $2.10
==
Let's start!
Base Makeup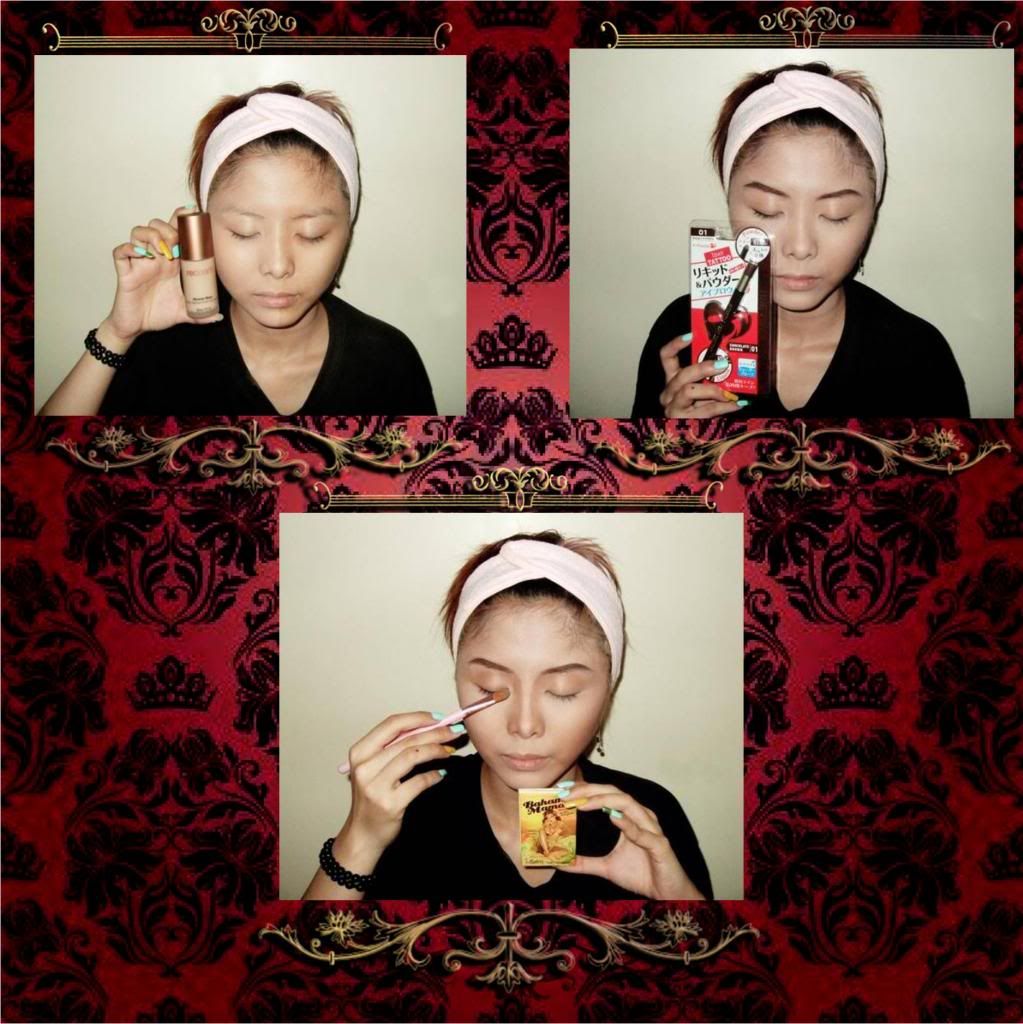 Pre: Make sure you have clean and moisturized your face! Keep your hair out of the way to do your makeup. Choose a large range of masks,moisturizers and toners from Sasa!
1. Even out your skin colour and cover up imperfections with
[A]
. Pat on another layer or two below eyes to lighten dark circles. Remember to cover your neck too! Buff on some loose powder if preferred.
2. Fill in your brows with
[C]
.
3. Using
[J]
and
[B]
contour your nose to create an illusion of a strong nose bridge.
Eyes
4. Use
[02]
from
[D]
, a shimmery sheer silver, and apply that all over the lids and inner corners of eyes to brighten. Highlight the brow bone with the same colour to give definition to your brows.
5. Use
[03]
from
[D]
on lower 1/2 of the lids.
6. Apply
[01]
from
[D]
in the crease, connecting it to the area coloured with
[03]
. Apply the same colour on the 2/3 of the undereye. Using different shades is to build gradient and depth to the eyes.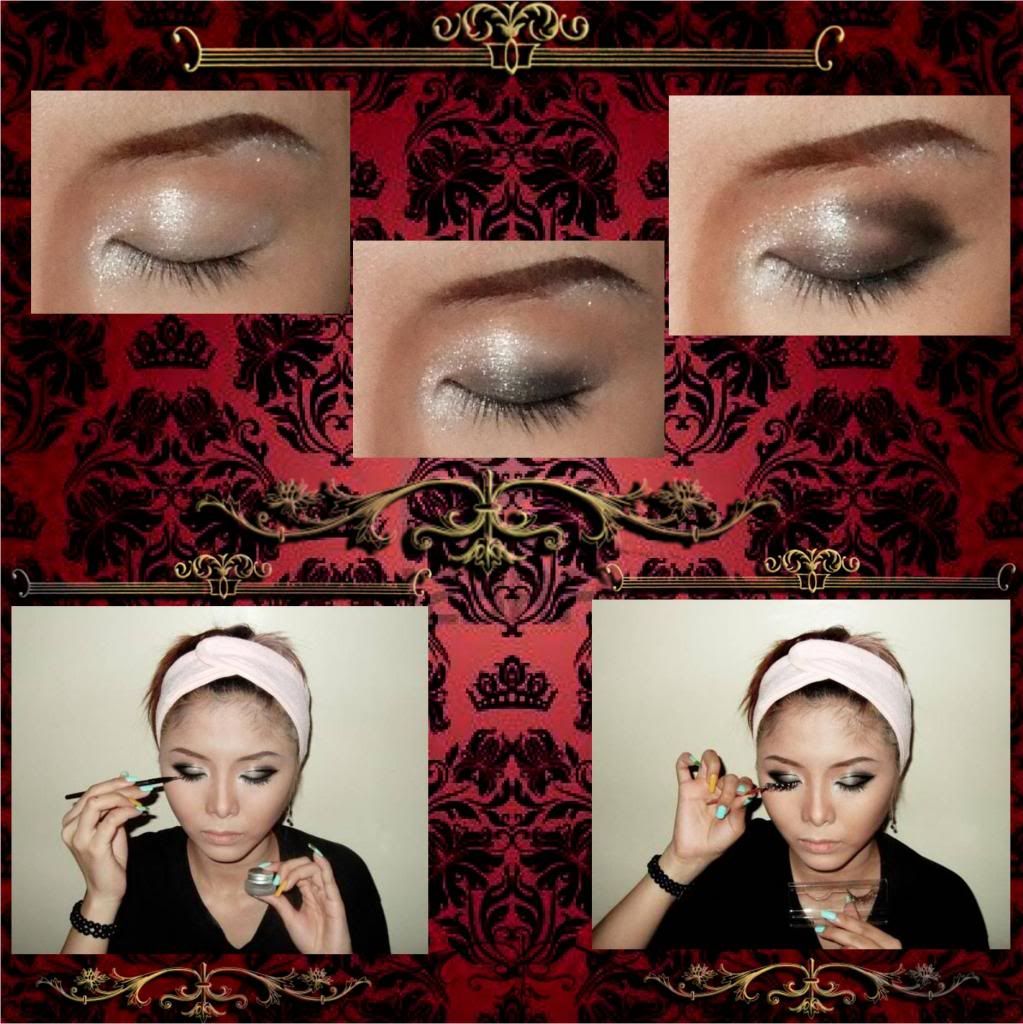 7. Use
[E]
to line your eyes AND create
double eyelid lines
on the lids. [As shown in pictures] This will really make your eye makeup pop.
8. Use
[F]
and place it as close to your lash line as possible. If preferred, you can use bottom lashes to balance out the heavy top of the eyes.
[F]
has blings which amps up the glam factor~
Lips and Cheeks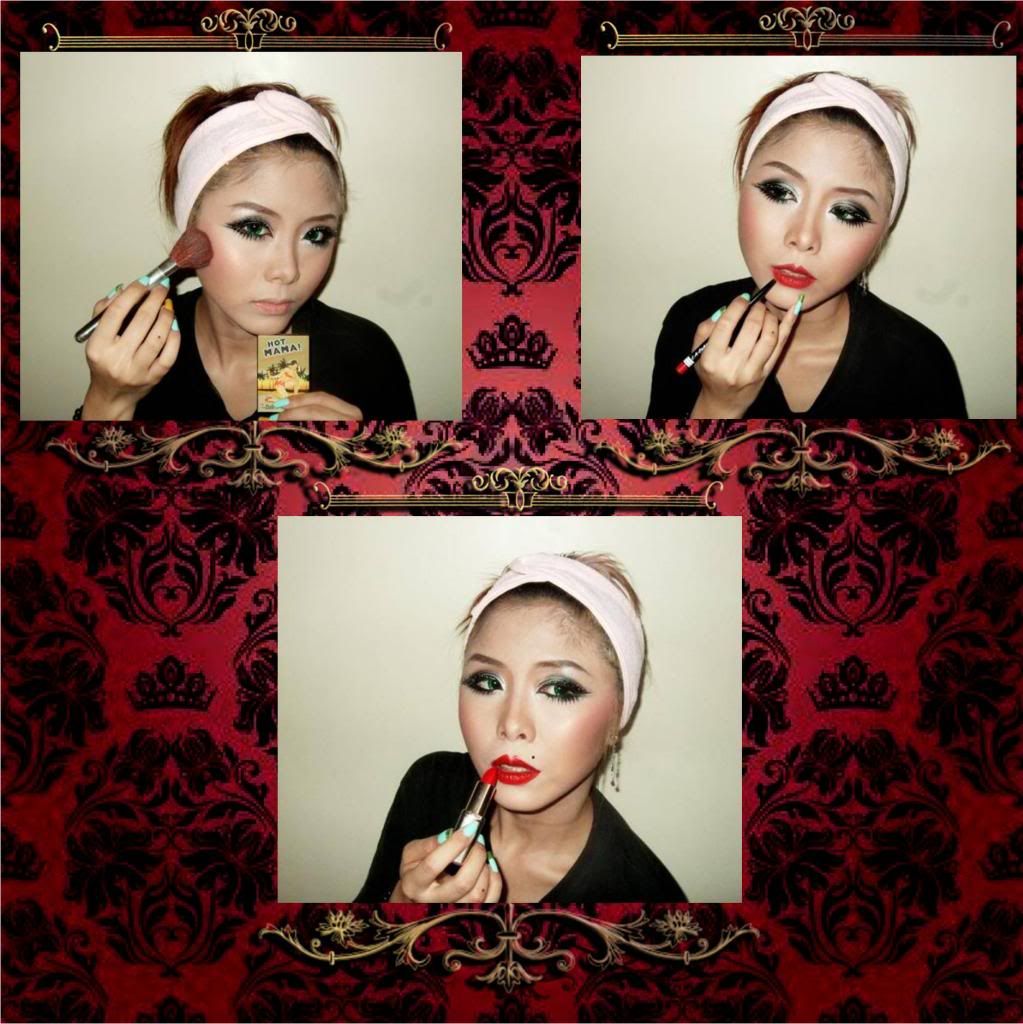 9. Using
[G]
, swipe it in a diagonal downwards motion from the temple to the apples of your cheeks to create a harsh line of blush. This adds strong definition to your cheekbones and gives that rich classy touch to your makeup.
10. Line your lips fully and fill it in with
[I].
This is to ensure your lipstick holds longer. Don't be afraid to exaggerate your lip shape.
11. Fill it in with a gorgeous red from
[H]
to achieve that signature red Monroe lips. Dot a mole if you wish, or skip this step if you do not like moles.[You can use the sharp tip of [C] to do the mole.]
Final Look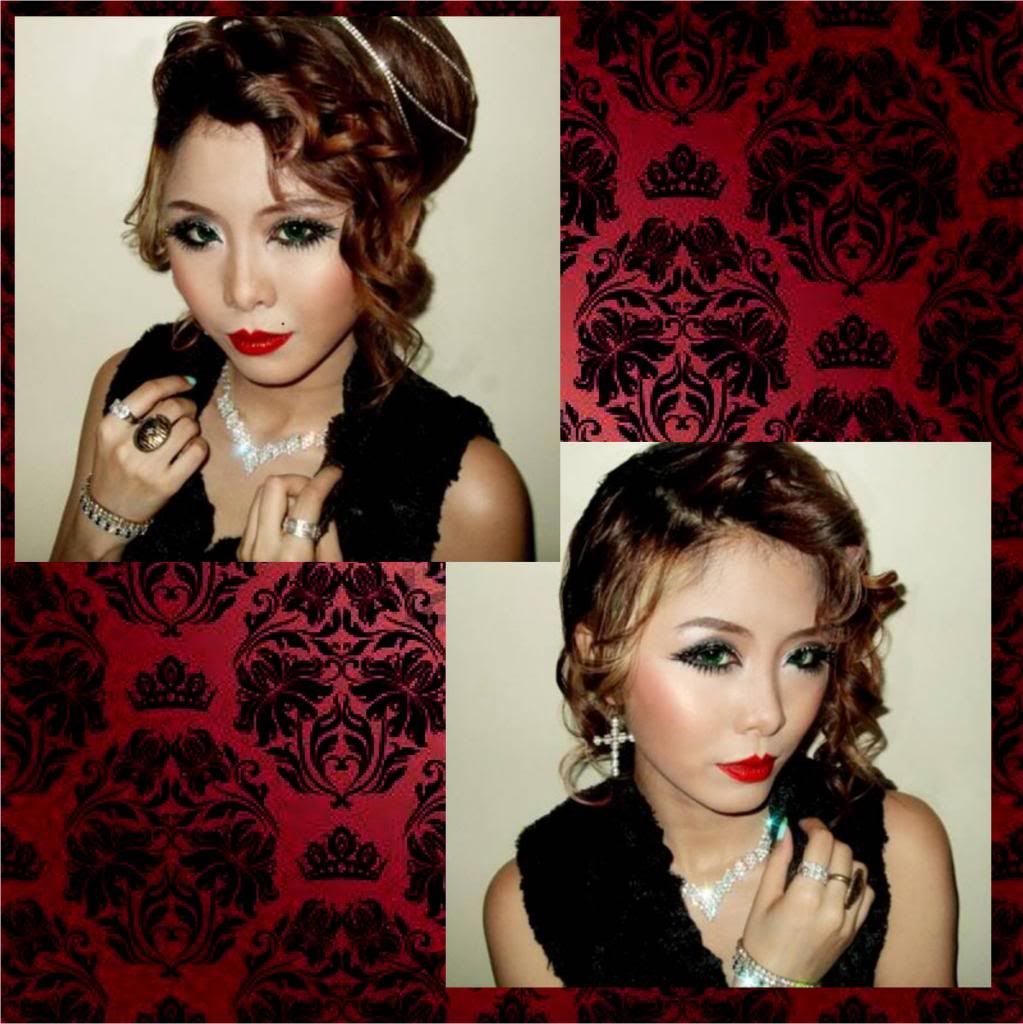 Are you still wondering what [K] was for?
EVERY GLAMOUR GIRL NEEDS HER REST!
This vinegar beverage is an absolute must buy~~ Not only does it help your body functions, it aids in weight - loss and stress relieve too!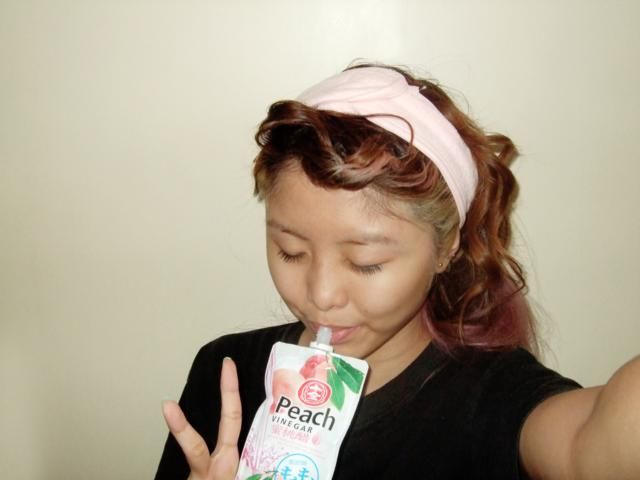 Glamour up with Sasa today!
Sasa @ Tampines One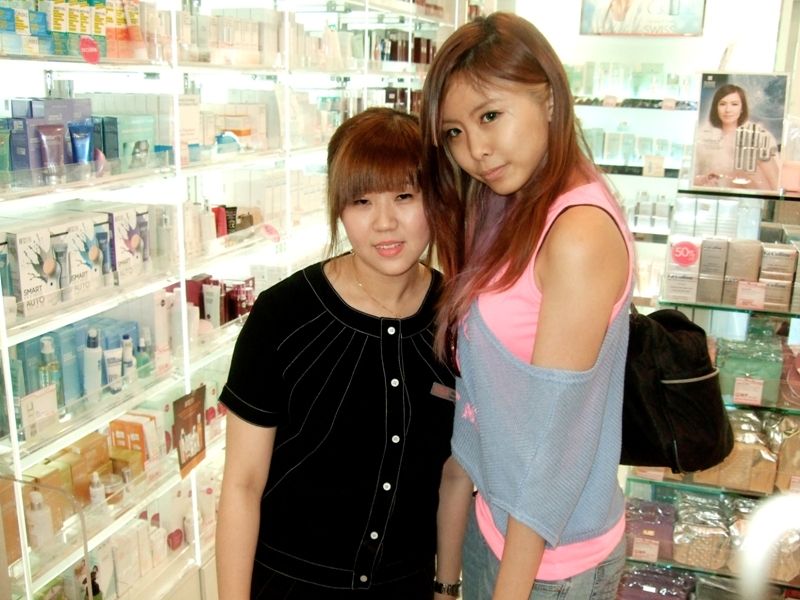 My helpful assistant @ Sasa... sadly my poor memory doesn't allow me to recall her name.
If you liked my look, please vote for me by liking my picture on INSTAGRAM @tampines1

from
23 – 26 March





Visit for more information!


Facebook Page: www.facebook.com/Tampines1
Mall Blog: www.tampines1.wordpress.com

Thank you, Sasa and Tampines 1 !

===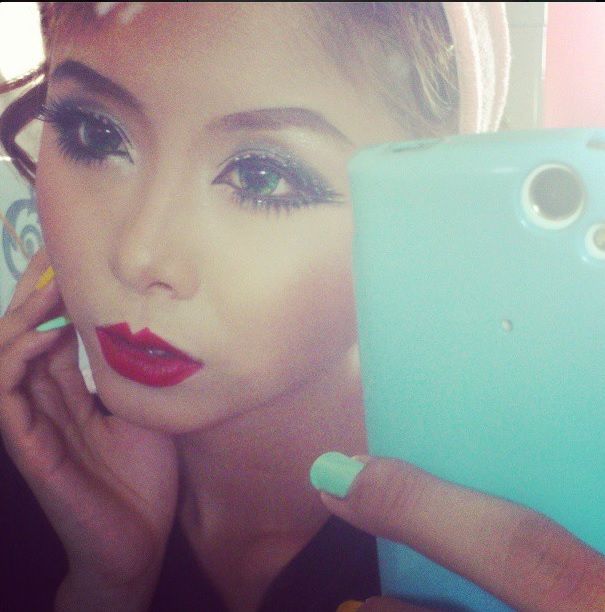 Bonus picture from Instagram last week!!
More reviews coming right up soon!!