Porcelain Doll X Etude House Make Tutorial
sponsored
picture credits to Evinka.com
What is your first thought when Porcelain doll is mention? Snow white skin? Big round eyes? Or is it rosy cheeks?
For me, to be honest, it will be horror ._. Example:
The Island of the Dolls
The very first porcelain dolls are actually china dolls, made of white glazed porcelain with a glossy, rather than matte finish. The French and Germans began making dolls in 1860, with bisque porcelain, giving rise to Porcelain/Bisque dolls today.
While porcelain dolls are still bought as toys, most are now used for decorations or collections.
My look is inspired by porcelain dolls made for the latter.
Every girl has a child-like innocence that can be shown with the sweet and feminine aspects drawn from Etude House. Fair skin, big round lively eyes, blushing cheeks.
Porcelain dolls are often portrayed with flawless white skin in fashion shoots, however I've decided to adopt an Eurasian look instead, with sun-kissed skin and curls that are soft and can be worn on a daily basis. It's fun to look like a doll without coming off as scary or deathly pale once in awhile!
Thank god for Etude House... if not I will probably do a horror doll look.*gets smacked*
Let's take a look what I used in this tutorial: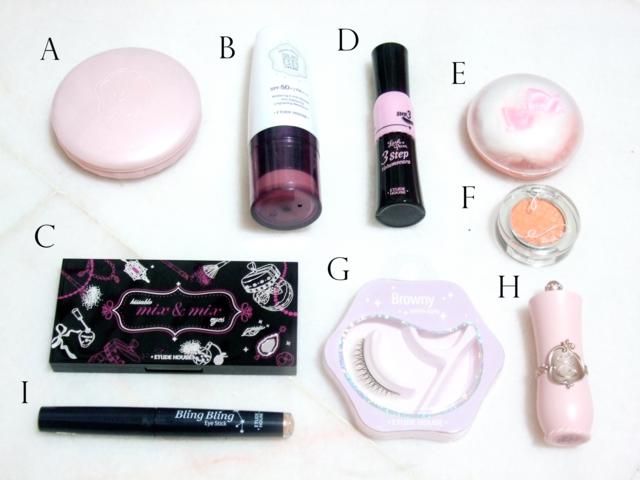 A. Precious Mineral BB Compact Bright Fit SPF30/PA++ W13 Natural Beige 10g - S$30.90
B. Precious Mineral Sun BB Cream SPF50+/PA+++ W13 Natural Beige 35g - S$36.90
C. Kissable Mix & Mix Eyes BR401 Holiday Dream - S$36.90
D. Lash Perm 3 Step Volumecara - S$26.90
E. Lovely Cookie Blusher #10 Peach Parfait - S$12.90
F. Look at my Eyes OR202 - S$7.90
G. Browny False Lashes - S$5.90
H. Etoinette Crystal Shine Lips PBE001 - $26.90
I. Bling Bling Eye Stick #09 Golden Tail Star - S$8.90
Note: Price list

taken from store.
Korean makeup products always makes sure you have the
easiest and fastest way
to complete your makeup look, so let's go!
==
Tutorial Start!
Base Makeup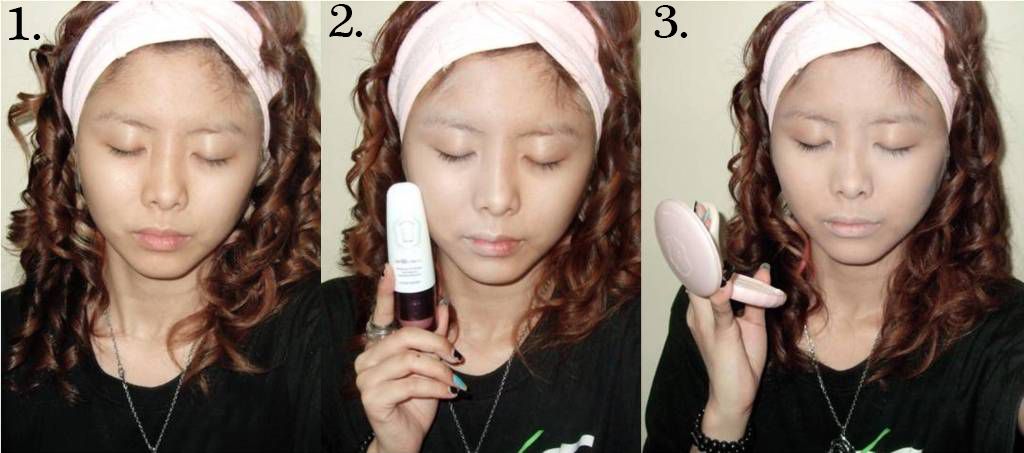 1. Make sure you have clean and moisturized your face! Keep your hair out of the way to do your makeup. Choose a large range of masks,moisturizers and toners from Etude House to prep your skin~ I suggest their moistfull collagen series!
2. Even out your skin colour and cover up imperfections with
[B]
. Endorsed by Dara from 2NE1
[BIG FAN HERE],
this BB cream gives really good coverage. Pat on another layer or two below eyes to lighten dark circles. Remember to cover your lips and neck too!
note:
Do not confuse eye bags with dark eye circles! Eye bags cannot be covered easily and dabbing on too much cream might result in creasing.
3. Mattify your skin for that porcelain look with
[A].
It gives a light coverage and makes the BB cream last longer. You might look a little scary at this point, but that's okay!
Eyes


4. Use
[03]
from
[C]
, a light coral colour, and apply that all over the lids taking it up to the brow bone. This serves as a base colour and brow highlighter.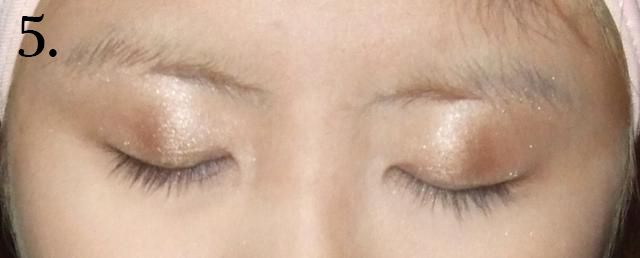 5. Use
[04]
from
[C]
in the center of the lids.

6. Avoid harsh dark eyelining. Use
[06]
from
[C]
as a replacement for eye liner.
Eyebrows and Nose
7. For eyebrows, use
[F]
to fill in the brows and
[04]
from
[C]
to outline the eyebrows lightly. Keep the brow drawing straight, instead of arching as per normal. This will create orangey light brown child-like eyebrows. Apply light brown eyebrow mascara if desired for a lighter colour.
For nose, contour with
[04]
from
[C]
for a smaller nose.
Eyes, Lips, Cheeks
8. Apply
[D]
on top and bottom lashes for that wide doll eyes. Endorsed by Dara from 2NE1, Volumecara lets you choose your type of lashes from natural to glam. I love how this mascara helps to keep your lashes up ,if you do not have super droopy lashes ,so that you would not require curling before hand. The volume and length is great too!
Apply
[G]
to emphasize on top lashes, yet keeping it mild with the brown fibers.
9. Apply
[E]
below cheek bones. Dolls are usually blushed on the hallows of their cheeks to make them look chubby.
Apply
[I]
on inner corners of eyes to highlight if preferred.
10. Apply
[F]
in a strip on nose as shown, and top it up with
[E]
to mattify it. This is to create the sun-kissed look which is widely seen on porcelain dolls. Dot a few freckles with brown eyeliner if desired. I find it rather cute, so i tried it out for the first time and loving it.
11. Finally, apply
[H]
on lips. Reshaping the top lip to look a bit more petite and pouty with a larger surface on the bottom lip.
Little Lou from Expressionsdolls.com was my main inspiration as I thought that she looks as cute as a little cupcake and definitely suitable as a mascot for Etude House.
My Final Look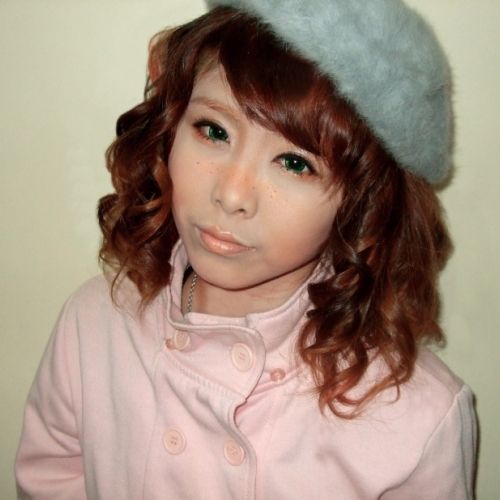 You can now become a porcelain doll in human form if you wish with Etude House!
Etude House @ Tampines One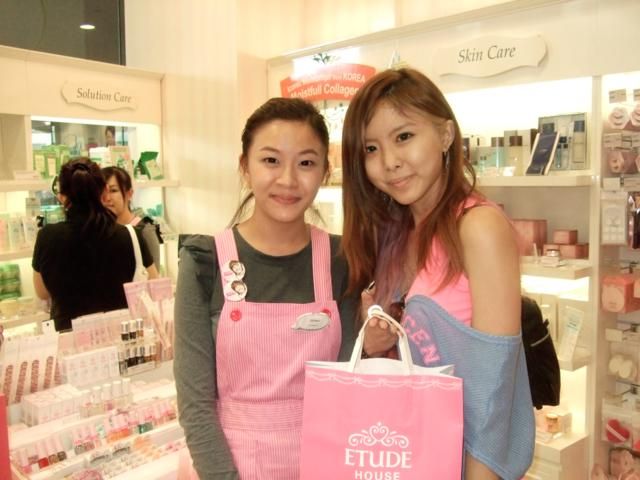 Genny, my super helpful beauty adviser at Etude House. Had a lot of fun shopping there, and learnt a lot about Etude House products!
If you liked my look, please vote for me by liking my picture on INSTAGRAM @tampines1

from

15-20 March
Visit for more information!
Facebook Page: www.facebook.com/Tampines1
Mall Blog: www.tampines1.wordpress.com
Thank you, Etude House and Tampines 1 !
==
BONUS PICTURE! from my own instagram if you had followed me. @sochiikamiya
Happy White day everyone /0/!