GoodSkin = Firm skin
[sponsored post]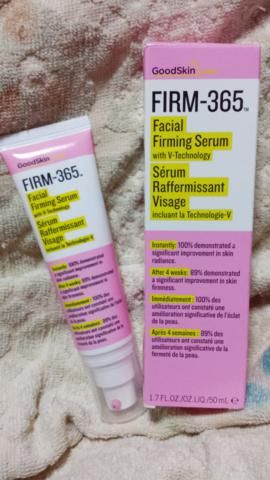 Some of you might have noticed that recently my face looks just a little slimmer (hopefully), that is because I've found my savior to sagging skin.
Here i have the GoodSkin Labs FIRM-365 Facial Firming Serum with V-Technology !
As skin ages, it loses elasticity and firmness causing facial features to sag and lose definition. That is definitely something that I realize this year because I was losing weight but my face is not slimming down. This heavyweight product helps promote skin's natural elastin and collagen production to visibly repair skin's appearance for firmer, more
sculpted and radiant-looking skin over time.
Here are some product information~
The Radiance Cocktail

A blend of pearls for instant radiance upon application and glucosamine to gently slough away dead skin cells for smoother skin.
This is a
VERY
smart move by GoodSkin Labs. Applying what I've learnt from make up, the shimmer from the pearls help to reflect light, which gives you an INSTANT radiance. Which explains the 100% score for immediate radiance on the skin. However, please do not think that this is a fraud. I might have pointed it out, but may I point out as well that this radiance LASTS.
With long-term application, this will definitely improve skin condition (read: pearl powder goodness).
V-TECHNOLOGY

Lifting and firming benefits from ingredients,including vitamins and nutrients that support skin's natural collagen production:

1.CME– a Vitamin C & E complex that helps support skin's natural collagen production to help visibly lift and firm skin

2.Photozomes–photo activated enzymes with plankton extract helps support collagen and elastin so skin appears firmer and more youthful

3.Argireline–supports natural collagen production to help diminish the appearance of fine lines and wrinkles and firm the look of skin
I am going to be honest, I've not heard of the last two. Collagen production slows down when you hit 20, so having a support definitely works out well.
MOISTURIZATION

Sodium Hyaluronate, Glycerin and Trehalose work together to help skin absorb water and retain moisture.
I have definitely found lesser needs to re-moisturize my face throughout the day. Retaining moisture is very important to me as I work in an air-conditioned office 5 days a week, it helps to keep my face less oily.
Verdict : 4/5
This is now one of my favourite skincare products, and it is a quick fix if i feel a pimple coming up too (SURPRISE).
However, the price is not in my favor since it is out of my budget for skincare product, but if I do have spare cash I will definitely go for this first. I do advise you to go for it if you have tried a lot of products that do not work for you.
My skin has definitely lifted and application of makeup is easier as well.

Join the 365 "V-pose" contest and stand to win $200 GSL product hamper & $200 worth of SaSa Gift Certificates(5 sets)!
Here is what you have to do:
1. strike a "V" pose, take a photo and post on Sasa Facebook
2. FB users will have to "like" SaSa SG Facebook (https://www.facebook.com/SGSaSa) before posting their photo
3. Posers" can redeem a FIRM-365 sample from any SaSa outlet or at SampleStore.com at(http://bit.ly/1cn1zxL)
STRIKE A V-POSE TODAY!