Towards the land of rising sun, Japan. (virgin trip)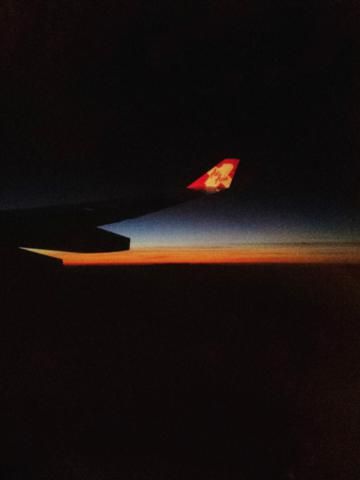 (Sunrise on the plane)



Hi everyone,
From today onwards till January, my blog is going to take on a different country. Those of you who follow on me on FB should know by now, I am heading to Japan.
I am currently writing this without connection, so this isn't a live on the spot update as I usually do. It is currently
3.50PM 13/11/2014 THURS
and I am on a plane to kansai, with my lovely boyfriend asleep and wrapped in the new trench coat i gave him; buried head in my knitted hat to block the lights.
This year has been very kind to me. I had a great boyfriend, great jobs and help from everywhere. As well as new friends. I am very thankful as well, that this year, is my virgin trip to Japan and a long one as well.
Throughout my whole life, I've been wanting freedom and to break away from my family but the fact is I love them more than I really feel.
Why did I say that? Because I cried.
It has been a very hectic Wednesday for me (I just recall I forgot to email migme for some event I did, that is how hectic it is)
My dad came home and drove me to the airport in the jam without a single complaint because I had 40kg worth of checked luggage and about 23kg worth of carry-on. (The spectacular world of non-charged weight for laptops) My mom followed as well(well-dress might I mention).
We had dinner together for once more before I set off for Japan, and I am glad they did because I really wanted to dine with them. Yasa dropped by as well, he was the only friend who came to see me off.
Mom wanted to cook, but we messed up the timing bad(me and Locke thought it was 1am flight but turns out it was 1am at KLIA2, not CHANGI). I felt so sorry, because I know she wanted to cook for me. She knows I love her cooking and I will miss it a lot.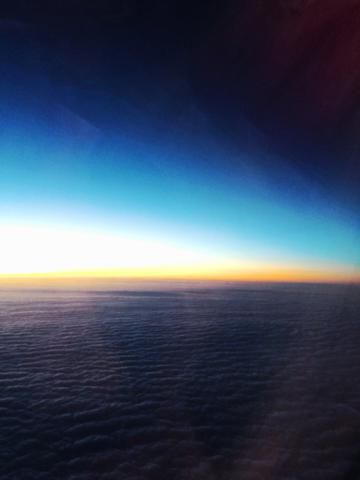 (Typing this I started tearing up again, and here is a great picture of sun rising in japan from the plane again)
Before I check in, I gave them one last hug. I've never been away from home, at least not for so long. It was realization that I got what I wanted, but not without some sacrifice.
Mom hugged me back tight, and gave me a kiss. She is worried for her girl, but she lets me go.
(Yep, crying now while writing)
I lost it in the DFS, but i held back the tears.
Locke got some stuff from the DFS, and we got entitled to a travel-exclusive mickey/minnie toy. I picked a mickey in some bright US-y flag clothes..Locke said it is for me, but I say I want mommy to have it. The colours are lovely, it is cute, I know she will like it.( I'll upload the pic of the mickey some other time, it is really adorable)
We got on the plane and as we roll away from the airport, I asked Locke if I will be able to see my house from here when we fly. He smiled and say no. As we took off, I saw the lights and I started sobbing really badly. I missed my mom already, I miss my dad, I even missed that punk of a brother.
(random insert of Locke asleep on the plane at about 3~4AM with my hat over his eyes as shade)
I have never ever thought twice about missing them because I will usually be back in a week from my trip or their trip (cept for the time when my dad spent months in Paris,France training for work). The whole experience is so different now. I am off for two months, it might sound short but it is a very long time as well. I am missing Christmas and New Year with my family for the very first time. No more complaining how bad the streets and malls are stuffed on xmas, no more laughing at NY parade show together. Just this year, it is different.
More importantly, no more nagging to clean my room. I will miss that ALOT . (and I left my room 1/2 done, it is an improvement but she will nag me hahaha)
TL;DR: I am homesick already. It might be better from here but I miss them.
I want to thank them for everything they do for me, and I really do love them no matter how stubborn I am.
I've booked my ticket home today(even though it was by force cos they wont let us through KL if we don't show them a return trip ticket)
54 days more back to the family I love, back to my dearest mommy. I miss you so much...
===
The night sky is really pretty over the ocean.
This is the first time I see countless of stars.
There was a shooting star, I made a wish.
I wished to take a picture, but my camera is stuck in the compartment and boyfriend's camera is hard to get out.
My phone is practically useless in places without proper light source.
So here is a picture of the bright blue~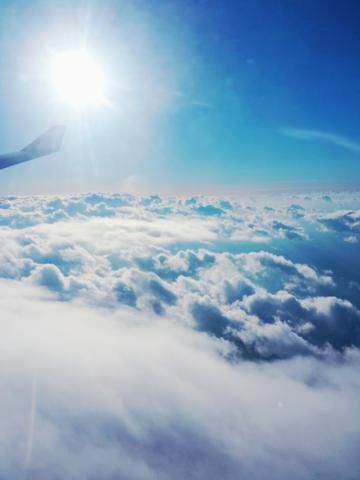 This is an eye-opening year.
4.29AM 13/11/14
p.s. I am hungry and thirsty. I think the air service crew is slacking in their room cos everyone is asleep hahaha
about 6AM in japan
Arrived at KIX, immigration was really rude. Got shouted at and a pen thrown at me.
There was 101 conclusions but we came up with the facts that
1. I am a chinese(race only).
2. I am not japanese.
3. Too many cheena piangs hold sg passports
4. Nobody likes cheena piangs.
After that, everyone was quite polite and kind. Just the immigration I guess.
Even though I was smiling in the picture, it was taken after Locke calm me down. It had been a tiring day of flying and I was emotionally unstable and very very upset after the KIX incident.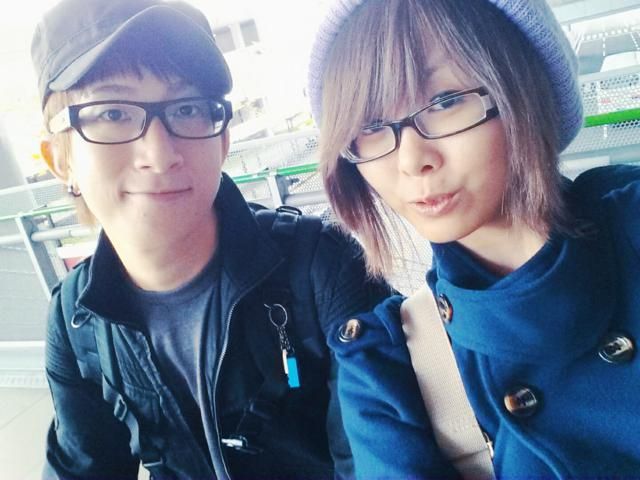 Japan has been great so far. Will write again soon with my other trips to Namba, Nipponbashi(dendentown) and Nara park.