Tighten it up!!
sponsored
Sumire, the ageha model who died young.
She'd probably never get to enjoy the product I am going to review in a while.
No offense, I am not making fun of her death. She is gorgeous, and i look up to her as an icon. She died too young, too soon, yet beautiful still.
That aside.
I am not young anymore *coughs* so skincare is really really important for me cos i wanna look forever young like tsubasa/sakurina... they are older but yet they look my age *laughs*
So HadaLabo had another treat in store for me...
The HadaLabo Retinol Lifting & Firming Lotion~~~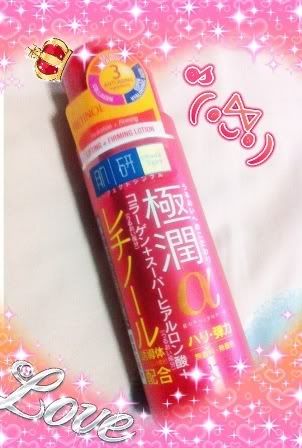 My meh picture of the product. Bear with me, for i feel that my review needs alot of colour today so i m going to "puri-fy" all my pictures [pun intended]
Just a new approach of review HAHAHAHHAHA *gets shot anyway*
For readers who are interested to know what HadaLabo is, you are welcome to refer to my first review of HadaLabo product,
SHA Cleansing Oil
If anyone is interested in the Cleansing oil at a cheaper price of $18, I am selling a brand new bottle. Do note that it is NOT the one i used for review. I have two bottles of the product. If no one is interested...I guess I have makeup removal supply of 1-2 years worth LOL.
HadaLabo's latest Lifting & Firming range contains 3 premium and potent ingredients....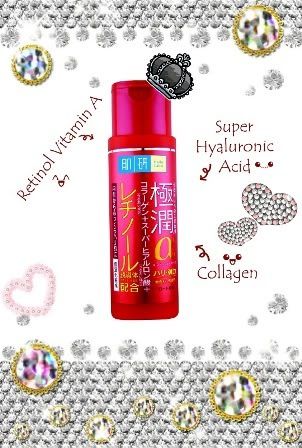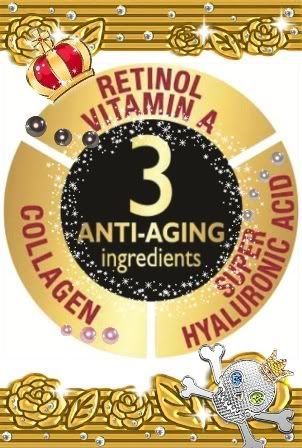 INGREDIENT ONE: COLLAGEN
Did you know that collagen is REALLY REALLY important for your skin?
I've always thought that it was something old ladies needed really... I mean collagen is meant for wrinkles and lifting all those.
I WAS WRONG.
I was enlightened during my trip to New york skin solution for their $6?$10? collagen facial or something like that.
you know the lines that form at the sides between your mouth and nose when you smile?
COLLAGEN CAN SAVE THAT UGLY SHIT... well provided that you dont have much face fat/protuding cheek bones. Dont get me wrong the lines are fine if they are light but if they are dark and sinks in alot and makes you look like your cheeks are seperate from your face? IT LOOKS DAMN UGLY AND IT MAKES YOU LOOK OLD. well, that is my perspective, so i can never get girls who like it. It doesnt make you look cheerful, it makes you look OLD.
Which is prolly another reason you dont see me posting those kind of pictures much cept for a few which looks really good... and why i absolutely hate smiling for photos.
INGREDIENT TWO: RETINOL VITAMIN A
This is for reducing of fine lines and wrinkles.
Honestly, wrinkles and fine lines can happen to anyone after 18.
Laugh lines count too even if you have no worries.
INGREDIENT THREE: SUPER HYALURONIC ACID
This is a signature ingredient in all of HadaLabo's products. This is mainly to fufil their claims of locking in moisture of a sea w one drop of their product. It moisturizes and keeps your skin smooth and supple.
Well enough of introductory, LETS GO!!!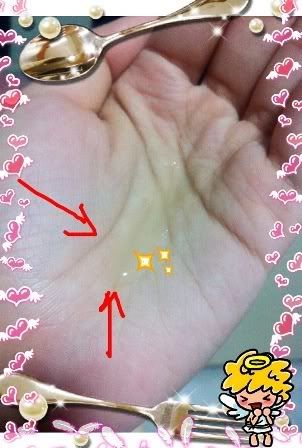 The product was in a slight yellowish colour but not really obvious and there is not scent. +1
I really dislike products with scent unless you are telling me it is yummy like biore or mentholatum...
What i'd experienced...
It was slightly stick at the start, but after the skin absorbs the "lotion", the skin is totally soft and supple *rolls around in glee*
I've been trying it for almost a week for now... NO REACTIONS AND IMPROVEMENTS.
I mean no reactions is not worth going WAHHHHHH over right, but IMPROVEMENTS IS.
When i was in my 18-19 I have this VERY BAD HABIT of raising my eyebrows...both of them, which has gradually cause forehead wrinkle to form when I raise teh brows over the years...
Which means you cant see them wrinkles unless i raise my brows, but back in 18-19 you cant see them no matter i raise them or not.
This has definitely improved that condition, so it means Retinol Vitamin A is working....[YES I RAISED MY BROWS ONCE AGAIN JUS TO TEST AND RISK THE DEEPING THEM WRINKLES, TOUCHED ANOT PPL?]
Secondly was that ugly mouth lines i rages about... The condition of it has also improved and it isnt as deep as it used to be. So that means skin is lifted? (y) collagen rocks my face. hur~~~
Third, this product is really money saving awesome. 2-4 DROPS that is all you need for your whole face... any more than that and you can use it for your neck too.
lastly all for an awesome price of $25.90... it can probably last you from 1/2 a year to 1 year minumum... so it is like mayb a 0.something cents a day? Why not really...
See those hateful smile linessssssss
Giving it a 4.5/5.
awesome packaging, awesome product... now to physco taunt those specialist with the 0.5 to create an INSTANT WORK WITHIN 1 DAY EQUIVALENT TO PLASTIC SURGERY product...
it is actually a 5/5 product really.
here is the other products in the range
HadaLabo Lifting & Firming Essence [$34.90]
Anti-aging plus a powerful skin regenerating product...maybe you might look like a kid after using or something
HadaLabo Lifting & Firming Milk [$25.90]
Smoothen and norishes the skin.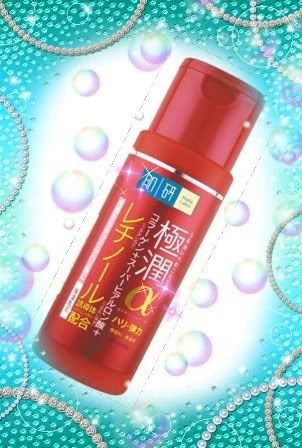 HadaLabo Lifting & Firming Cream [$28.90]
Hydration and restoration of skin's natural barrier to prevent moisture loss.
HadaLabo Lifting & Firming Mask [$23.90]
Intense 10-15 renewal of skin
Full Range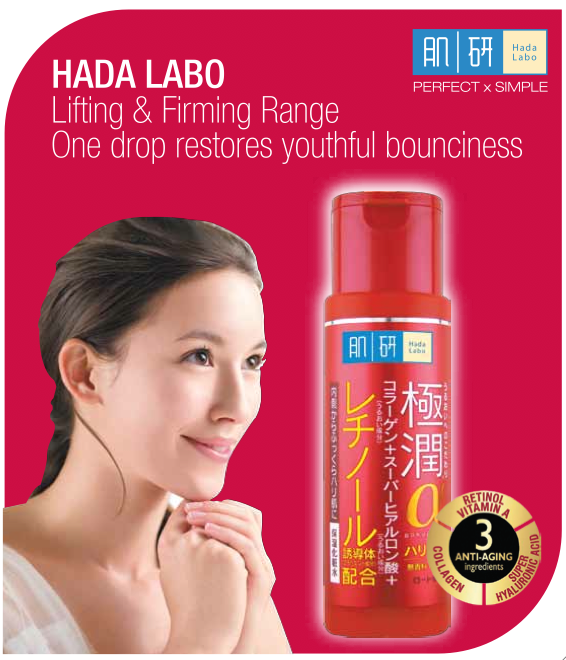 So~~~~ Restore that youthful bounciness on your skin with HadaLabo's latest Retinol Lifting and Firming Range! All products are available exclusively at Watsons store nationwide. Price ranges from SGD$25.90 to $34.90
If you want to try their Normal Range lotion, you can redeem a sample from
here
Thanks to TheSampleStore once again for this review
==
YAY~~~~ BODYLINE HAUL IS HEREEEEEE
I would describe how awesome all the haul is for a grand total of only 37USD but blogger ate my words and I am just to worn out to type again.
I can only say that the black bag and the golden heels are a STEAL.
Heels are only 7USD while the bag is 14USD.
The red tote was jus a temptation because it be so naise and the straps are buckled.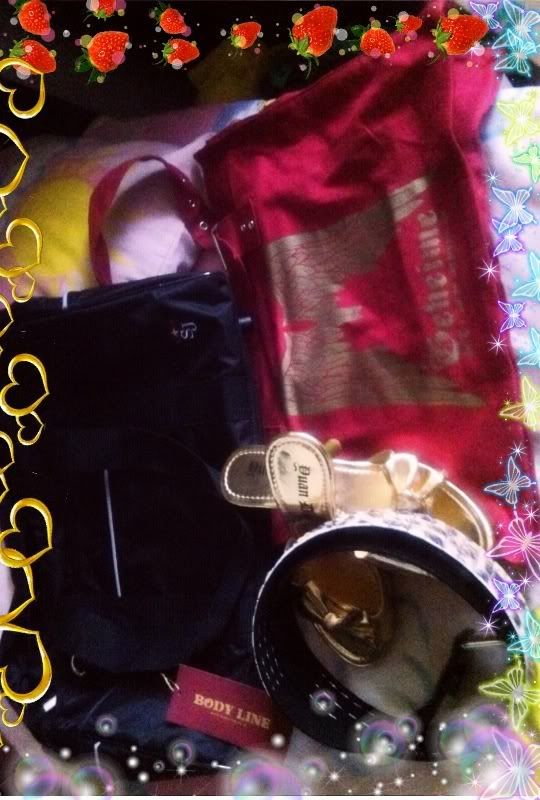 The belt was an essential because i only have a poor collection of belts....one from cosplay[FREAKING BRIGHT COLBAT BLUEEEEEEE], one donated to me by a kind soul and another one from my dad just only because my mom insisted that it is not hers n my dad is too fat for it.
Got two hair accessories at 1USD each but I was stupid enough not to take photos because they were stuck at the back of my head and left forgotten ever since the start of me tearing apart the packaging of everythingelse.
==
On another story...
the other day on twitter I saw Dawn @mindless_ness tweeting about how her blog shouldnt have any readers. I do not check my blog stats by blogger.com, i only look at my stats once in a while at nuffnang.com
and surprise surprise.....FUCK MY LIFE OKAY? MY HIGHEST HIT BLOGPOST IS A FREAKING GAY PORN POST... or so i decreed.
It was on some quiz result that i did, and the picture i used as a post started happened to be a explicit scene from a game ORZ
TOP POST OF ALL TIME. LOL.
You know the saddest thing?? THE COUNT IS STILL RUNNING althought it is a post belonging to THREE YEARS AGO. sassy or what? Yaoi never dies *flex* but I am hardly into that now... the only boyXboy anime i watch now is Sekai ichi...which is a mild doki doki BL. TMI hahahaha 8D
==
Last but not least... I AM PROUD TO ANNOUNCE...
I HAVE GOTTEN AN INVITE TO NUFFNANG ASIA-PACIFIC BLOG AWARDS 2011.
all thanks to nuffnang,cheesie and xiaxue. Really, two of them must be the most important contributing factors to my post. HAHAHAHAHA~~~~ who say i cant leech even if i dont know them? FREE HOLIDAY HERE I COME!!!
I am rather excited about it, honestly. I thought I was going to shell out bucks for the airtics or risk getting lost taking a train to KL that it was so agonizing for me.. nuffnang made my life easier by announcing they have coaches for us HELL YEA. I really dont mind gettin butt-stiff on the bus as long as I dont have to get lost.
come to think of it, coaches... means i can bring my hairspray woohoo /0/
I hope i will be able to update my blog from there since there is free wifi... but twitter is prolly a much better option.
For those who like seeing my senseless/crazy/emo/massretweets comments, jus follow on @Sochii_andelia
obviously you have tweet something awesome for me to follow back though.
WOOHOO~~~ *clicks golden heels*
Have you joined the lipgloss giveaway? come on, its no fun if there is no competition really.
giveaway here